The Boston Celtics Have a Serious Problem
The Boston Celtics have a serious problem, and it just might catch up with them against the Miami Heat.
It's gotten to the point where it's become predictable. The Boston Celtics are the most talented and deepest team in the NBA, but they don't know what to do with it. They're good, but not as good as they think they are.
In postgame press conferences, they have all the answers. In games, they're overtaken by complacency. It's been that way for a while now. It's only a matter of time before that complacency costs them a series, and Jimmy Butler and the Miami Heat are ready to capitalize.
The Boston Celtics don't have a take-charge player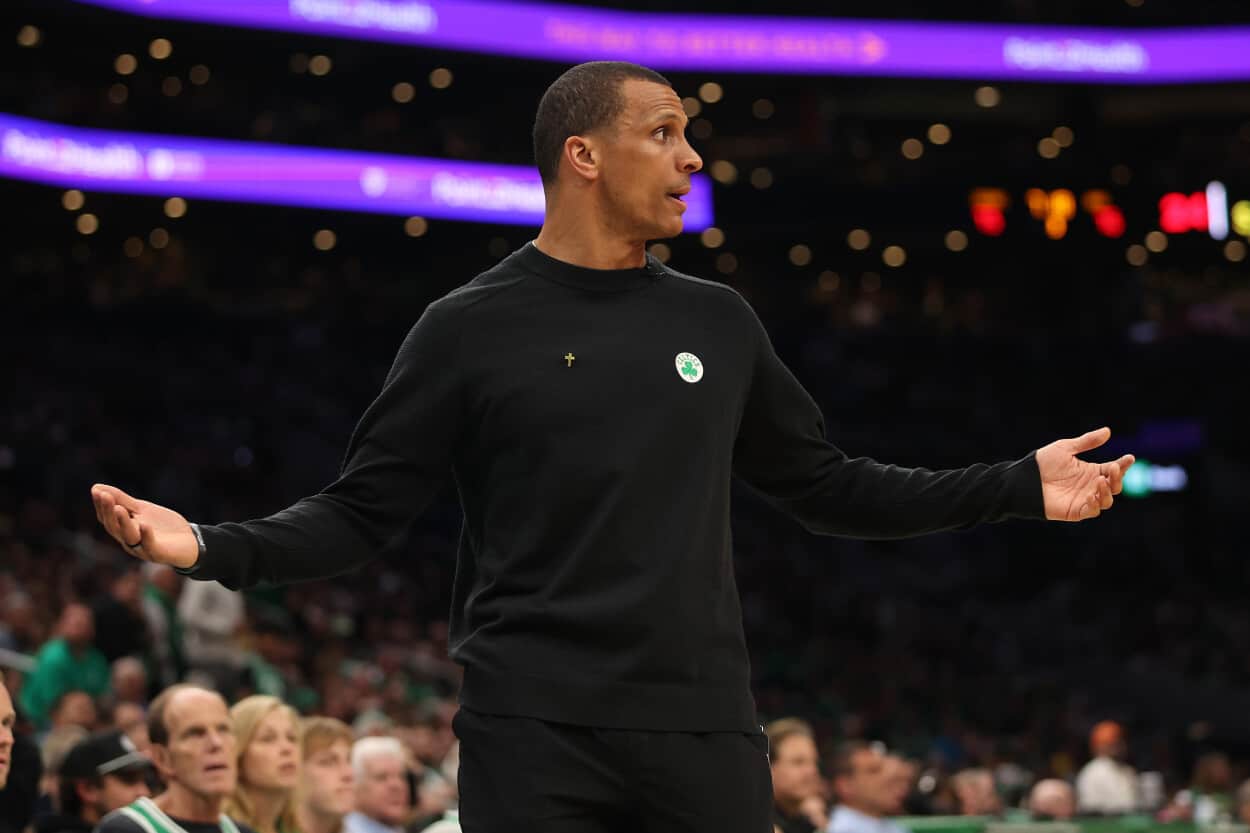 Enough with the hype of Jayson Tatum's 51 points in Game 7 against the Philadelphia 76ers. It was a masterful performance from start to finish, but it's not the norm for Tatum. He hadn't had a postseason game like that, where he dominated for 48 minutes, since Game 6 in the Eastern Conference Semifinals against the Milwaukee Bucks last year.
There's no question the Celtics are more talented than the Heat. There's also no question Jimmy Butler is far more clutch than Tatum. That's no knock on Tatum. It's praise for Butler, who shows night in and night out that he's a go-to player who comes up big when his team needs him.
The Celtics don't have a Jimmy Butler. They think they do. Tatum puts up big numbers, but the only consistent part of his game is that he's wildly inconsistent.
In Wednesday's game, Tatum was good. He had 30 points on 9-for-17 shooting. He collected seven rebounds. Tatum also had three turnovers in the final four minutes. Butler was clutch. He went for 35 points on 12-for-25 shooting. The Heat star also had seven assists, five rebounds, and six steals. He came through down the stretch.
It's great for Boston that they have plenty of weapons. Jaylen Brown can put up big numbers. Malcolm Brogdon and Derrick White have shown they can come up with key baskets, but when the game is on the line, the Celtics do not have that consistent player, like Butler, they can rely on.
Complacency is Boston's biggest problem
The door has been wide open for a return trip to the NBA Finals for the Celtics ever since the eighth-seeded Heat knocked off the top-seeded Milwaukee Bucks in Round 1. Boston was an 8.5-point favorite heading into Wednesday's Game 1 with the Heat. Just like they did when they were a 10-point favorite in Game 1 against the Sixers, they blew it. The Celtics held a 13-point lead late in the second quarter against Miami and gave up 46 points in the third quarter as they were outscored 46-25.
The energy level was low. Several players and head coach Joe Mazzulla pointed out that the sense of urgency wasn't there once again. It's the Eastern Conference Finals. How can there be no intensity?
"We get tired of doing the little things sometimes," said veteran point guard Marcus Smart. "I think that showed what I was talking about earlier — our spacing. We have a lot of great players, but when we're all on top of each other, nobody can be great. When you've got a good defensive team like Miami, they're gonna make you pay for that. We gotta make sure we do those little things, and we can't get bored with those."
Jaylen Brown had his thoughts on the complacency as well.
"It's a choice. It's a decision," he said. "Just gotta come out and play with a different mentality. We came out too cool. It was almost like we was just playing a regular-season game. It's the Eastern Conference Finals, like, come on. We gotta play with more intensity than we did today."
Why do these Celtics have all the answers after the game, but they never learn from their mistakes? If anything prevents Boston from winning an NBA title this year, it will be their complacency.