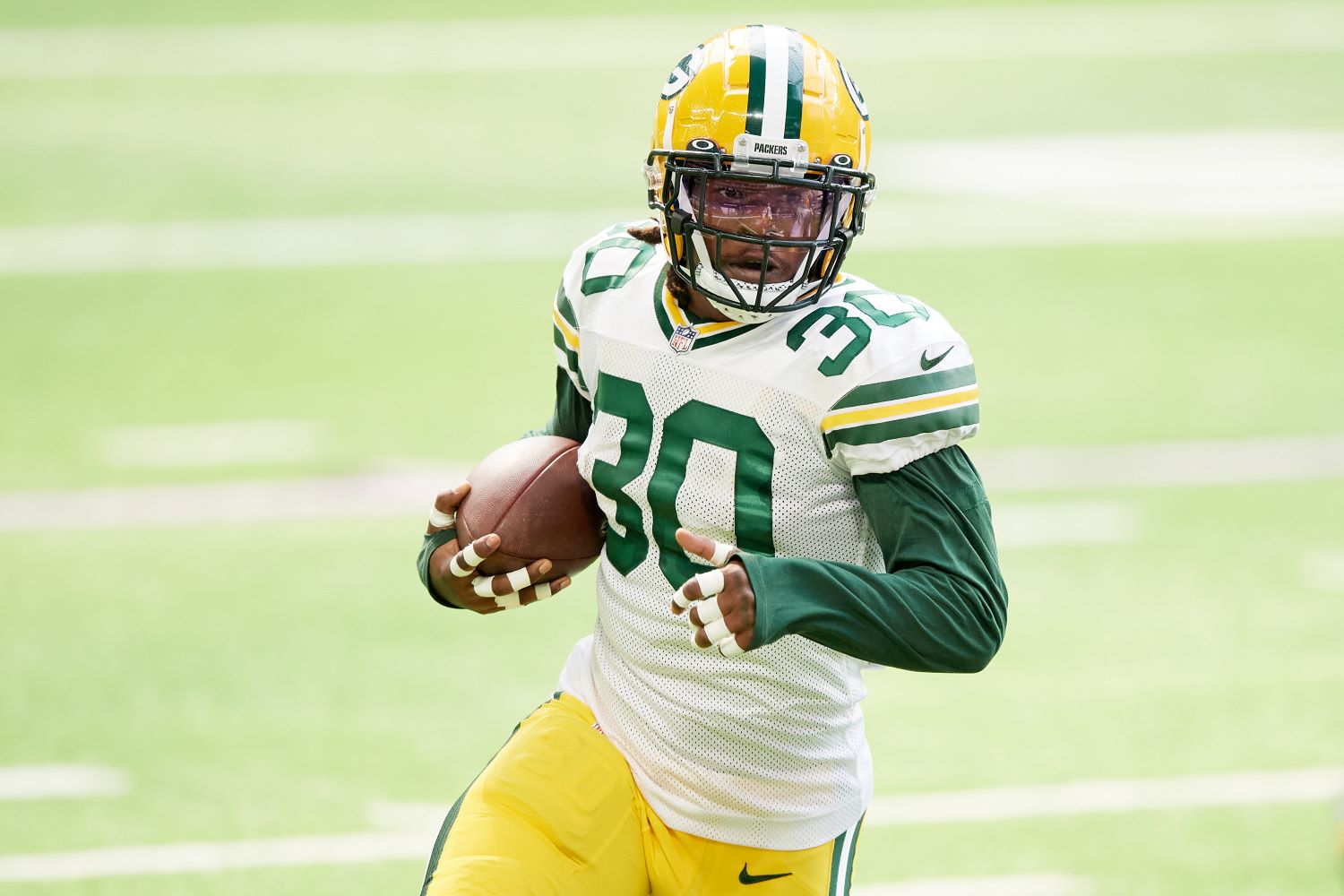 The Green Bay Packers Just Suffered a Brutal Blow to Their Backfield
The Packers just suffered a brutal COVID-19 blow. With Jamaal Williams unavailable, who will carry the load at running back for Green Bay?
Two days before they take on the San Francisco 49ers at Levi's Stadium, the Green Bay Packers just suffered a brutal COVID-19 blow. Already dealing with major issues at running back, the Packers now have to find a way to win on Thursday without Jamaal Williams.
But given their razor-thin depth at the position, that mission appears easier said than done.
Green Bay is dealing with major issues at running back
While Aaron Rodgers deserves plenty of praise for his MVP-caliber season, the Packers rank third in scoring due in large part to their strong running game. Aaron Jones has picked up right where he left off in 2019 and has averaged a career-high 77.8 rushing yards per game.
Jamaal Williams has totaled nearly 300 rushing yards on just 68 carries. Rookie A.J. Dillon has displayed the power and strength that convinced the Packers to take him with the 62nd overall pick back in April.
However, Green Bay currently has some significant issues going on in the backfield. Jones suffered a calf strain in mid-October and has missed the team's last two games. It is unclear if he will return to the lineup on Thursday.
To make matters worse, Dillon had to get placed on the reserve/COVID-19 list on Monday. The second-round pick will miss the 49ers game after playing 10 offensive snaps on Sunday.
The Packers just suffered a brutal COVID-19 blow
With their best running back working his way back from injury, the Packers have had to rely on Jamaal Williams and A.J. Dillon more in recent weeks. But with Dillon testing positive for COVID-19, Green Bay lost another piece on offense.
As if they could afford another hit to their backfield, the Packers just suffered a brutal COVID-19 blow. Tom Pelissero of the NFL Network reported via Twitter that Williams and linebacker Kamal Martin have been designated "high-risk close contacts" to Dillon. As a result, both players will have to sit out Thursday's matchup against San Francisco.
While Martin does not play a significant role on defense, losing Williams represents a massive blow to Green Bay's offense. During Aaron Jones' two-game absence, the 6-foot, 213-pounder has racked up 152 rushing yards, 64 receiving yards, one touchdown, and a two-point conversion.
Now that Williams cannot suit up on Thursday, that leaves the Packers with only two healthy running backs. And unless Jones makes a rapid recovery in the next 48 hours, Green Bay will have no choice but to insert a player with 10 career rushing attempts into the starting lineup.
Who will carry the load on Thursday?
Between injuries and COVID-19, the Packers' talented backfield has been decimated to the point that Tyler Ervin will have to play significant snaps against the 49ers' 10th-ranked scoring defense.
A fourth-round pick in the 2016 NFL draft, he spent the first three years of his career with the Houston Texans. Ervin played sparingly on offense but did showcase some ability as a returner. This season, he has carried the ball four times for 43 yards while chipping in 33 yards on six catches.
Expect Green Bay to promote Dexter Williams from the practice squad. The 2019 sixth-round pick carried the ball just five times as a rookie, but he at least brings more size and bulk (5-foot-11, 212 pounds) than Ervin (5-foot-10, 192 pounds).
Ultimately, the Packers may want to abandon the run and put the game fully in Aaron Rodgers' hands. The 49ers still don't have Richard Sherman back in the lineup, and the team's pass rush has not been nearly as dominant without Nick Bosa leading the charge.
Matt LaFleur may love to the run ball, but based on the Packers' personnel, he'll have to make major adjustments to his game plan against the 49ers.
Luckily for him, he still has a two-time MVP at quarterback.
All statistics courtesy of Pro Football Reference.