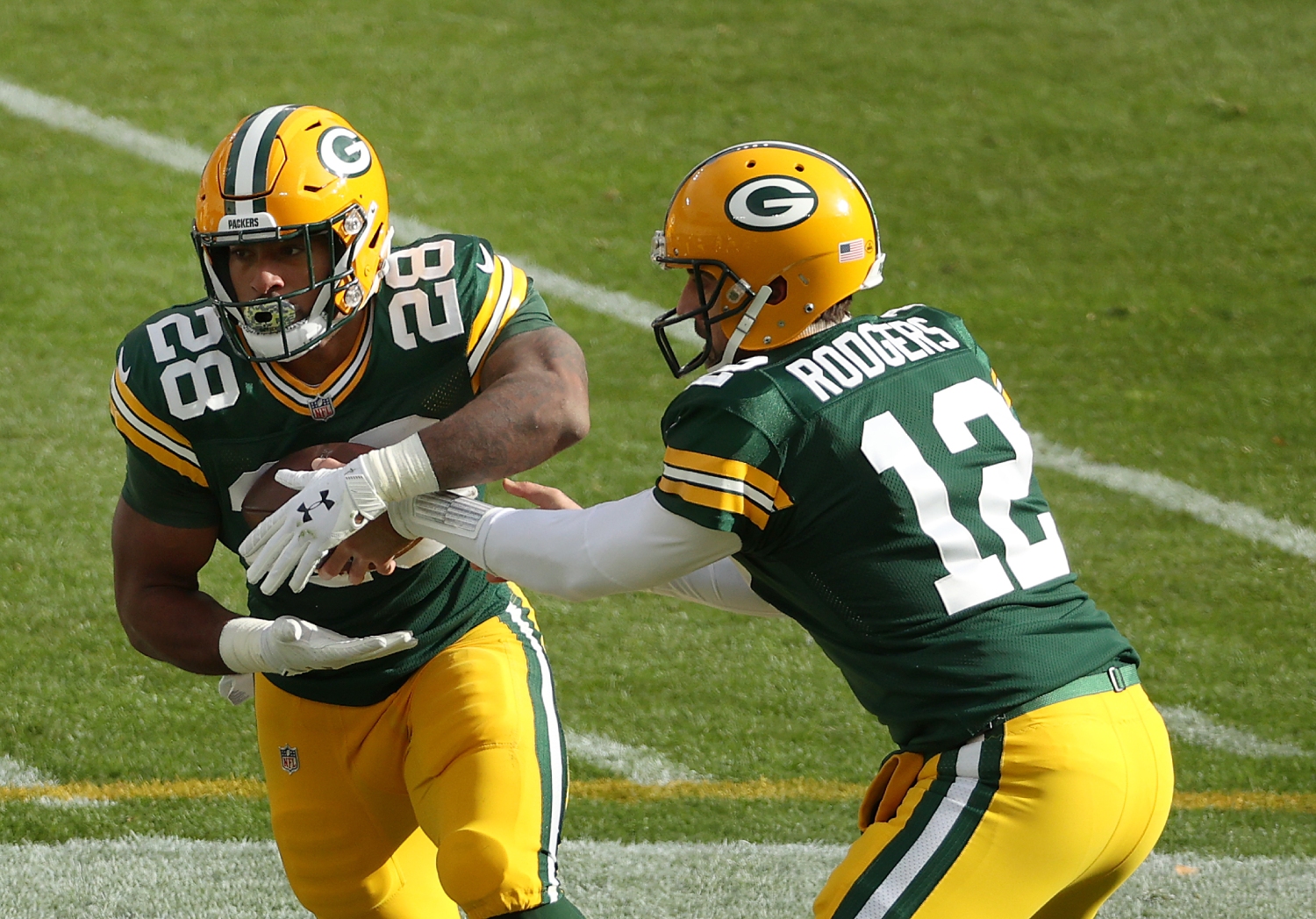 The Green Bay Packers Just Suffered a Significant COVID-19 Blow
After Sunday's tough loss at home to the Minnesota Vikings, the Green Bay Packers suffered a significant COVID-19 blow.
Things didn't turn out quite well Sunday when the Green Bay Packers were stunned at home by the Minnesota Vikings. It was just the second loss of the season, but it came at the hands of a division rival that entered the game with one victory. Fortunately for the Packers, they have a short turnaround as they play Thursday night. Unfortunately, the Pack was dealt a coronavirus (COVID-19) blow that will significantly hamper their running game.
The Packers need a short week after Sunday's loss to the Vikings
The Green Bay Packers were embarrassed at home Sunday against the Minnesota Vikings. Defensively, the Packers didn't show up as Vikings running back Dalvin Cook rushed for 163 yards and three touchdowns. He also hauled in a 50-yard touchdown pass. The Packers will have to put that game out of their minds quickly as they will travel to San Francisco to face the banged-up 49ers.
The 49ers will have a significantly different look than when the teams met in last year's NFC title game. Raheem Mostert, who ran wild in the postseason game, will be out nursing a high ankle sprain. Quarterback Jimmy Garoppolo and tight end George Kittle were both hurt in Sunday's loss to the Seattle Seahawks and will miss significant time.
The Packers (5-2) can get back on track with a win over the short-handed Niners, but will certainly need a much better defensive effort. Aaron Rodgers and Davante Adams clicked offensively, hooking up for three touchdown passes. The Packers, however, turned the ball over in the final minute as they were driving for a potential game-winning touchdown.
Despite the loss, the Packers remain in first place
If there is any good news on the Green Bay Packers front, it's they remain in first place in the NFC North. When the Chicago Bears lost to the New Orleans Saints later that Sunday, it kept the Packers in first place with their 5-2 mark. Chicago hasn't had its bye week yet and fell to 5-3.
Packers head coach Matt LaFleur acknowledged his team's struggle defending the run Sunday. He admitted that Cook ran all over them despite Green Bay's preparation for a heavy dose of Cook. LaFleur said his team needs to figure things out defensively, and it needs to do so fast with just three days between the next game.
"We knew exactly what they were going to do in terms of they were going to ride (Cook) and also just with the conditions out there, it was pretty windy and we never put them in a situation where they had to drop back and throw the football – or at least not too many times," LaFleur said, according to Packers News. "That's something that we better get it fixed, and we better get it fixed fast because I have a pretty good idea of what's going to happen on a short week on Thursday in San Francisco as well."
Packers dealt a serious COVID-19 blow
The Green Bay Packers have been very thin at running back and just got thinner. According to NFL Insider Adam Schefter, Rookie running back A.J. Dillion, the Packers' second-round pick out of Boston College, has tested positive for COVID-19 and is under self-quarantine. He is out for Thursday's game.
Dillon hasn't been a big part of the Packers offense, but with Aaron Jones missing the last two weeks, he provided insurance at the running back position. Green Bay's leading rusher Aaron Jones has been out with a calf injury and it's unknown if he'll be ready to go Thursday. Without Jones and Dillon, the Packers are extremely thin at the position.
Jamaal Williams has been strong filling in for Jones. Williams, however, was just added to the injury report estimation, according to Packers beat reporter Matt Schneidman. Schneidman reported Williams wasn't on the list because of an injury, but also said he wasn't placed on the reserve/COVID-19 list.