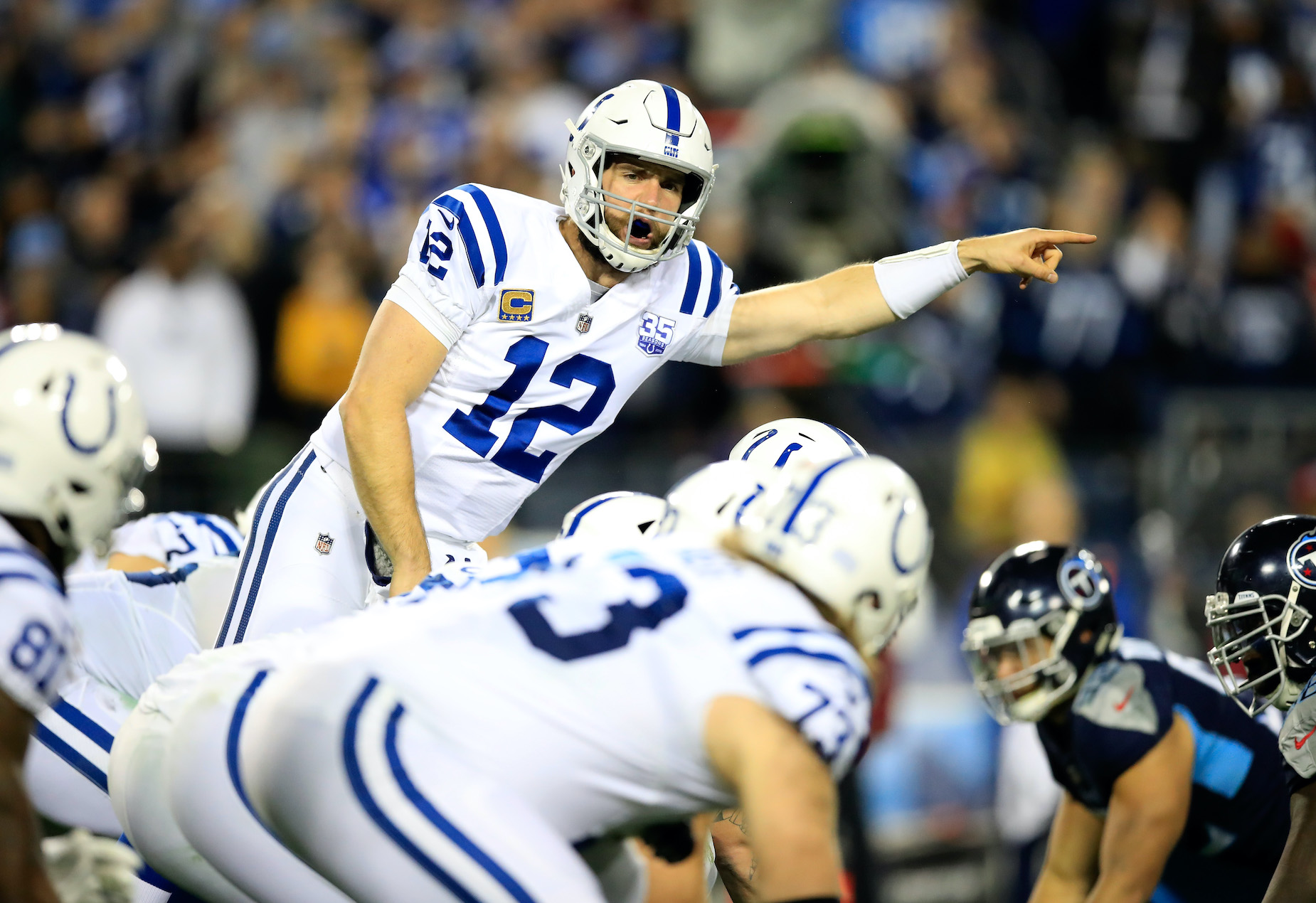 The Indianapolis Colts 'Would Love' to Have Andrew Luck Return and Solve Their Quarterback Problem, but They're Not Holding Their Breath
While the Indianapolis Colts would love to see Andrew Luck make a comeback, the team won't be holding their breath waiting for the quarterback.
In the modern NFL, everything starts and ends with your quarterback. Unfortunately for the Indianapolis Colts, that reality puts them behind the eight ball. With Philip Rivers riding off into the sunset, the team suddenly needs a new signal-caller. Could that man be Andrew Luck?
Ever since his sudden retirement in August 2019, Colts fans have held out hope that their franchise quarterback could return to the gridiron. The team's brass would also love to see Andrew Luck mount a comeback, even if they know it's unlikely.
Andrew Luck was the Indianapolis Colts' man main until his sudden retirement
After Peyton Manning left town, the Indianapolis Colts suffered through a year of Curtis Painter, Dan Orlovsky, and Kerry Collins under center. When Andrew Luck arrived in the 2012 draft, however, it looked like quarterback problems would be a thing of the past.
Luck immediately made an impact, helping the Colts win 11 games and make the 2012 playoffs; that was only the beginning, though. In 2013, Luck helped the Colts pull off a massive, Wild-Card weekend comeback against the Kansas City Chiefs. He followed that up with an impressive 2014 campaign, throwing for 4,761 yards and 40 touchdowns.
Despite that hot start to his career, though, Luck would eventually struggle with an injury to his throwing shoulder. While he did return for the 2018 season and win Comeback Player of the Year honors, the quarterback decided that he had enough.
In August 2019, Andrew Luck retired from pro football. He was 29-year-old and had only spent seven seasons in the league.
The Colts' quarterback carousel keeps on spinning
When Andrew Luck retired shortly before the 2019 NFL season began, it understandably threw a wrench into the Indianapolis Colts' plans. Two seasons later, though, the franchise is back at square one.
In 2019, the Colts relied on Jacoby Brissett as their starting quarterback; Brian Hoyer also took charge on one game. As you'd assume, those two men didn't exactly lead the team to the promised land. Indianapolis finished the year 7-9, missed the playoffs, and decided that they needed an upgrade.
When free agency opened, the Colts landed Philip Rivers. While the veteran quarterback did help the team improve—they went 9-7 and made the playoffs—he retired at the end of the campaign. That leaves Indianapolis again looking for a starting QB.
While the team has been linked to Matt Stafford, there's always one option that exists in the back of Indianapolis' collective mind: Andrew Luck.
Indianapolis 'would love' to have Andrew Luck back, but they're not holding their breath
In theory, Andrew Luck could be a potential solution to the Indianapolis' quarterback problems. We know that he has the talent; in theory, he could step into the void, keep things steady, and give the team some time to properly plan for a long term solution. While the Colts' brass would gladly entertain that option, they're not holding their breath.
"He knows we would love to have him back,'' Colts owner Jim Irsay said, according to Mike Chappell of FOX 59. "But only he can answer that question deep in his heart and his soul: 'Hey, do I really want to come back and be a quarterback for the Colts again in the NFL?' It's easy for us. He knows how much we'd love to have him be our quarterback."
"I don't really know if we'll see that," Irsay continued. "I think he's happy. He's raising his daughter. He has a wonderful family. He's a great Colt. He knows that he can come back anytime he wants, but at the same time, we respect he's made that decision.''
As Irsay essentially said, you'd be hard-pressed to find too many Colts fans who wouldn't welcome Andrew Luck back with open arms. At the end of the day, though, it's simply unlikely that he's going to return to professional football.
It kind of stands where it stands. Andrew's retired,'' Irsay simply said.
Stats courtesy of Pro-Football-Reference