The Most Iconic Photo of Wilt Chamberlain Was Taken By an Off-Duty Pulitzer Prize Winner
On March 2, 1962, Wilt Chamberlain did the unthinkable, and there weren't a whole lot of folks who witnessed it. Chamberlain's Philadelphia Warriors played the New York Knicks at Hershey Sports Arena in Hershey, Pennsylvania. The arena had a capacity of approximately 7,200, but on this night, 4,124 showed up to witness one of the greatest moments of sports.
Chamberlain scored 100 points that night in a 169-147 Warriors win. There's no video footage of the game, and there was little fanfare when it was over. One iconic photo from the event is Chamberlain sitting in the locker room after the game holding up a piece of paper with "100" written on it. The photo was taken by a quick-thinking Associated Press photojournalist, who wasn't even working that night.
Wilt Chamberlain had very little hype after his 100-point game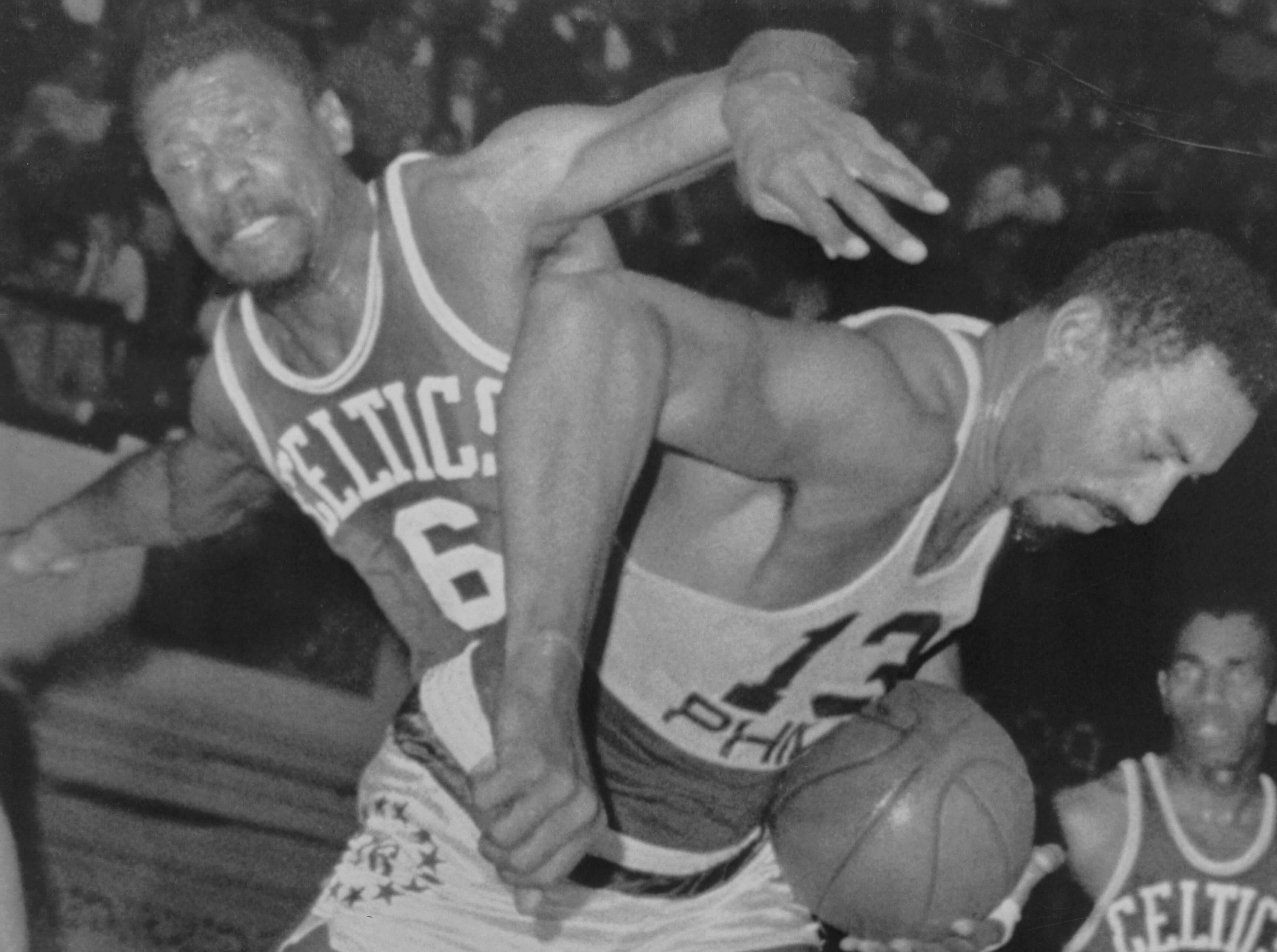 According to Robert Cherry's biography of Chamberlain, Wilt: Larger than Life, the newspapers had very little about Wilt's feat the following day. He wrote that The Philadelphia Inquirer and The Bulletin each had a box on the front page to announce the accomplishment. Cherry added that the Daily News had nothing about Chamberlain on the cover.
While 4,124 people attended the game, Cherry wrote that many more thousands claimed to have been there. Some of them even told Chamberlain they saw him score 100 points at Madison Square Garden. Cherry said Wilt played along.
"When people tell me they were at the game, I never correct them," Cherry wrote in the book, quoting Chamberlain. "I always let them feel like they saw it. I just say, 'So you saw it? Hey, well good. I was there, too.'"
Cherry claims that Chamberlain liked the fact there was no film of the game. He wrote that it added to the aura and mystique of the moment.
Chamberlain set nine records in that game, including most points in a quarter (31), most points in a half (59), and most field goals in a game (36). A poor foul shooter, Chamberlain went 28-for-32 from the free-throw line that night.
Chamberlain's iconic photo was taken by an off-duty photojournalist
When the game ended, Harvey Pollack, Philadelphia's statistician, grabbed a piece of paper and wrote "100" on it. The iconic image of Chamberlain holding up the paper would never have been published if not for the quick thinking of Paul Vathis.
Vathis was a longtime photographer (56 years) with the Associated Press. He won a Pulitzer Prize for his photo of President John F. Kennedy and former President Dwight D. Eisenhower walking together at Camp David after the Bay of Pigs invasion.
On this day, however, Vathis wasn't working for the AP. He was there to take in the game as a spectator, taking his son to the game for his 10th birthday. Like an instinctive journalist, Vathis, camera in hand, snapped the photo as soon as Chamberlain held up the paper. That image has become the most famous photo featuring Chamberlain.
Chamberlain went on to have a career year. He averaged 50.4 points and 25.7 rebounds that season. He finished the year with 4,029 points and somehow still wasn't named MVP. Bill Russell, the star of the championship Boston Celtics, won the award that season.