Wilt Chamberlain Won 4 MVPs, but None Came During His Most Spectacular Season as Bill Russell Got the Last Laugh
If you wanted points and fanfare, you take Wilt Chamberlain. If you preferred championship rings, Bill Russell is your man. The two Hall of Fame centers will be forever linked because of their rivalry on the basketball court.
The two combined for nine MVPs, with Russell earning five and Chamberlain four. Chamberlain and Russell are two of three players (Larry Bird the other) to win the award three straight times. If the voters would've gotten it right in 1962, only Chamberlain and Bird would have earned three consecutive MVPs.
Wilt Chamberlain got a raw deal when it came to the 1962 MVP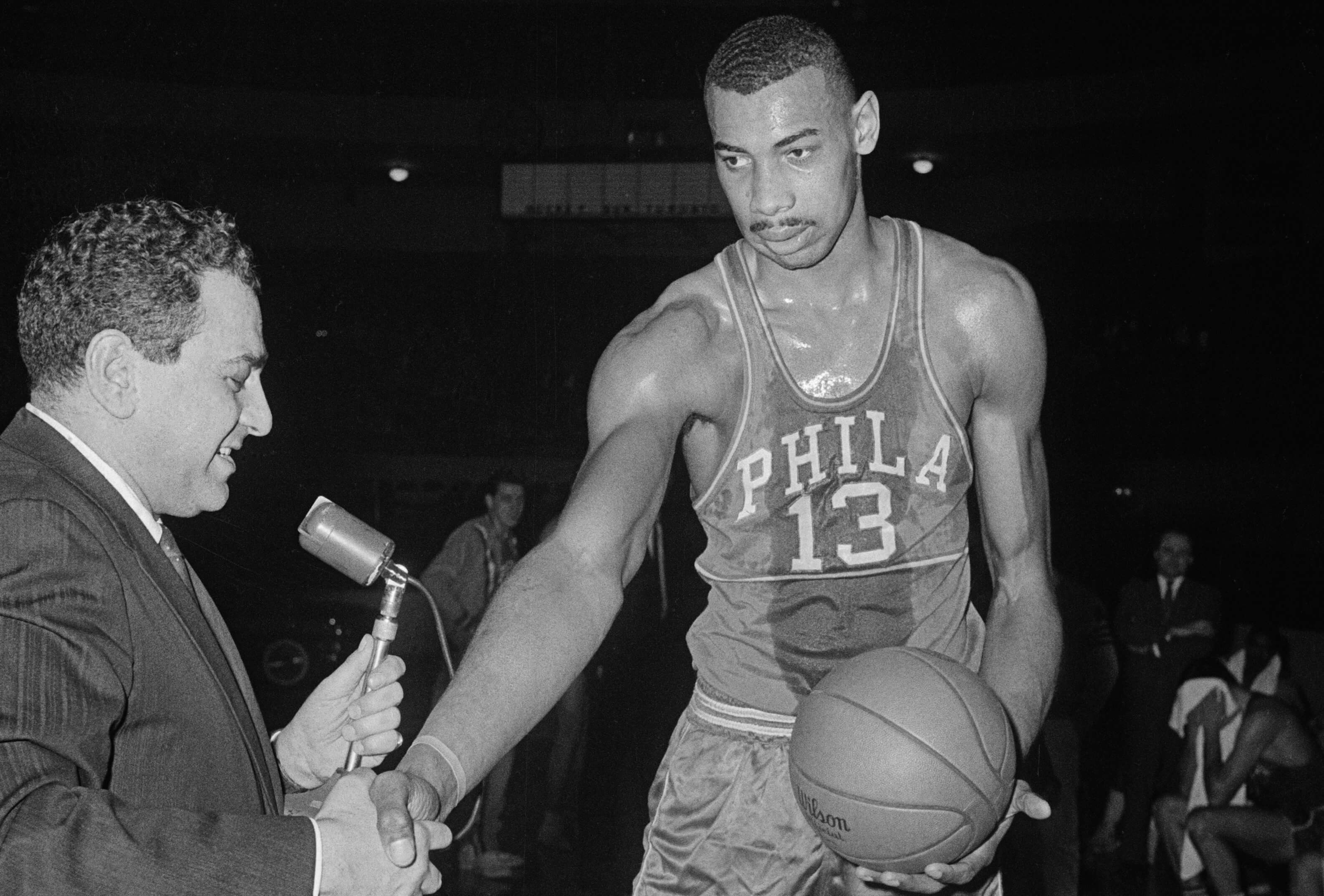 Chamberlain made quite the impression as a rookie in the NBA. The 7-foot-1 center out of Kansas led the league in scoring (37.6), rebounding (27.0), and minutes (46.4). Not only did he capture Rookie of the Year honors, but he also won the first of his four MVPs.
In his second season, he somehow upped his numbers, leading the NBA again in scoring (38.4), rebounding (27.2), and minutes (47.8). During that 1960-61 season, Bill Russell won the first of his three straight MVPs after putting up 16.9 points and 23.9 rebounds in 44.3 minutes. The Celtics went on to win the championship after beating Chamberlain's Philadelphia Warriors by 11 games in the regular season.
The following year, Chamberlain had his best statistical season, blowing away any competitor, including Russell. Chamberlain averaged 50.4 points and 25.7 rebounds for the season. He even averaged 48.5 minutes per game, a wild statistic because NBA games were only 48 minutes long. He played every minute except for the final 8:33 of a game in which he was ejected for multiple technical fouls. Seven games went overtime, accounting for the extra half-minute of his average. He scored 100 points in a game.
Again, Russell's Celtics won the NBA title after winning 60 games. Chamberlain's Warriors finished second in the Eastern Division with 49 wins. The Celtics had far and away the better team. Russell had one heck of a supporting cast, flanked by Bob Cousy, Sam Jones, Tom "Satch" Sanders, and Tom Heinsohn. During that 1961-62 season, Chamberlain's help consisted of Guy Rodgers, Paul Arizin, Tom Meschery, and Tom Gola.
Russell's numbers for the season were 18.9 points and 23.6 rebounds. He shot 45.7% from the floor. Chamberlain was 50.7%. Russell won MVP.
Chamberlain and Russell combined for eight MVPs in nine years
From 1960 to 1968, Chamberlain and Russell claimed MVP awards every year except one. After Russell won his three straight from 1961 to 1963, Oscar Robertson of the Cincinnati Royals took home the award for the 1963-64 season.
Robertson, whose team finished second in the Eastern Division to the Celtics, averaged 31.4 points and led the NBA in assists (11.0) and free-throw percentage (85.3%). He also pulled down 9.9 rebounds.
After Robertson, Russell won MVP again in 1965 before Chamberlain won his three straight.
Russell is certainly deserving of his MVP awards as the leader of the best team of the decade, but that 1962 honor is baffling. Yes, the Celtics were the better team, but that only makes the case for Chamberlain stronger. Chamberlain still guided the Warriors to 49 wins by putting the team on his back. Robertson won his award on a second-place team and didn't have nearly the season Chamberlain did in 1962.
Aside from the ejection, he played every minute of the season. He averaged 31 more points per game than Russell — THIRTY-ONE. He didn't average 31 points. It was 31 points MORE than Russell's 18.9 average. He outrebounded Russell by two per game.
How a player who averages more minutes per game than actual minutes in a game, puts up better than 50 points and 25 rebounds per contest, and carries the team into the postseason doesn't win MVP is beyond puzzling.