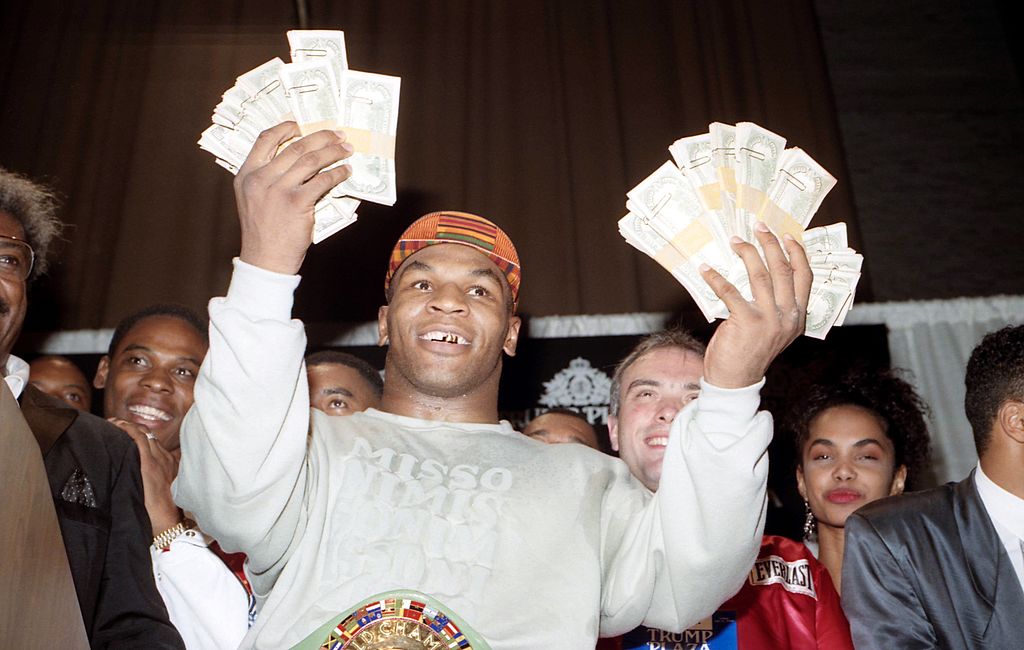 The Night Mike Tyson Hit Rock Bottom with Prostitutes, Cocaine, and a Morphine Drip
When Mike Tyson retired in 2005, he began an accelerated downward spiral destined for tragedy. One night in 2009 he hit rock bottom.
Mike Tyson has been making headlines in recent weeks with talks of a return and videos revealing a fit 53-year-old boxer with speed and his trademark power. It's very different from the Tyson of a decade ago who had been out of boxing for almost five years and was in an accelerated downward spiral destined for a tragic ending. Here's what happened on the night Mike Tyson personally described as "hitting rock bottom." 
Mike Tyson's decline begins
In 2005, Mike Tyson retired and concluded a 20-year career as one of the greatest heavyweights in boxing history. Tyson's final fight just days shy of his 39th birthday also ended a tumultuous three-year period for the fighter both inside and outside the ring.
2002 was a particularly bad year for Tyson. In January, Tyson's second wife Monica Turner filed for divorce citing he had committed adultery during their five-year marriage. The couple had two children; son Amir, and daughter Rayna. Just six months later, in June, Tyson came out flat and struggled against Lennox Lewis, eventually losing via knockout in the eighth round. 
Tyson's loss to Lewis was a precursor of things to come. Outside of a first-round knockout of Clifford Etienne in early 2003, Tyson lost back-to-back fights in 2004 and 2005 to what many considered to be much lesser opponents. In his final fight, the 38-year-old Tyson failed to answer the bell for the seventh round against Kevin McBride.
Anyone who was paying attention should have known Tyson wasn't prepared for McBride or any other fighter at that point. Just eight days before the fight, he revealed in an interview with USA Today he wasn't in a good place mentally. 
"My whole life has been a waste — I've been a failure. I just want to escape. I'm really embarrassed with myself and my life. I want to be a missionary. I think I could do that while keeping my dignity without letting people know they chased me out of the country. I want to get this part of my life over as soon as possible. In this country nothing good is going to come of me."
Tyson's young daughter dies in tragic accident
Almost 18 months after his last fight, in December 2006, Mike Tyson was arrested in Scottsdale, Arizona, on suspicion of DUI and felony drug possession. According to a probable-cause statement, Tyson admitted to using drugs and said he was an addict. Two months later, he checked himself into an inpatient treatment program for "various addictions."
After pleading guilty to both charges later in 2007, Tyson spent 24 hours in jail and was ordered to serve three years probation and undergo 360 hours community service. For the next two years, Tyson stayed off of the front pages until 2009 when tragedy struck. 
On May 25, 2009, Tyson's four-year-old daughter, Exodus was found unconscious and tangled in a cord, dangling from an exercise treadmill. The child's mother untangled her, administered CPR, and called 911. Tyson, who was in Las Vegas, rushed back to Phoenix to spend the final few hours with his daughter. She died a day later.
Tyson hits rock bottom
Instead of mourning the loss of his child, 11 days later Mike Tyson married his girlfriend Lakiha "Kiki" Spicer in a short, private ceremony at a chapel inside the Las Vegas Hilton.
That same year Tyson found himself in another Las Vegas hotel in a very different situation that included a smorgasbord of drugs and booze and seven prostitutes.
"This is really dark. I am in my hotel suite, I've got seven women there, and I have a morphine drip, and I had my cocaine, and I had my Cialis, I had my marijuana, I had the Hennessy," Tyson described in an interview with Las Vegas Weekly in 2012. 
The former champ said it went south fast when he started feeling paranoid and thought the women were trying to rob him and set him up.
"I started beating them. I was in a dark place. There was a purpose, though, because I didn't want to give them any more of my soul. That is the devil, he won. I kicked them all out. So that was my lowest point. Oh, man. I am just very grateful to be here — my heart should have blown apart. I was sweating wide awake. No more cocaine. No more. Three years clean."
In 2013, Tyson publicly admitted he had lied about his sobriety and said he was an alcoholic. Since then, Tyson has stayed married to Lakiha, had two children, and the only headlines he has made have been about a return to the ring. It's a long way from that night 11 years ago.