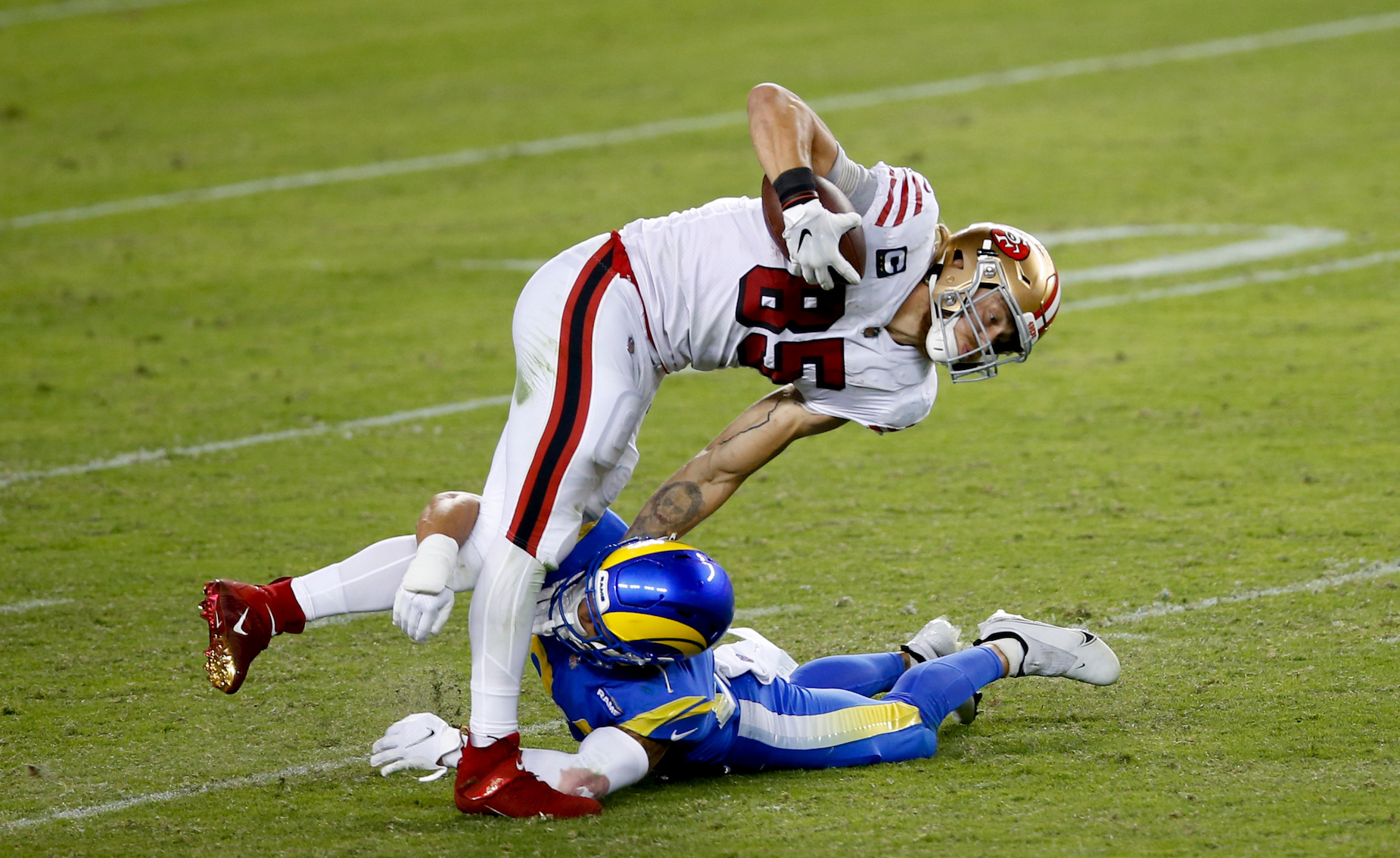 The San Francisco 49ers Season Just Came to an Untimely End With a $75 Million Loss
While George Kittle is an undeniable star, the tight end's foot injury could change the course of the San Francisco 49ers' 2020 campaign.
Last season, the San Francisco 49ers made a statement. In an era where wide receivers and quarterback steal the show, the Bay Area club rode their defense and ground game to the Super Bowl; while the big game didn't end happily, the future was still looking bright. 2020, however, has cast a long shadow over the optimism.
Through the first eight weeks of the season, the San Francisco 49ers have been racked by injuries and are sitting at 4-4 in the NFL's toughest division. To make matters worse, the team is now holding their collective breath, hoping that George Kittle can survive his latest injury scare.
George Kittle has become one of the NFL's top tight ends
If you're an old school football fan, it's easy to think of a tight end as nothing more than a slightly more athletic lineman. Guys like George Kittle, however, are putting that stereotype to bed.
Kittle played his college ball at the University of Iowa, where he barely made an impact during his first two seasons. As a junior, however, everything changed; the tight end posted a 290 receiving-yard, six touchdown campaign before adding 314 more yards and four additional scores as a senior.
While those numbers might not seem eye-popping, they were enough to earn Kittle an NFL job. When the 2017 NFL draft rolled around, the San Francisco 49ers selected him with the 146th-overall pick.
After a quiet rookie season, Kittle burst onto the NFL scene in 2018; he piled up 88 receptions, which were good for 1,377 yards and five touchdowns. He made a name for himself with both his impressive athleticism—most of his yardage came after the catch—and ability to block seemingly any defensive player. If the modern tight end is supposed to be able to function like a wide receiver or a lineman, depending on the situation, George Kittle can fill both roles with ease.
Suffering another lower-body injury on Sunday
Whether it's due to the lack of preseason football or simply bad luck, the 2020 NFL season has been blighted by injuries. The San Francisco 49ers have experienced that painful reality first hand.
On Sunday, both Jimmy Garoppolo, Tevin Coleman, and Kittle all left the game with various injuries. Coleman, who had just returned from a stint on the sidelines, left the game in the first quarter after hurting his knee; Garoppolo and Kittle both exited in the final frame with lower-body injuries.
If that sounds like deja vu all over again, that's because a similar situation unfolded earlier this year. Kittle missed Weeks 2 and 3 with a knee injury. Garoppolo sprained his ankle in Week 2; he sat out for two weeks and struggled in his return to action during Week 5.
The San Francisco 49ers season is essentially over without their $75 million man
After the game ended, it appeared that the San Francisco 49ers had dodged at least one bullet: George Kittle hadn't broken his ankle. The club, however, took a sucker punch straight to the jaw on Tuesday.
While the tight end hadn't damaged his ankle, ESPN's Adam Schefter reported that Kittle had broken a bone in his foot; he's expected to miss eight weeks of action.
That injury, combined with Garoppolo's latest injury, could be the end of San Francisco's season. As of now, the reigning NFC champions are one game out of a playoff spot; keeping in touch with the pack, let alone closing the gap, now looks like it's a bridge too far.
Last season, the San Francisco 49ers almost proved the "defense wins championships" cliche to be true. Without the majority of their offensive weapons, though, no amount of defensive heroics can keep the club in the hunt.
Stats courtesy of Sports-Reference and Pro-Football-Reference