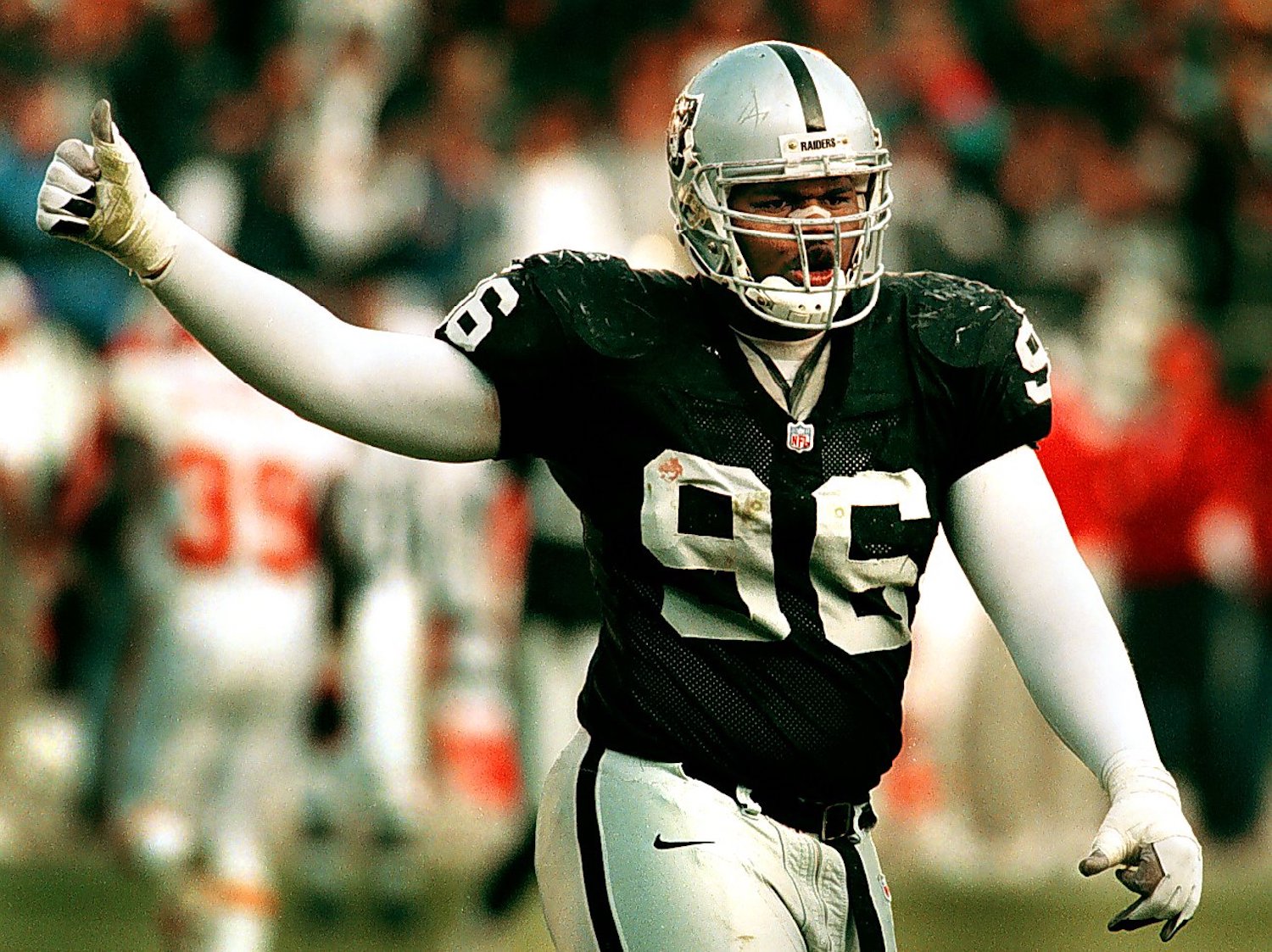 The Struggles, Suspensions, and Tragic Death of Raiders 2-Time Pro Bowl Defensive Star Darrell Russell
Darrell Russell became a defensive star for the Oakland Raiders making two Pro Bowls in his first three seasons. Then drugs derailed his career. He tragically died in 2005.
Darrell Russell showed so much promise early on in his NFL career, earning a couple of Pro Bowl nominations in his first three years. Unfortunately, while he was battering his opponents on the field, he battled demons off of it. The NFL suspended the Oakland Raiders defensive star multiple times for drug use. Ultimately, it cost him his career. In 2005, less than a decade after he was the No. 2 overall pick in the 1997 NFL draft, Russell and a former USC teammate tragically died in a car accident.  
Darrell Russell makes two Pro Bowls early in career
The Oakland Raiders selected Darrell Russell out of the University of Southern California with the No. 2 overall pick in the 1997 NFL Draft. Russell started 10 games his rookie season along the Raiders defensive front, recorded 44 tackles, 3.5 sacks, and forced a fumble. He made the All-Rookie Team that season. 
In year two, he took his game to the next level. During that season, the 6-foot-5, 325-pound Russell dominated opposing offensive linemen. He finished the year with an impressive 10 sacks, 64 tackles, and three forced fumbles. He earned All-Pro and Pro Bowl honors.
Darrell Russell had another stellar performance the following year, recording 45 tackles, 9.5 sacks, and a fumble recovery. He earned his second consecutive Pro Bowl nomination. 
After a dropoff in production during the 2000 season, Russell's career and life were about to make a dramatic turn. 
Darrell Russell's career derailed by multiple suspensions
After failing a drug test and missing a second test, the NFL suspended Darrell Russell for the first four games of the 2001 season. He returned and started seven games that year, recording 2.5 sacks. 
In January 2002, Russell tested positive for a banned substance and the NFL suspended him again. After he was arrested and charged with DUI in Nevada, NFL Commissioner Paul Tagliabue extended Russell's suspension three months, unsatisfied the player's off-field behavior warranted his return to the league. He would miss the entire 2002 season.
Darrell Russell returned to the NFL in 2003 and played eight games for the Washington Redskins. He missed the final game that year because the team suspended him for being late to a team meeting. He never played another down in the NFL.
Russell and friend tragically die in car-racing accident
During the summer of 2005 and two years removed from his last game, Darrell Russell openly shared his struggles at the NFL's rookie symposium, which is used to teach new players the potential problems they might encounter in their careers and how to avoid them.
"He was trying to teach people that, 'I am a prime example of what not to do in certain situations,'" Oakland Raiders safety Calvin Branch said.
Several months later, the 29-year-old Russell was riding as a passenger in a car driven by his former USC teammate Mike Bastianelli. According to police, the vehicle was involved in high-speed race around 6 a.m. when it skidded out of control and hit a curb, tree, newsstand, fire hydrant, light pole, another tree, and an unoccupied transit bus. 
Paramedics worked 25 minutes to free up both men from the vehicle. Bastianelli was taken to UCLA Medical Center, where he later died. Darrell Russell was taken to Cedars-Sinai Medical Center where he was pronounced dead.
All stats courtesy of Pro Football Reference.