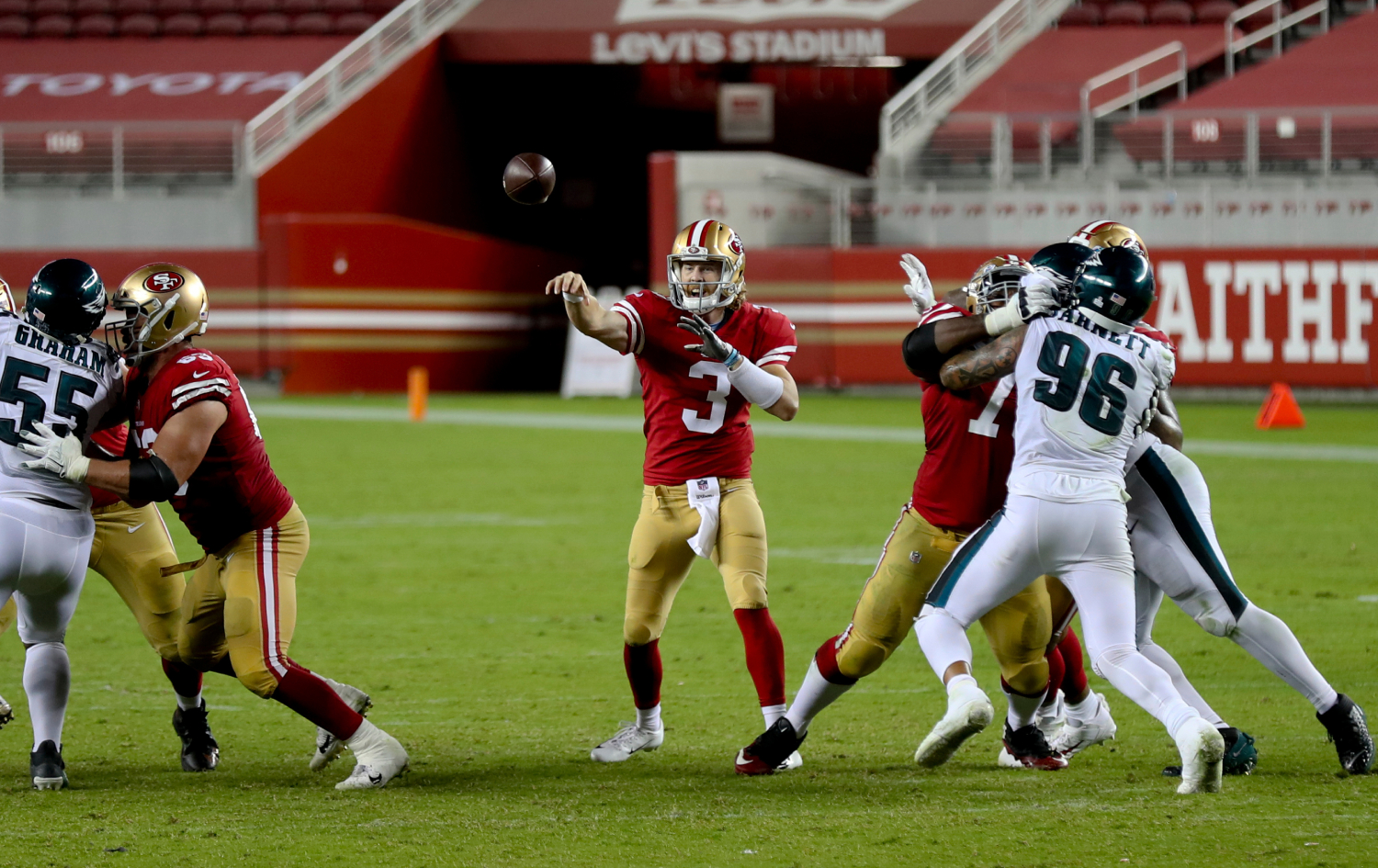 The Tragic Death of C.J. Beathard's Brother Brought the 49ers Much Closer
The tragic death of San Francisco 49ers quarterback C.J. Beathard's brother last year brought the entire team together.
C.J. Beathard has recently had some unexpected moments in his professional and personal life. One year after being drafted in the NFL by the San Francisco 49ers, he found himself as the starting quarterback after Jimmy Garoppolo was injured in 2018. In 2019, he found out his younger brother had been killed outside a Nashville bar. The unexpected death of Clay Beathard made the 49ers one tight-knit group.
C.J. Beathard's football career
C.J. Beathard played his college football at Iowa. The 6-foot-2, 215-pound quarterback was a third-round pick in the 2017 NFL draft. The San Francisco 49ers selected Beathard with the 104th overall pick. Beathard was the sixth quarterback taken.
In his rookie season, Beathard was named the 49ers backup quarterback to Brian Hoyer. Beathard made his debut Oct. 15 when he replaced Hoyer in the second quarter and went 19-for-36 with a touchdown and interception in a 26-24 loss.
Beathard has started 10 games in his NFL career. He filled in for Jimmy Garoppolo in 2018 and went 0-5 as a starter. Beathard is 1-9 in his 10 NFL starts. He's thrown 14 touchdown passes and has 13 interceptions. Beathard is the grandson of former NFL executive and Pro Football Hall of Famer Bobby Beathard.
Clay Beathard was killed last year
On Dec. 21, 2019, Clay Beathard, the younger brother of C.J. Beathard, was stabbed during an altercation outside a Nashville bar. He and another man, identified as Paul Trapeni III, 21, were taken to Vanderbilt University Medical Center and were pronounced dead, according to ESPN.
The Nashville Police Department said the altercation "appear to have resulted from an argument over a woman that began inside Dogwood Bar and then turned physical when the parties went outside." Clay Beathard had just finished his junior year as a quarterback for Long Island University.
"The 49ers family was shocked and deeply saddened to learn of the tragedy involving C.J. Beathard's younger brother, Clayton," the 49ers said in a statement. "We extend our heartfelt sympathies to C.J. and the entire Beathard family as they cope with the unthinkable loss of a loved one. C.J. has traveled home to join his family, knowing he has the support of our entire organization as they grieve the passing of Clayton."
The 49ers became very close after Clay Beathard's death
Clay Beathard's death came one year after San Francisco 49ers team owner Jed York lost his brother to suicide. After Beathard died, the 49ers used the tragedy to become even closer than they had been. "We talk about everyone being family, and you say it on a lot of teams, man," 49ers coach Kyle Shanahan said last January, according to The Mercury News. "But as we've known all year, it's different here."
49ers Pro-Bowl tight end George Kittle was hit hard by the death of Clay Beathard. Kittle and C.J. Beathard went to Iowa together and now play professionally together. "When C.J. was back with his family in Nashville, that was the first time I've played a football game without him in eight years," Kittle said. "For me, you definitely have them in your head when you're out there playing. Hey, C.J.'s not here, he's part of me tonight and he's going to help me win this game. That's what I've always loved about football — you can always play for somebody."
C.J. Beathard felt the love after losing his brother. "We put ourselves in a great position to win a Super Bowl here," Beathard said during last year's postseason run. "But I think it goes to the culture and the type of people we have on this team. We have a lot of great people who have each other's back through thick and thin. Obviously, all the tragedy has been horrible, but it's brought us all real close."