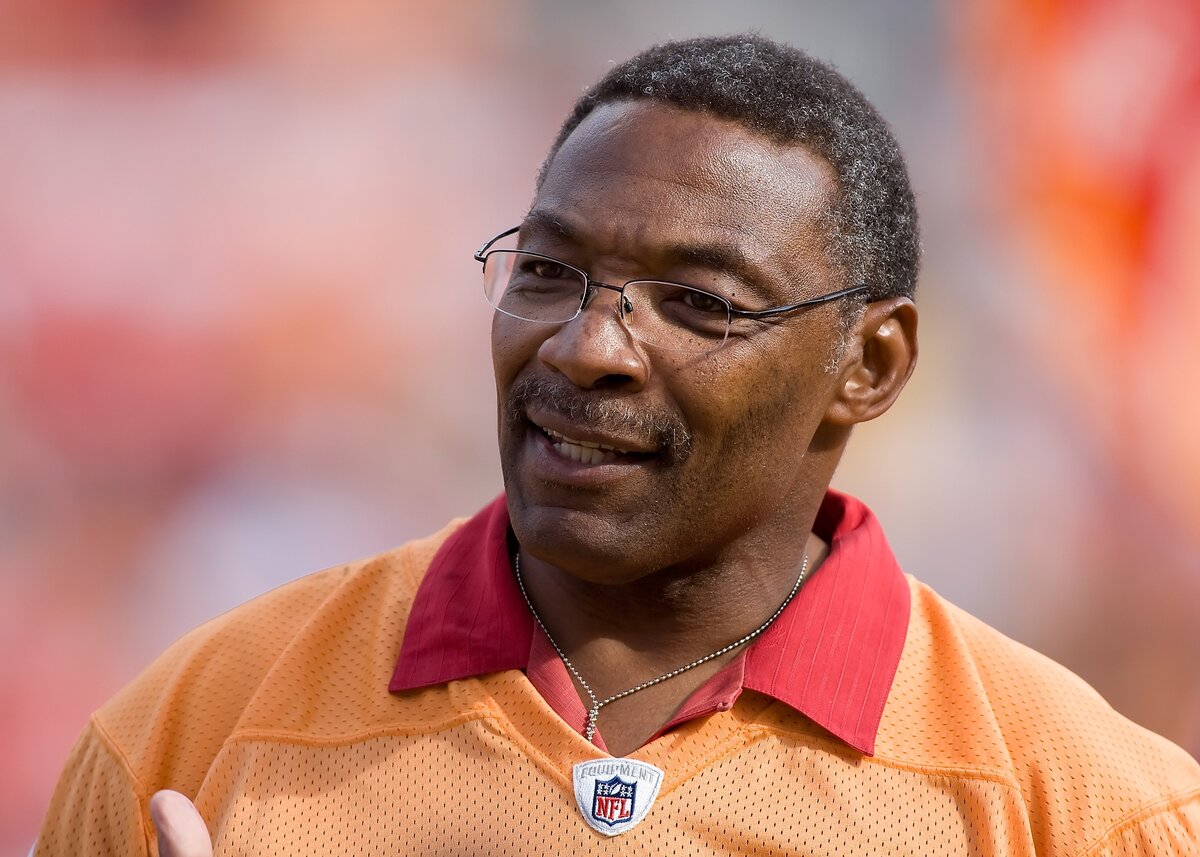 The Tragic Death of Tampa Bay Buccaneers Legend Lee Roy Selmon
Lee Roy Selmon is a Tampa Bay Buccaneers legend and one of the NFL's greatest pass-rushers. Selmon tragically died way too young in 2011.
Lee Roy Selmon paved the way for the Tampa Bay Buccaneers' tradition of employing excellent defensive players.
Long before the likes of defensive lineman Warren Sapp or linebacker Derrick Brooks, Selmon was the Buccaneers' first star. Selmon created havoc in the trenches and retired as one of the NFL's first true sack artists.
Unfortunately for Selmon and the Tampa Bay Buccaneers, he died very early.
Lee Roy Selmon is a Buccaneers legend
When the Tampa Bay Buccaneers opened play in 1976, they did so with Lee Roy Selmon leading the defense.
Tampa drafted Selmon, a standout defensive lineman at Oklahoma, with the No. 1 overall pick in 1976. Selmon made an immediate impact in Tampa Bay and earned second-team All-Pro honors by his third season.
The fourth year, 1979, is when Selmon really took off. Over the next six seasons, Selmon reached the Pro Bowl every year and received first-team All-Pro honors three times in that span.
Selmon won NFL Defensive Player of the Year in 1979 at 25 years old.
Selmon is one of the NFL's most important pass-rushers
Lee Roy Selmon's official stats are incomplete, both on websites like Pro-Football-Reference and on his official Pro Football Hall of Fame page.
That is a relevant fact because Selmon played a significant role in the NFL introducing sacks as an official stat in 1982. Selmon bullied opposing offensive linemen and frequently racked up sacks in a time where those numbers weren't recorded or saved to time.
The likes of Selmon and Giants star Lawrence Taylor were so dominant that the NFL needed to correctly identify how many sacks a player had.
Selmon had 23 sacks from 1982-84, his final three seasons. The Tampa Bay Buccaneers estimate Selmon unofficially had 78.5 sacks in his nine NFL seasons.
Selmon retired after the 1984 season because of a back injury. Tampa Bay retired his No. 63 in 1986 and inducted him into their Ring of Honor in November 2009.
Selmon entered the Pro Football Hall of Fame in 1995. Defensive linemen Warren Sapp and linebacker Derrick Brooks followed Selmon to the Hall of Fame in the 2010s.
Lee Roy Selmon tragically died way too young
Lee Roy Selmon remained in the Tampa Bay area after his playing career ended.
Selmon worked in the University of South Florida's athletic department from 1993-2004. He rose to the athletic director position in 2001 and held that role until he resigned in 2004 because of health issues.
Seven years later, Selmon tragically suffered a massive stroke on Sept. 2, 2011. Two days later, Selmon died at only 56 years old.
Longtime Dallas Cowboys head coach Jimmy Johnson, who coached Selmon at Oklahoma, eulogized his former player in a tweet. Johnson called Selmon a "great player [and] a better person."
Like Sportscasting on Facebook. Follow us on Twitter @sportscasting19.