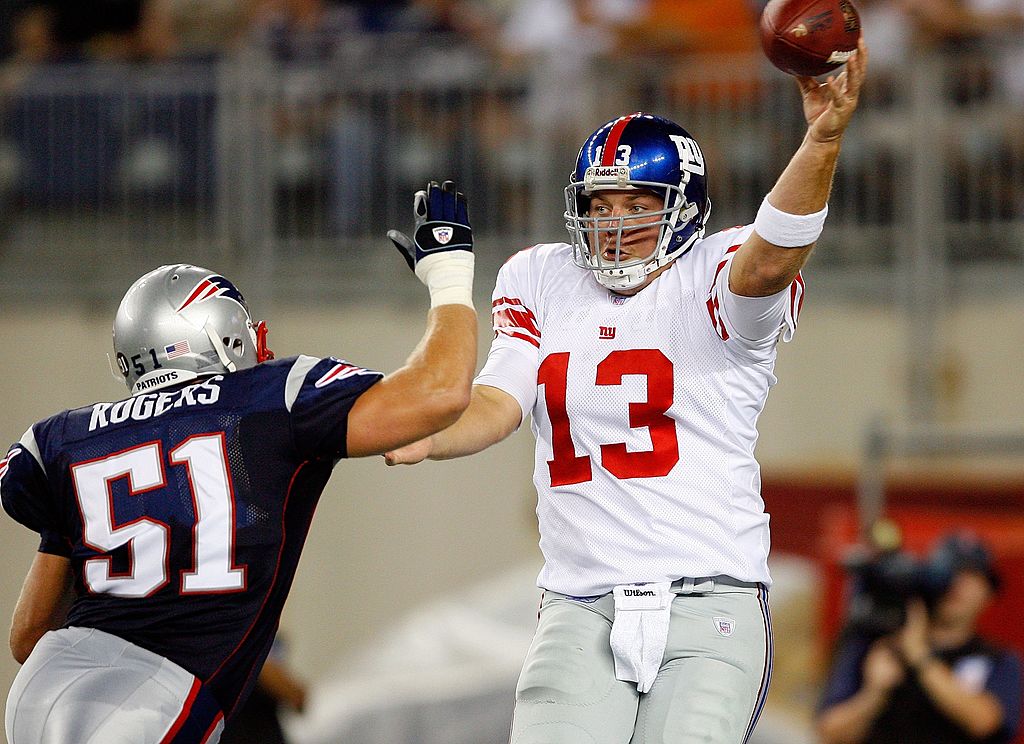 The Tragic Death of the 'Hefty Lefty' Jared Lorenzen
Jared Lorenzen battled weight issues his entire life. Despite those struggles, he still managed to excel in football. Unfortunately, he lost the battle and died at the age of 38.
Jared Lorenzen was a multi-nickname kind of guy. The Hefty Lefty. The Round Mound of Touchdowns. The Pillsbury Throwboy. All of them referring to his skill and his weight. While his size was a common theme when discussing the quarterback, it never prevented him from excelling on the field. Ultimately, though, it caught up with him and cost him his life.
Jared Lorenzen was a big boy with a big future
Jared Lorenzen was big from the start. In fact, he was huge. He weighed 13 pounds at birth and growing up was always considered to be the "bigger" kid. Despite his size, it didn't stop him from playing sports. And he didn't just play; he was better than most.
At Highlands High School in Fort Thomas, Lorenzen quickly dispelled any concerns about his weight with results. He was a three-year letterman in basketball and helped lead the team to a Kentucky Sweet 16 appearance. 
While he did well in basketball, he excelled on the football field. As a junior at Highlands, Lorenzen passed for a record 2,759 yards and 37 touchdowns in 13 games. His senior season, he performed at a higher level throwing for 3,393 yards, 45 touchdowns, and six interceptions. He also rushed for 904 yards (8.4 average per carry) and 15 touchdowns in leading Highlands to a 15–0 record and a state title. He was named Kentucky's Mr. Football. 
Bursting on to the national scene in Kentucky
After redshirting his true freshman season, Kentucky coach Hal Mumme named Jared Lorenzen the starter his redshirt freshman year ahead of returning starter Dusty Bonner. Bonner transferred.
Lorenzen's career at Kentucky was defined by change. He played for three different coaches, including Mumme, Guy Morriss, and Rich Brooks. Despite the coaching carousel and sometimes switching to other positions including receiver, Lorenzen still managed to set multiple school records. In his four years at Kentucky he threw for 10,354 yards and 78 touchdowns, both records surpassing marks set by No. 1 overall draft pick Tim Couch.
In 2002, Lorenzen led Kentucky to seven wins—tied for its most in a season since 1984, and he earned second-team All-SEC honors throwing for 2,267 yards with 24 touchdowns and just five interceptions. Following his senior season in 2003, Lorenzen entered the 2004 NFL Draft.
His NFL career and Super Bowl ring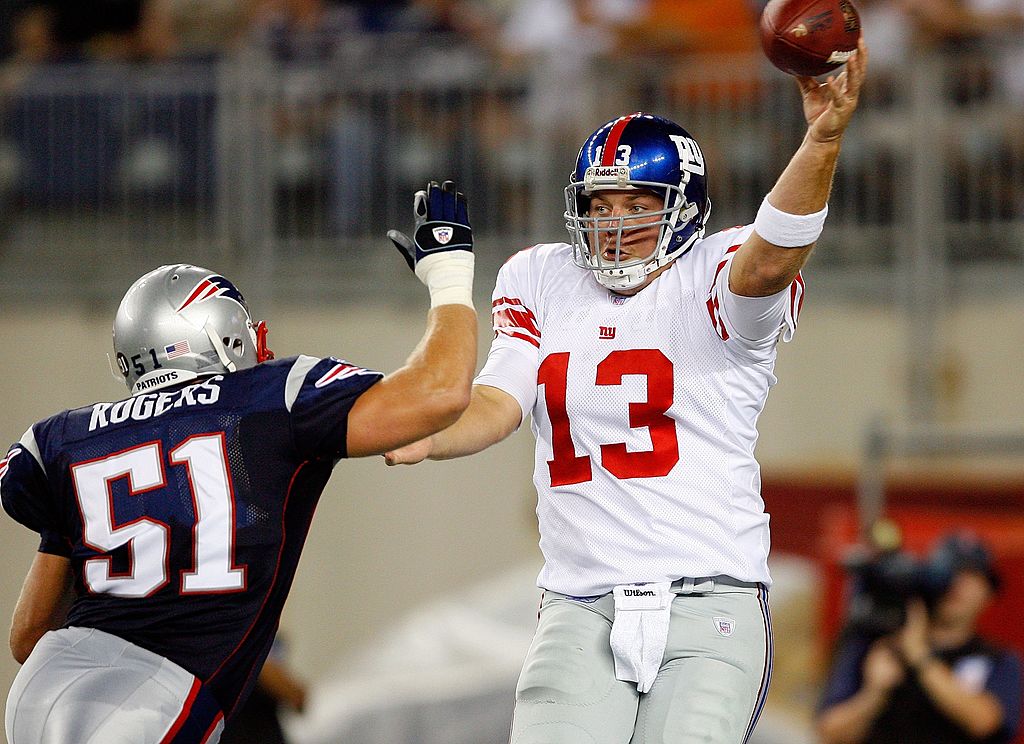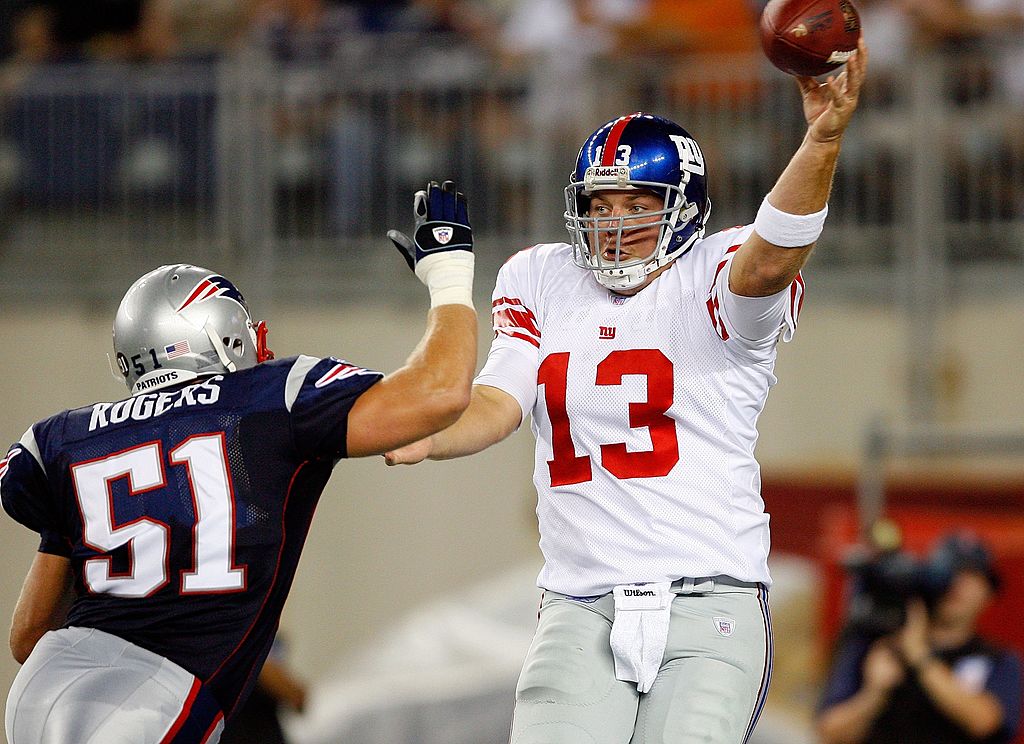 Jared Lorenzen never heard his name called on draft day and signed with the New York Giants as a free agent. After turning down an offer from Giants head coach Tom Coughlin to play in NFL Europe, Lorenzen was relegated to a third-string quarterback role behind Eli Manning and backup Tim Hasselbeck.
In 2006, Lorenzen appeared for just one play, a quarterback sneak. That following season he saw the most regular-season play of his career after Manning went down in the season opener. In that initial game and the following week, Lorenzen completed 3 of 5 passes for 21 yards. He didn't appear in another game that season but was backup to Manning and on the sidelines when the Giants upset the then-undefeated New England Patriots in the Super Bowl.
The Giants released Jared Lorenzen in June 2008. After getting waived by the Indianapolis Colts on the final 53-man roster cuts later that year, Lorenzen bounced around to different football leagues including the AF2 league before eventually retiring in 2013.
Jared Lorenzen knew death was near
By the time Lorenzen retired from the game, he was well over 300 pounds. After going through a divorce from the woman he had dated since high school, his weight ballooned at an alarming rate.
In February 2019, a little over a decade after backing up Eli Manning in the Super Bowl, Lorenzen appeared on a documentary series detailing his weight journey called The Jared Lorenzen Project. He weighed nearly 600 pounds in the first episode.
While the documentary was about Jared Lorenzen and his weight, he viewed it as a way to reach other people in similar situations. It was revealing and very personal. In that same first episode, he candidly and prophetically admitted he was dangerously unhealthy.

"The way I'm going right now, as scary as it is, I'll die in five years. If I didn't wake up tomorrow, it wouldn't be a shock to many people. It's to a point where something has got to give."

Jared Lorenzen
Two weeks before his death, Lorenzen called both his parents, who had divorced when he was in high school. He told them he was seeking treatment and might not call them every day like he usually did.
On the morning of June 28, Lorenzen called his father. In a very lethargic tone, he told his father he didn't feel well and asked him to call an ambulance.
After he arrived at the hospital, doctors intubated him because his oxygen levels were dangerously low. His kidneys were failing. His heart was enlarged. He died on July 3. He was 38 years old.
Unfortunately, Lorenzen's death was the tragic ending everyone saw coming, and he himself had predicted. It was almost unavoidable. Despite being gone, his legacy remains. And it's quite a big one at that.