The Tragic Death of WWE Hall of Famer Paul Bearer
Throughout the month of November, The Undertaker is being heavily featured on WWE Network programming as this month marks 30 years since The Deadman debuted with the company. He's set for an appearance at Survivor Series, the very event where he made his debut 30 years ago, which is being billed as his "Final Farewell." Unfortunately, one of the key figures of his career, William Moody, better known as Paul Bearer, won't be on hand as he tragically passed away in 2013.
A real-life mortician, Paul Bearer played a key role in The Undertaker's career and also managed many other big-name wrestlers throughout his career.
Here's a look back at the life, career, and tragic death of Paul Bearer.
The early career of William Moody
Early in his career, William Moody was not known as Paul Bearer. Using various names, he wrestled in independent promotions in the 1970s while off duty from the United States Air Force, where he served four years. In 1979, he began his career as a manager using the name Percy Pringle, a blonder, louder version of Paul Bearer but just as creepy.
While he took time away from pro wrestling in the early 1980s to earn his degree in mortuary science, also becoming certified as an embalmer and mortician, Moody returned to the business on a full-time basis in 1984. Still using Percy Pringle name, he spent time in Championship Wrestling from Florida and World Class Championship Wrestling in Texas, where he managed the likes of Lex Luger, Koko B. Ware, Ravishing Rick Rude, Stunning Steve Austin and none other than Mark Calaway, who obviously went on to become The Undertaker.
He debuted as Paul Bearer in WWE in 1991
Three months after The Undertaker made his onscreen debut in WWE in November 1990 at Survivor Series, William Moody made his debut as Paul Bearer the following February. He'd been recommended to Vince McMahon by Rick Rude and was given his name by Road Warrior Hawk, clearly a play on "pallbearer." Given that Moody was a real-life mortician and the fact he'd worked with The Undertaker in the past, it was a match made in heaven…or hell as WWE would probably put it.
In the early years of his WWE career, The Undertaker certainly didn't cut the best promos so having Paul Bearer by his side as a mouthpiece was a tremendous help. Bearer's segment on WWE television, "The Funeral Parlor," took off immediately and provided some of the best moments of the early-to-mid 1990s.
Paul Bearer turned on The Undertaker in 1996 in The Deadman's amazing feud with Mick Foley and surprised him with a half-brother, Kane, the following year, which led to a lengthy program. Bearer retired for a short time in 2000 but returned to wrestling in 2002 and worked as Percy Pringle in TNA until 2003.
Paul Bearer returned to WWE in 2004 to manage The Undertaker in his WrestleMania 20 match with Kane and continued to make sporadic TV apperances over the years while also working as a backstage agent. He was in and out of WWE during the later part of the 2000s and didn't make an appearance on WWE television for six years. He returned in 2010 as part of yet another Kane vs. Undertaker storyline and managed The Big Red Machine off and on until 2012.
Paul Bearer died of a heart attack in 2013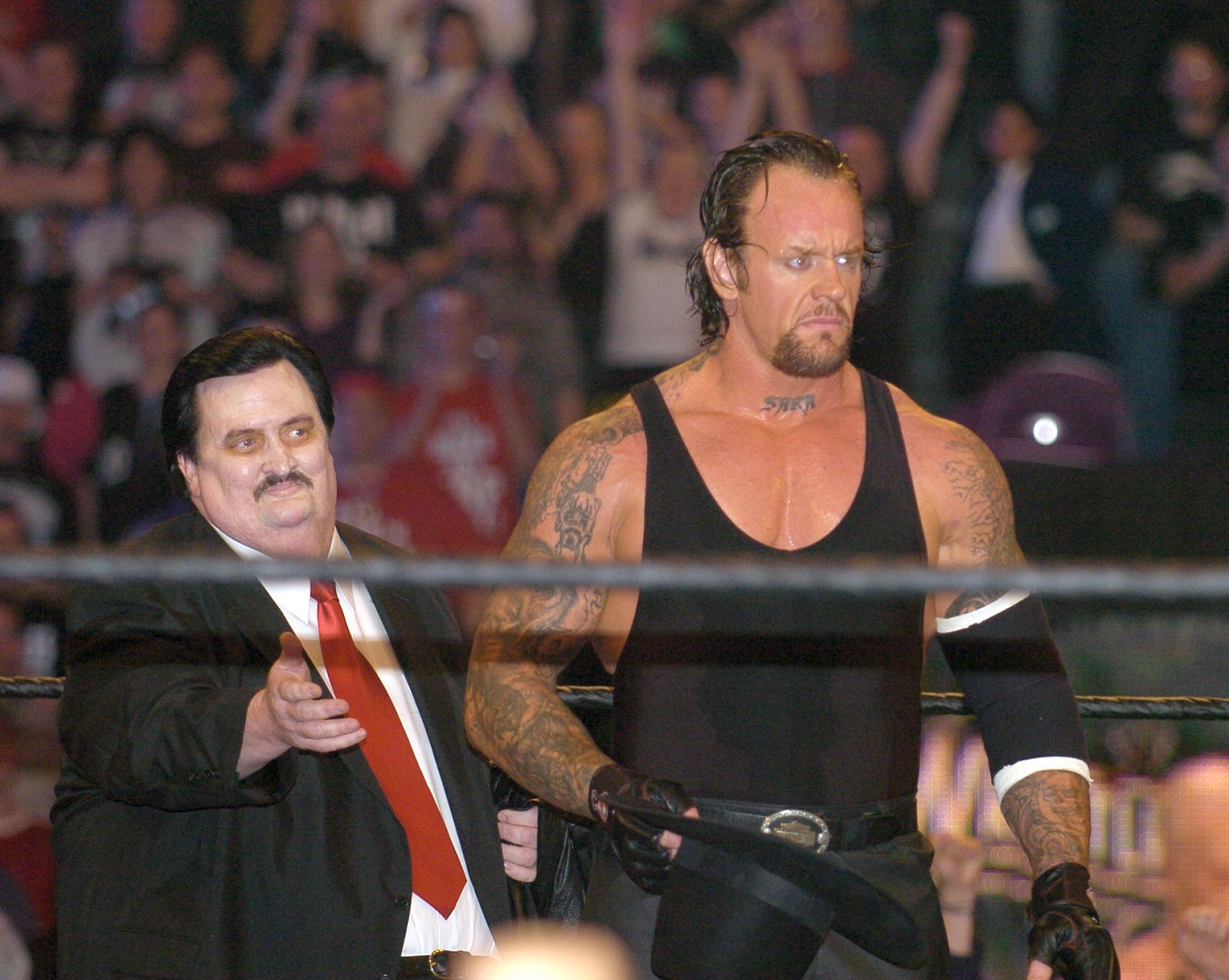 Throughout the course of his career, Paul Bearer dealt with a number of health issues, including obesity. He underwent gastric bypass surgery in November 2003, which WWE paid for, and lost more than 200 pounds.
But following his final run in WWE, he began to have difficulty breathing and developed a nasty cough. Following an independent event on March 2, 2013, he told friends that he would be seeking treatment for respiratory problems and was treated for a blood clot. Tragically, three days later on March 5, 2013, Paul Bearer died of a heart attack at the age of 58.
At this time, The Undertaker was involved in a storyline with CM Punk heading into WrestleMania 29. WWE inserted Paul Bearer into the program by having Punk mock Bearer's death, which many found to be disrespectful. However, as TMZ reported back then, WWE creative went to the Moody family and asked permission to use Paul Bearer in the storyline, which was granted. The Undertaker defeated CM Punk at WrestleMania and dedicated the victory to his longtime manager and friend.
Paul Bearer was inducted into the WWE Hall of Fame in 2014.