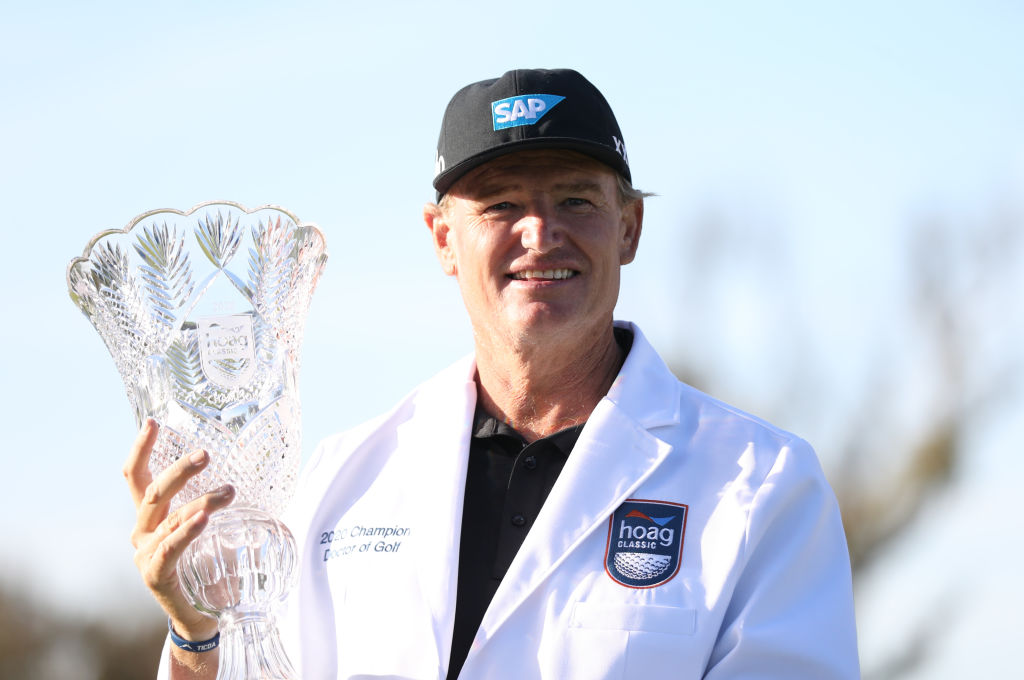 There's 1 Golfer That Pros Want by Their Side in a Bar Fight
He's won four majors but his peers think Ernie Els would make a pretty good brawler, too.
Ernie Els is quite the imposing figure everywhere he goes. The 6-foot-3 and 210-pound South African won a golf tournament by two strokes over the weekend not long after fellow PGA Tour members speculated that he'd perhaps win a fight by knockout.
Ernie Els had a productive weekend on the golf course
Ernie Els won the Hoag Classic in Newport Beach, California, on Sunday for his first PGA Tour Champions title in just his third career start in events for golfers over the age of 50. He made birdies on the par-5 15th and 18th holes to clinch a two-shot victory over Robert Karlsson, Glen Day, and Fred Couples.
Els shot rounds of 66, 64, and 67 to finish at 16-under-par and earn the winner's check for $270,000. He became eligible for the PGA Tour Champions events last fall. Els made his debut earlier this year by losing to Miguel Angel Jimenez in a three-way playoff including Couples in an event in Hawaii.
It was one more line on an impressive golf resume that includes 19 victories on the PGA Tour and 47 more in international competition.
PGA members want Ernie Els by their side in a bar fight
Before the weekend triumph, the big news regarding Ernie Els was related to an informal survey of PGA Tour players conducted by Golf Digest. The magazine covers all the usual serious subjects throughout the year, but portions of the survey released last week were on humorous topics.
Forty players responded to the question asking who they would want on their side in a bar fight. Els was an overwhelming winner with 11 votes, followed by Jason Kokrak (4), Scott Stallings (3), and Gary Woodland (3). Five other golfers received two votes apiece.
The survey didn't ask golfers to elaborate on their reasons for selecting Els, though his physical stature might be a good place to start.
Interestingly, this wasn't the first time Els has earned the honor. Sports Illustrated asked a similar question in a survey three years ago and Els was again the runaway winner, which is not to in any way suggest that he would run away from a fight.
The magazine's analysis of Els in 2017: "A loyal bloke who wouldn't be afraid to meet aggression with even more aggression, the ultimate wingman in a time of crisis."
By the way, Brooks Koepka finished fifth in the 2017 survey and was one of the players in the Golf Digest survey receiving two votes.
It's been a productive career on the course
If Ernie Els' ability with his fists is a bit of a joke among his peers, then the way he uses a driver and putter isn't. After a distinguished start to his career on the international circuit after turning pro in 1989, Els' first PGA Tour victory came at the U.S. Open in 1994. He would win that event again in 1997.
The last of his 19 victories on the PGA Tour was the 2012 British Open to go along with a triumph in that event a decade earlier.
He has accumulated more than $49 million in career prize money by finishing in the top 10 of more than a quarter of the tournaments he has entered.