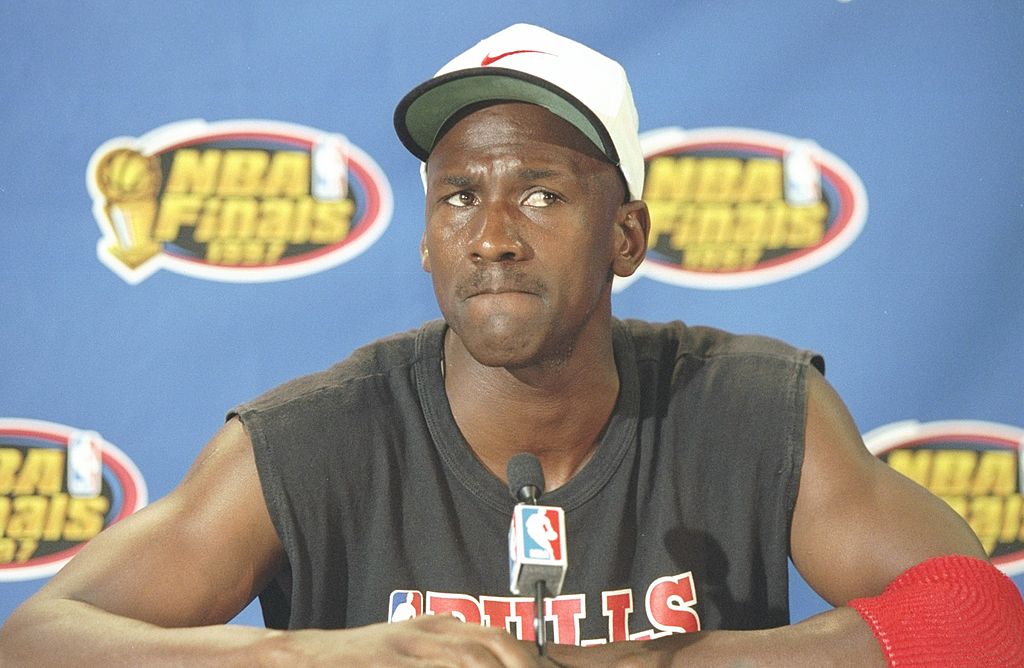 There's No Way Michael Jordan Got Poisoned From Pizza, Says Infamous Utah Pizza Hut Manager
The Michael Jordan 'Flu Game' story has many different versions, but a Utah Pizza Hut manager might've just exposed the truth.
Michael Jordan Flu Game conspiracies surfaced all over the Internet after Jordan spoke about the incident on The Last Dance. In the documentary, Jordan and his personal trainer, Tim Grover, revealed it was actually food poisoning, not the flu, that led to Jordan huffing and puffing all night long during Game 5 of the 1997 NBA Finals. Basketball fans were disappointed to learn the Flu Game was just the Food Poisoning Game, but that might not be the truth, either.
The Utah Pizza Hut manager who made Jordan's pizza that night recently told his side of the story, and it didn't match up with Jordan's. It's safe to say MJ might have some more explaining to do.
Michael Jordan's iconic Game 5 performance in the 1997 NBA Finals became known as the Flu Game
Before Game 5 of the 1997 NBA Finals, word started to spread that Michael Jordan was dealing with flu-like symptoms. Jordan arrived to the arena in Utah visibly ill, but there was no way he was missing one of the biggest games of his life.
The Chicago Bulls and Utah Jazz were knotted up 2-2 in the series, so Jordan gutted out his symptoms to play. Despite keeling over in pain seemingly all game, Jordan finished with 38 points, 7 rebounds, 5 assists, 3 steals and 1 block. He also hit the game-winning three with less than a minute left to ice the game.
The performance became known as the Flu Game, but that's been since proven incorrect.
Jordan said the Flu Game was actually due to food poisoning
After more than a decade of being known as the Flu Game, Jordan's iconic NBA Finals performance took a turn in 2013. Jordan's former trainer, Tim Grover, told Tru Hoop TV that Jordan wasn't suffering from the flu at all. Grover said Jordan got sick the night before from food poisoning.
In The Last Dance, Grover and Jordan doubled down on the food poisoning story. Apparently, Jordan ordered a late-night pizza the night before Game 5. Jordan and Grover both said a group of delivery drivers showed up to drop off the pizza, but Jordan still ate it despite Grover's warnings not to.
Later that night, Jordan fell ill in his hotel room from what they described as food poisoning. They both felt the pizza was intentionally poisoned by the Utah Pizza Hut, but the former manager is refuting that claim.
Former Utah Pizza Hut manager says there's no way Jordan's pizza was poisoned
After Grover and Jordan's revised story, the Flu Game changed to the Food Poisoning Game. But that might not be accurate either.
A man claiming to be the former Pizza Hut manager at the infamous pizza shop recently went online to tell his side of the story. Steve Perry commented on an online forum saying there's no way Jordan's pizza was poisoned. How does he know? Because he made it.
I worked for pizza hut for about 9 years, I took thousands of orders, i only remember 2 of them, One was for Bill Clinton, the other for MJ. I remember Clintons because it was announced by the person ordering that they had to witness the entire process, prep through delivery, for his pizza. I remember Jordans, because he ordered under the same name and room #, The name was under Grover, It was a large thin Italian sausage, I remember the first delivery driver saying that he just delivered to Jordan. When the 2nd delivery order came in, I knew for sure it was for Jordan. I was the general manager at that time, we all wanted to deliver it, but i gave the opportunity to my ex-wife. The next night, my wife and I was watching the game, I was feeling pissed that the pizza I made, and my wife delivered, was being blamed for making him sick. Its bugged me for 20+ years.

Steve Perry
It might seem odd that Perry is just now speaking up after over 20 years, but those details seem a bit too specific to be fabricated. We might never learn the true story of what happened to Jordan that night, but it surely wasn't the flu.