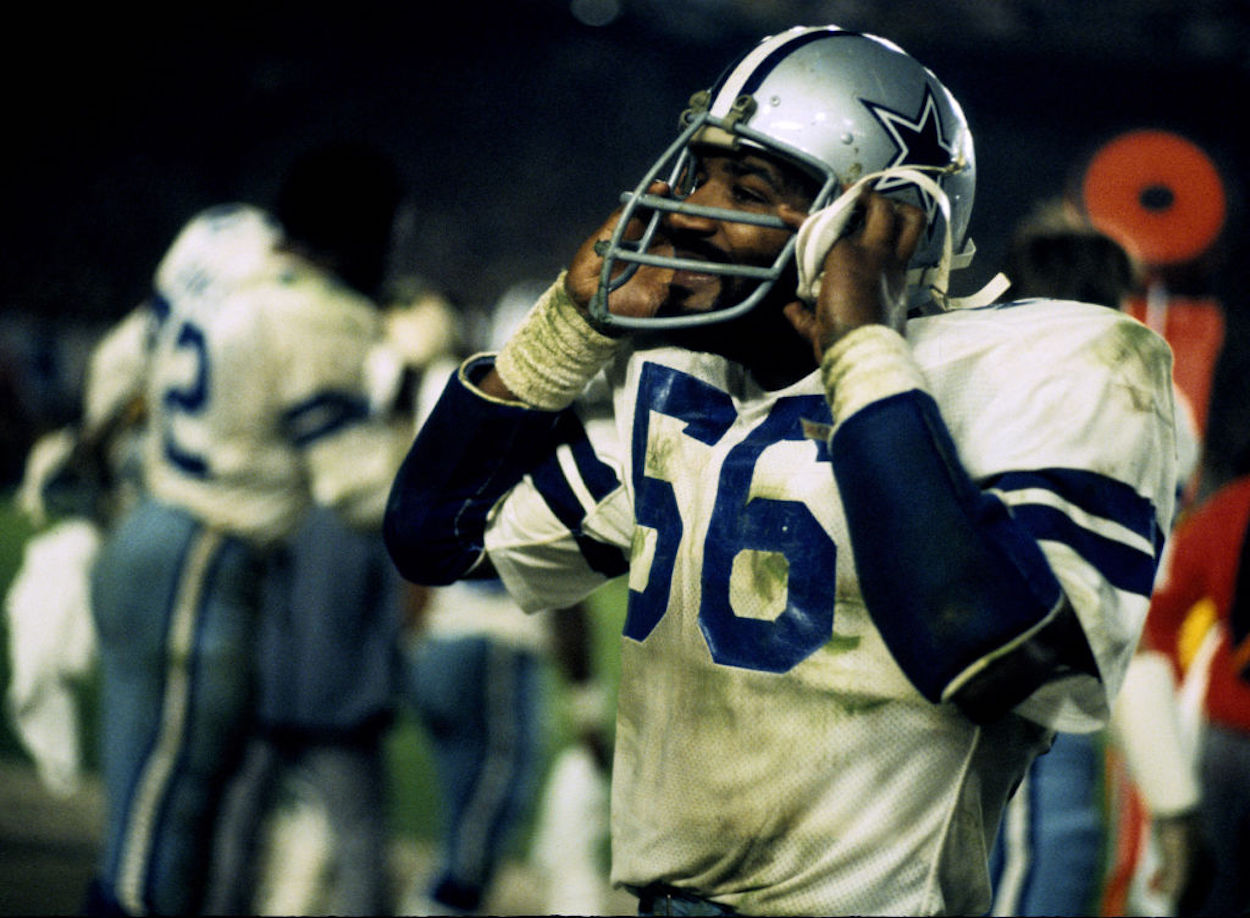 Thomas "Hollywood" Henderson's Drug Addiction Was So Severe He Snuck Liquid Cocaine Into Super Bowl 13
Thomas "Hollywood" Henderson lived a fast life during his time in the NFL. He couldn't even take a day off from drugs for the Super Bowl.
Thomas "Hollywood" Henderson lived a hard and fast life in the NFL. When he wasn't wreaking havoc in the backfield and crushing opposing quarterbacks for the Dallas Cowboys, he was enjoying life to the fullest like the celebrity he was. Henderson's off days were typically filled with women, drugs, and alcohol as far as the eye could see, but at one point, his drug addiction became so severe he couldn't even stop using cocaine for a few hours to play in Super Bowl 13.
Thomas "Hollywood" Henderson's NFL career
Thomas Henderson was a beloved member of the Cowboys throughout the late-1970s. It wasn't just the fans that admired Henderson during his career, though. His teammates knew whenever they needed a good laugh or a fun night on the town, Henderson was their guy.
On the field, Henderson played five full seasons in Dallas. He played primarily special teams for the Cowboys in his first two seasons with the team, and he even scored a kick-return touchdown as a rookie in 1975.
In 1977, Henderson finally got his chance to shine on defense. He started 14 games at linebacker and immediately became one of the most important players on that side of the ball. Henderson recorded three interceptions and two fumble recoveries in his first full season as a starter, and he returned one of those picks for a touchdown. Henderson's emergence aided the Cowboys to a Super Bowl victory the same year.
The next season, he was named to his first and only Pro Bowl. He played one more year in Dallas before moving to the Houston Oilers and the Miami Dolphins in 1980, where he broke his neck and was out of the league by the end of the season.
Henderson had a severe drug problem
There were two sides of Thomas Henderson when he played in the NFL — Tom Henderson the football player and "Hollywood" Henderson the party animal. As his fame exploded, Henderson turned to a life of drugs and alcohol.
He frequently partied with the biggest celebrities in the world, and they introduced him to cocaine at some point along the way. That's when Henderson's life spiraled out of control. Eventually, he snorted so much coke that his nose literally started to fall apart from the inside. He lost so much membrane that he had to pack chunks of cocaine inside his nose to stop it from running.
Henderson's problems didn't start and end with coke, though. He drank excessively almost every day, he did Quaaludes and other hard drugs, he had orgies with various celebrities, and he became violent around his friends and family.
Henderson eventually got clean, but not before jeopardizing his NFL career in the Super Bowl.
"Hollywood" Henderson snuck liquid cocaine into Super Bowl 13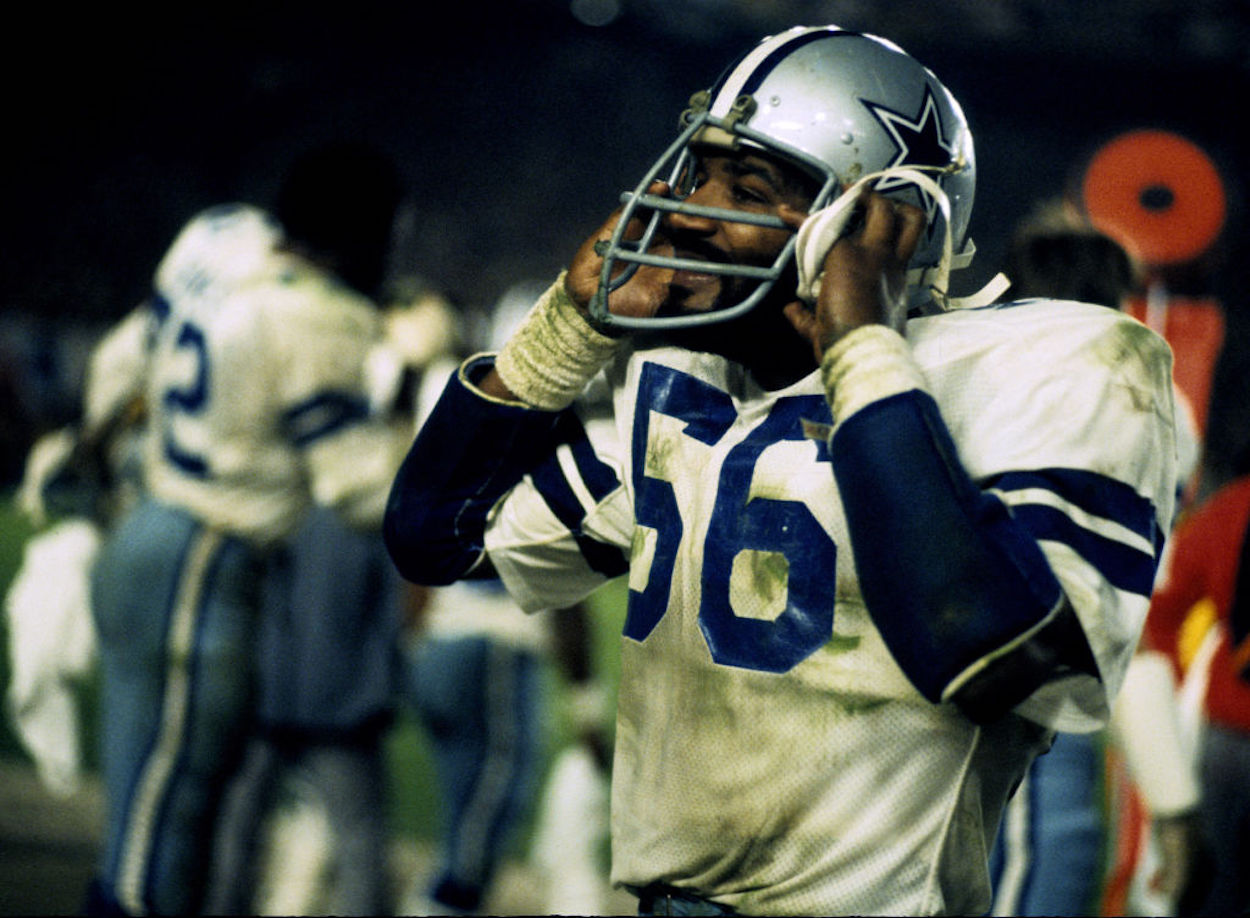 After winning the Super Bowl in 1978, the Cowboys reached the championship game again the following season. Dallas wound up losing Super Bowl 13 to the Pittsburgh Steelers in a thriller that day, but the final score was hardly the biggest storyline from the game.
In an Outside the Lines feature on Henderson, ESPN's Michael Weinreb told the story of "Hollywood" snorting liquid cocaine during that very Super Bowl.
"On the day of the Super Bowl, he emptied a bottle of nasal spray, filled it with a vicious mixture of cocaine and water, and slipped it into the pocket of his uniform pants. Just in case, he thought. He indulged before the game, then again in the third quarter," Weinreb wrote.
Even though he was high on cocaine during the game, Henderson forced a Terry Bradshaw fumble that turned into a Cowboys' touchdown on the ensuing drive.
Henderson was one of the most fascinating characters to ever suit up in the NFL. Thankfully, he turned his life around and is still sober today, but his story illustrates just how much drugs can control your life, no matter how famous and successful you are.
All stats courtesy of Pro Football Reference