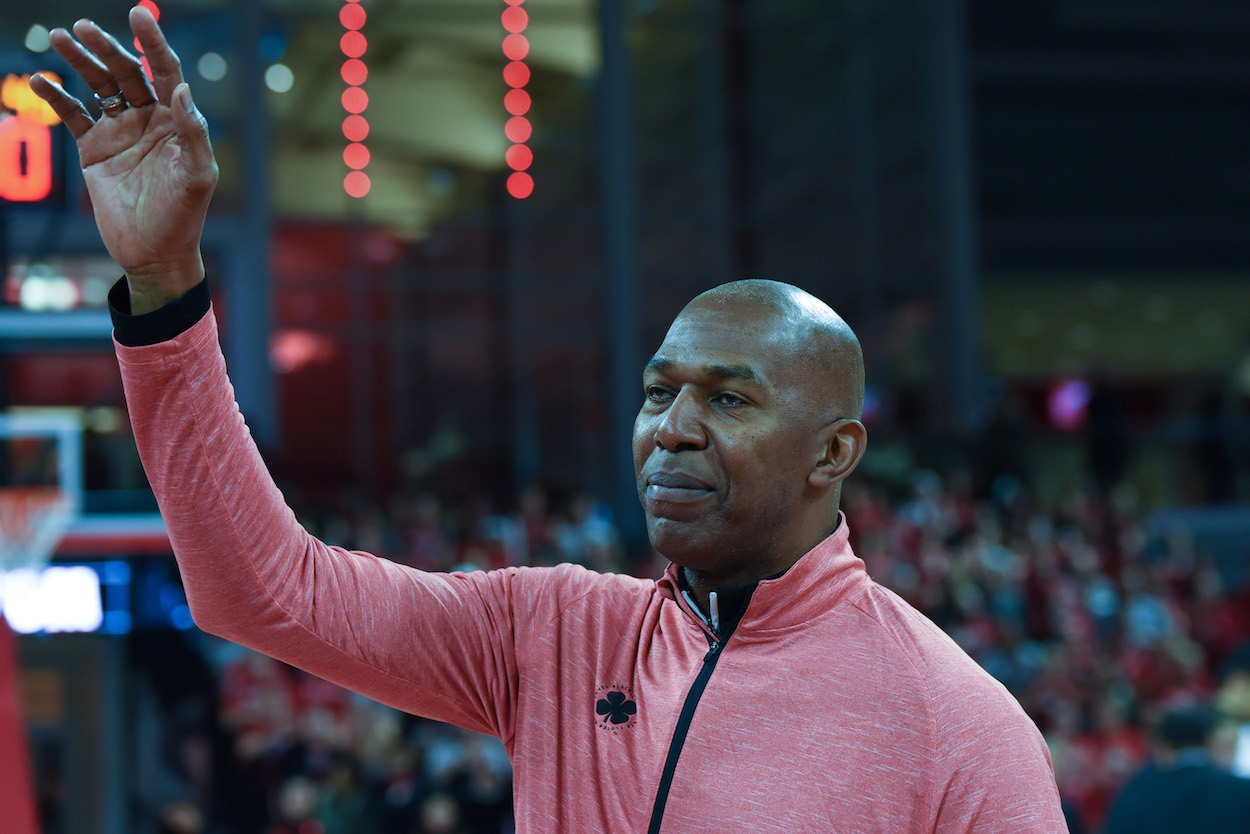 Thurl Bailey Remembers the Exact Moment Jim Valvano Won Over the 'Survive and Advance' NC State Wolfpack
Jim Valvano proved himself to NC State's roster by making them cut down the nets in practice.
You can't talk about the great history of the NCAA Tournament without mentioning the 1983 North Carolina State national championship team. Led by beloved head coach Jim Valvano, the underdog Wolfpack pulled off shocking upsets against Virginia and Houston on their way to one of the most unlikely title runs in college basketball history.
However, when Valvano took over the NC State job a few years earlier, many of the players didn't want to embrace a new head coach. One of those players, Thurl Bailey, recently revealed the bizarre tactic Valvano used to win the team over.
NC State didn't embrace Jim Valvano at first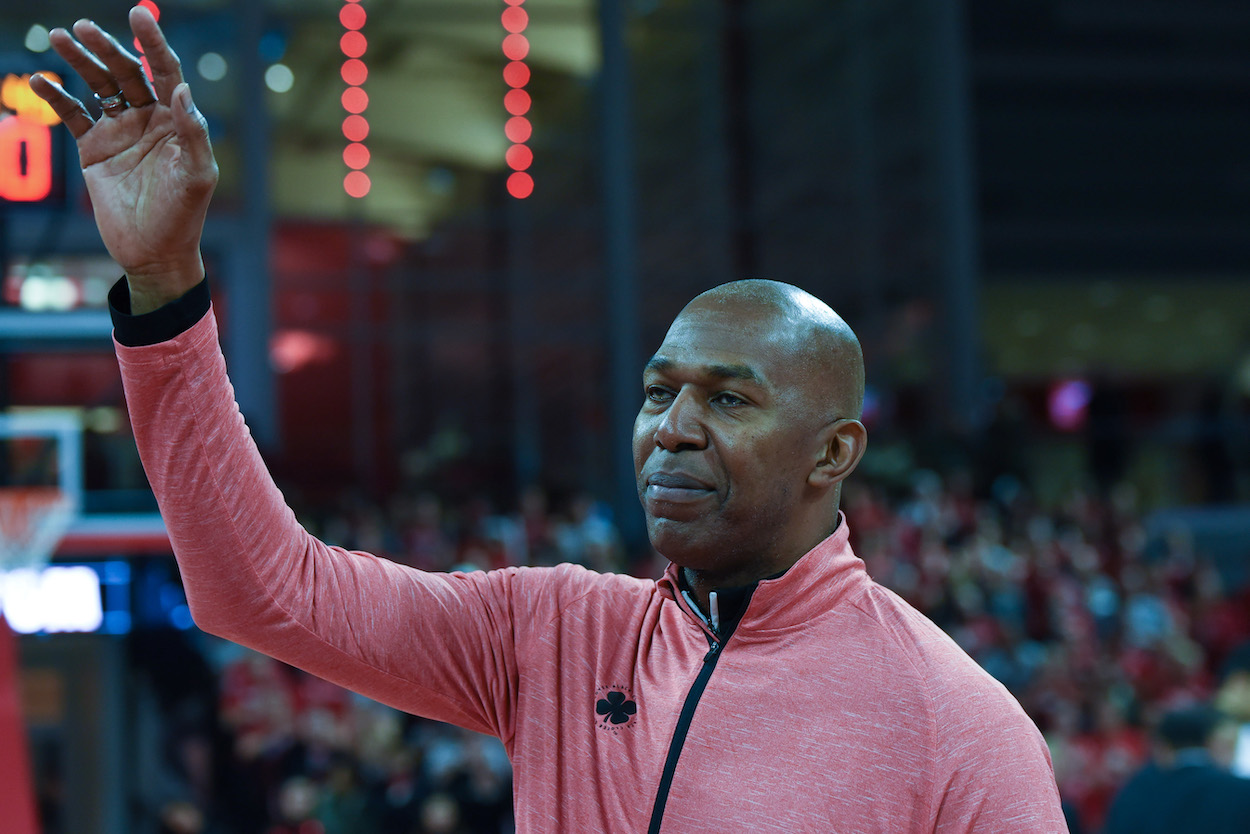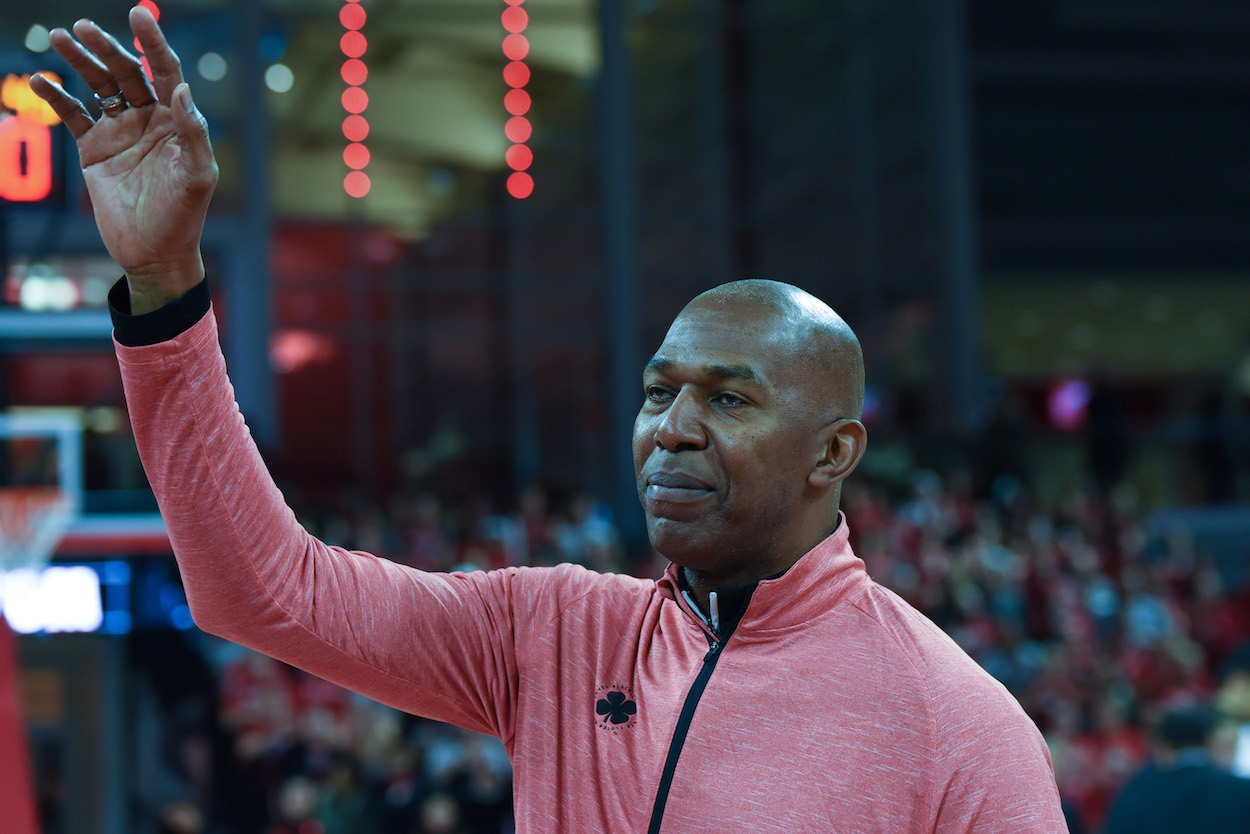 In 1980, then-NC State head coach Norm Sloan left the program to take the same job at Florida. NC State chose to replace Sloan with Valvano, an up-and-coming coach who had just led Iona to two straight NCAA Tournament appearances.
In a recent interview with Guy Giles of Betway, former Wolfpack forward Thurl Bailey explained how the team didn't want to move on from Sloan, and some players considered transferring after the coaching change.
"When the coach that recruited me and some of the other guys, Norm Sloan, left after our freshman year, we were distraught," Bailey told Betway. "We didn't know what to do. Some of us were gonna go home, some of us were gonna follow Norm, but my mom told me to just be patient. You don't know who they're going to hire, whoever they hire, just give the guy a chance."
Bailey decided to stay and give Valvano a chance, and it only took one meeting for Jimmy V to prove he was the right man for the job.
"So, we waited in this cafeteria, we had our arms crossed, and we had our head down when he walked into the room, because we really, really didn't want to hear it," Bailey said. "He walks in there and talks about how he's going to win the national championship, and if he can get us to see what he's seeing and dream what he's been dreaming, then it could be possible. He hooked a lot of us after that because he was so enthusiastic about it."
Thurl Bailey remembers the exact moment Valvano won the team over
Jimmy V made a great first impression on the NC State roster, but to ultimately win the players over, he went deep into his bag of tricks. As Bailey explained, Valvano brought a ladder to one of his first practices with the team and made everyone simulate a national championship celebration by cutting down the nets for hours.
"It was the most awkward thing that any of us had ever experienced," Bailey said. "I mean, who sits at a 12,000-seat arena, with their team and a ladder, and asks them to pretend like they're winning a national championship? He said: 'What would you do, Thurl, if you won the national championship? How would you act? Would you scream and yell? Would you holler? What would you do?'
"It took us a few times to really get into it, but he wanted us to project ourselves into a national championship because he thought it would give us a sense of bringing us closer to the goal. The reality was that nobody else was doing anything like that. It was so unusual and unorthodox. I'm not sure anybody still does it. He was a visionary for sure."
Turning dreams into reality
It's one thing to simulate winning a national championship at practice, but it's another to actually win one. Three years after he was first hired by NC State, Valvano did just that by leading the 'Survive and Advance' Wolfpack to an NCAA title in 1983.
NC State beat Ralph Sampson's talented Virginia team to reach the Final Four, and it miraculously upset the Phi Slama Jama Houston Cougars in the national title game. Then, Jimmy V and his loyal players were able to cut down the nets for real.
Like Sportscasting on Facebook. Follow us on Twitter @sportscasting19.