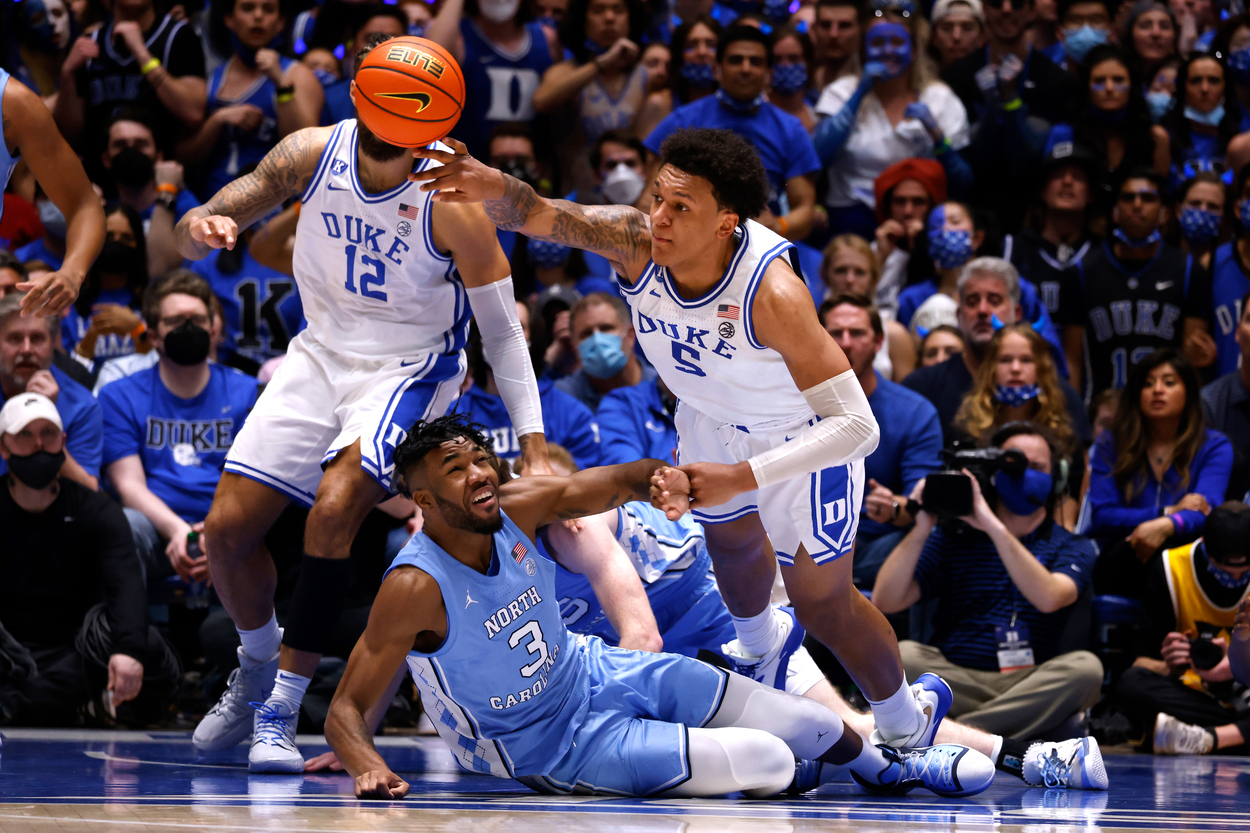 Duke vs. UNC: Who Has Won More National Championships?
Read to see how Duke and North Carolina's championships stack up against one another.
When you think about college basketball, it's hard not to immediately race to images of the Duke Blue Devils and North Carolina Tar Heels.
The rivalry between Duke and UNC defines college basketball. Two schools, roughly 10 miles apart, each boasting a rich tradition full of on-court excellence. It also helps that they can't stand one another.
Saturday's long-awaited Final Four matchup between the Blue Devils and Tar Heels will result in one team heading to the National Championship. It's a place both schools have plenty of experience with. Yet one rival holds an ever-so-slight advantage in the number of nets it has cut down at the end of the NCAA Tournament.
Duke and UNC have long histories of success
The Duke-UNC rivalry isn't great solely because of their proximity to one another or the rabid fan bases. It's great because more often than not, both teams are legitimate title threats.
Starting with the Blue Devils, the bulk of their success has come under head coach Mike Krzyzewski. As he puts the finishing touches on his 42nd and final season, Coach K has accounted for 13 of Duke's 23 regular-season ACC titles and 36 of its 44 NCAA Tournament berths, the latter of which is more than any other coach in NCAA history. He has also coached the Devils to 13 of their 17 Final Four appearances.
While Duke's success has for the most part been in a single, 42-year era, North Carolina has two distinct periods of greatness. The first came under legendary coach Dean Smith, who led UNC to 11 Final Four berths in his 37-year career with the Tar Heels. But once Roy Williams arrived in 2003, the program made 16 NCAA Tournaments and five additional Final Fours before Williams handed the reigns to Hubert Davis ahead of this season.
Together, both schools have a combined 91 ACC championships (regular season and tournament) and 38 trips to the Final Four.
Additionally, many future NBA stars attended Duke or UNC. Notable Blue Devils include Grant Hill, JJ Redick, Kyrie Irving, and Zion Williamson, while the list of Tar Heels is highlighted by all-time greats Michael Jordan, James Worthy, Bob McAdoo, and Vince Carter.
North Carolina holds the slight edge in national championships
For all of the talk about ACC titles, trips to March Madness, or whose alumni list is better, it ultimately comes down to rings. Which rival has ended the season as the last man standing more often than its hated foe?
Right now, the Tar Heels have the upper hand with six titles to Duke's five.
UNC's first title came all the way back in 1957, when Coach K was just 10 years old. The Tar Heels, led by head coach Frank McGuire, beat Michigan State in what is still the only championship game requiring three overtimes.
Why is that old championship significant? Without it, North Carolina and Duke would be deadlocked at five NCAA titles each.
North Carolina earned its second victory in 1982 thanks to Jordan's game-winning jumper against Georgetown. It would go on to win four more titles in 1993, 2005, 2009, and 2017.
As for Duke, the Blue Devils didn't even hoist their first trophy until 1991. But it didn't take long to earn the second, as "The Shot" by Christian Laettner kept them alive in 1992 before they defeated Michigan's Fab Five in the title game. Coach K and the Blue Devils would also win championships in 2001, 2010, and 2015.
What's interesting is how often one team's victory quickly leads to the other's title hopes being fulfilled. Duke won in '91 and '92, so who else but UNC cut down the nets in '93? After the Tar Heels won in '09, here come the Blue Devils one year later to win it in '10. And somewhat recently, the '15 Duke squad had to watch the '17 team from North Carolina win it all just two years later.
Saturday's Final Four matchup has the potential to drastically change this rivalry
Once the ball tips off Saturday night in New Orleans, all bets are off. History goes out the window as No. 2 Duke plays No. 8 UNC for the first time in the NCAA Tournament.
Whoever ends up winning, one thing is for sure. The victor will have a massive chance to re-write the record books.
If Duke beats the Tar Heels and then takes out either Kansas or Villanova in the title game, it will earn its sixth championship. That would move the Blue Devils into a tie with their hated rival for all-time national championships, thereby silencing the bragging rights over in Chapel Hill.
Yet if North Carolina hands Coach K a loss to end his career, then proceeds to eliminate the Jayhawks or Wildcats, that'll make seven national championships. It will likely take some time for Duke to tie them, let alone pass them up down the road.
The winning team on Saturday will be 40 minutes from a national title. The losing team will undoubtedly be rooting against them the whole way.
All statistics courtesy of Sports Reference and NCAA.com.