Tiger Woods and Jack Nicklaus Are Not Among the Historic List of Winners at Riviera Country Club
Jack Nicklaus and Tiger Woods are the two greatest golfers ever to walk the planet. We won't get into the GOAT conversation here, but no matter the order, they should be No. 1 and No. 2 on any list. But for whatever reason, the two legends who've combined to win 155 PGA Tour events and 33 major championships could never win at Riviera Country Club.
Seriously. Of the incredible list of winners at the famed Pacific Palisades club, which has hosted the tournament now known as the Genesis Invitational (formerly the Los Angeles Open) close to 75 times (and a few major championships), neither Jack Nicklaus nor Tiger Woods is on it.
Now, it's not as if both didn't have their chances.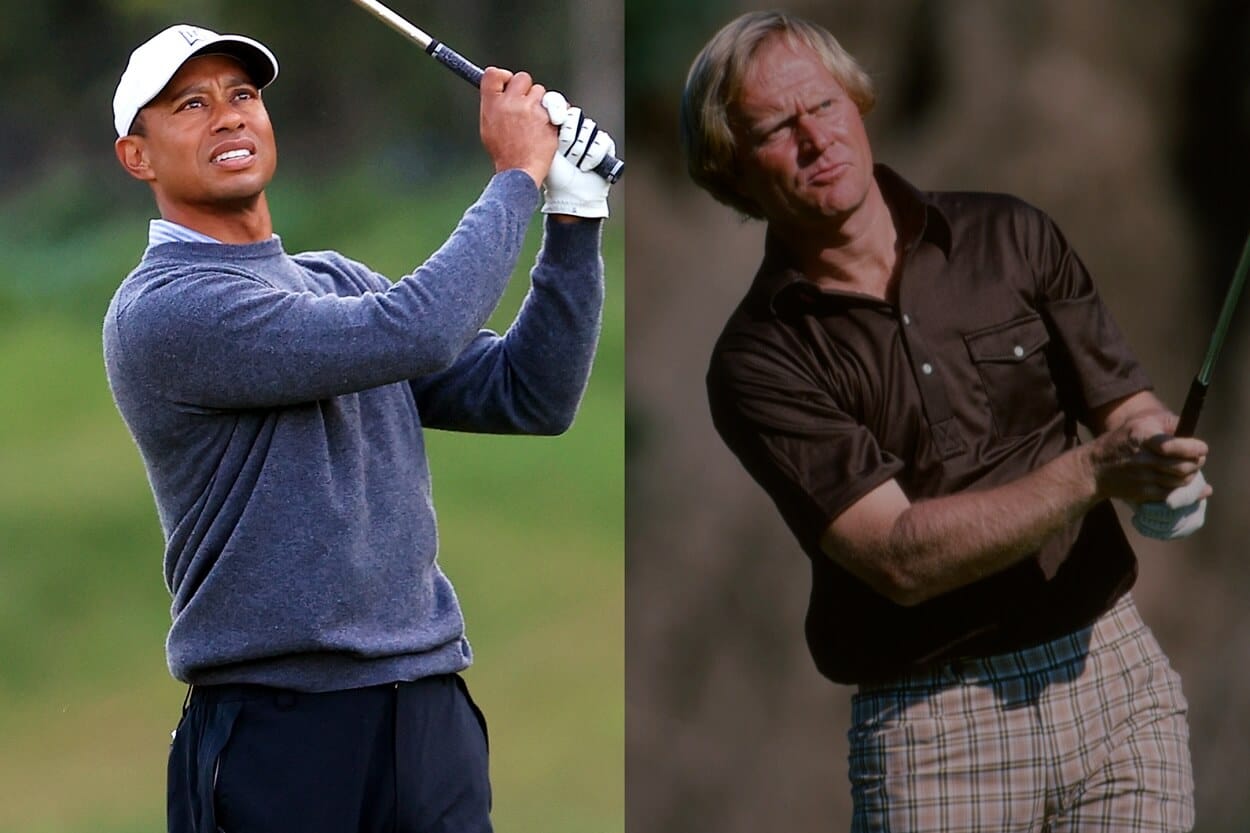 In his first appearance at Riviera in 1973, Nicklaus finished sixth, just four shots back of winner Rod Funseth. Five years later, he was tied for the lead at the LA Open but double-bogeyed the 15th and bogeyed the 16th, ultimately losing by two to Gil Morgan. Another five years later, Nicklaus was the runner-up at the 1983 PGA Championship, losing to Hal Sutton by a stroke.
As for Tiger Woods, who made his PGA Tour debut at Riviera at the age of 16 in 1992, he had several top-five finishes, including a tie for second in 1999. But Riviera remains the venue he's played the most without a victory.
As for the historic list of players who have earned a victory (or multiple) at Riviera Country Club, here's a look at all of them.
Riviera Country Club-PGA Tour
| | | |
| --- | --- | --- |
| Year | Tournament | Winner |
| 1929 | Los Angeles Open | Macdonald Smith |
| 1930 | Los Angeles Open | Denny Shute |
| 1941 | Los Angeles Open | Johnny Bulla |
| 1945 | Los Angeles Open | Sam Snead |
| 1946 | Los Angeles Open | Byron Nelson |
| 1947 | Los Angeles Open | Ben Hogan |
| 1948 | Los Angeles Open | Ben Hogan |
| 1949 | Los Angeles Open | Lloyd Mangrum |
| 1950 | Los Angeles Open | Sam Snead |
| 1951 | Los Angeles Open | Lloyd Mangrum |
| 1952 | Los Angeles Open | Tommy Bolt |
| 1953 | Los Angeles Open | Lloyd Mangrum |
| 1973 | Glen Campbell-Los Angeles Open | Rod Funseth |
| 1974 | Glen Campbell-Los Angeles Open | Dave Stockton |
| 1975 | Glen Campbell-Los Angeles Open | Pat Fitzsimons |
| 1976 | Glen Campbell-Los Angeles Open | Hale Irwin |
| 1977 | Glen Campbell-Los Angeles Open | Tom Purtzer |
| 1978 | Glen Campbell-Los Angeles Open | Gil Morgan |
| 1979 | Glen Campbell-Los Angeles Open | Lanny Wadkins |
| 1980 | Glen Campbell-Los Angeles Open | Tom Watson |
| 1981 | Glen Campbell-Los Angeles Open | Johnny Miller |
| 1982 | Glen Campbell-Los Angeles Open | Tom Watson |
| 1984 | Los Angeles Open | David Edwards |
| 1985 | Los Angeles Open | Lanny Wadkins |
| 1986 | Los Angeles Open | Doug Tewell |
| 1987 | Los Angeles Open presented by Nissan | T.C. Chen |
| 1988 | Los Angeles Open presented by Nissan | Chip Beck |
| 1989 | Nissan Los Angeles Open | Mark Calcavecchia |
| 1990 | Nissan Los Angeles Open | Fred Couples |
| 1991 | Nissan Los Angeles Open | Ted Schulz |
| 1992 | Nissan Los Angeles Open | Fred Couples |
| 1993 | Nissan Los Angeles Open | Tom Kite |
| 1994 | Nissan Los Angeles Open | Corey Pavin |
| 1995 | Nissan Open | Corey Pavin |
| 1996 | Nissan Open | Craig Stadler |
| 1997 | Nissan Open | Nick Faldo |
| 1999 | Nissan Open | Ernie Els |
| 2000 | Nissan Open | Kirk Triplett |
| 2001 | Nissan Open | Robert Allenby |
| 2002 | Nissan Open | Len Mattiace |
| 2003 | Nissan Open | Mike Weir |
| 2004 | Nissan Open | Mike Weir |
| 2005 | Nissan Open | Adam Scott |
| 2006 | Nissan Open | Rory Sabbatini |
| 2007 | Nissan Open | Charles Howell III |
| 2008 | Northern Trust Open | Phil Mickelson |
| 2009 | Northern Trust Open | Phil Mickelson |
| 2010 | Northern Trust Open | Steve Stricker |
| 2011 | Northern Trust Open | Aaron Baddeley |
| 2012 | Northern Trust Open | Bill Haas |
| 2013 | Northern Trust Open | John Merrick |
| 2014 | Northern Trust Open | Bubba Watson |
| 2015 | Northern Trust Open | James Hahn |
| 2016 | Northern Trust Open | Bubba Watson |
| 2017 | Genesis Open | Dustin Johnson |
| 2018 | Genesis Open | Bubba Watson |
| 2019 | Genesis Open | J.B. Holmes |
| 2020 | Genesis Invitational | Adam Scott |
| 2021 | Genesis Invitational | Max Homa |
| 2022 | Genesis Invitational | Joaquin Niemann |
| 2023 | Genesis Invitational | Jon Rahm |
Riviera Country Club-Major championships
| | | |
| --- | --- | --- |
| Year | Tournament | Winner |
| 1948 | U.S. Open | Ben Hogan |
| 1983 | PGA Championship | Hal Sutton |
| 1995 | PGA Championship | Steve Elkington |