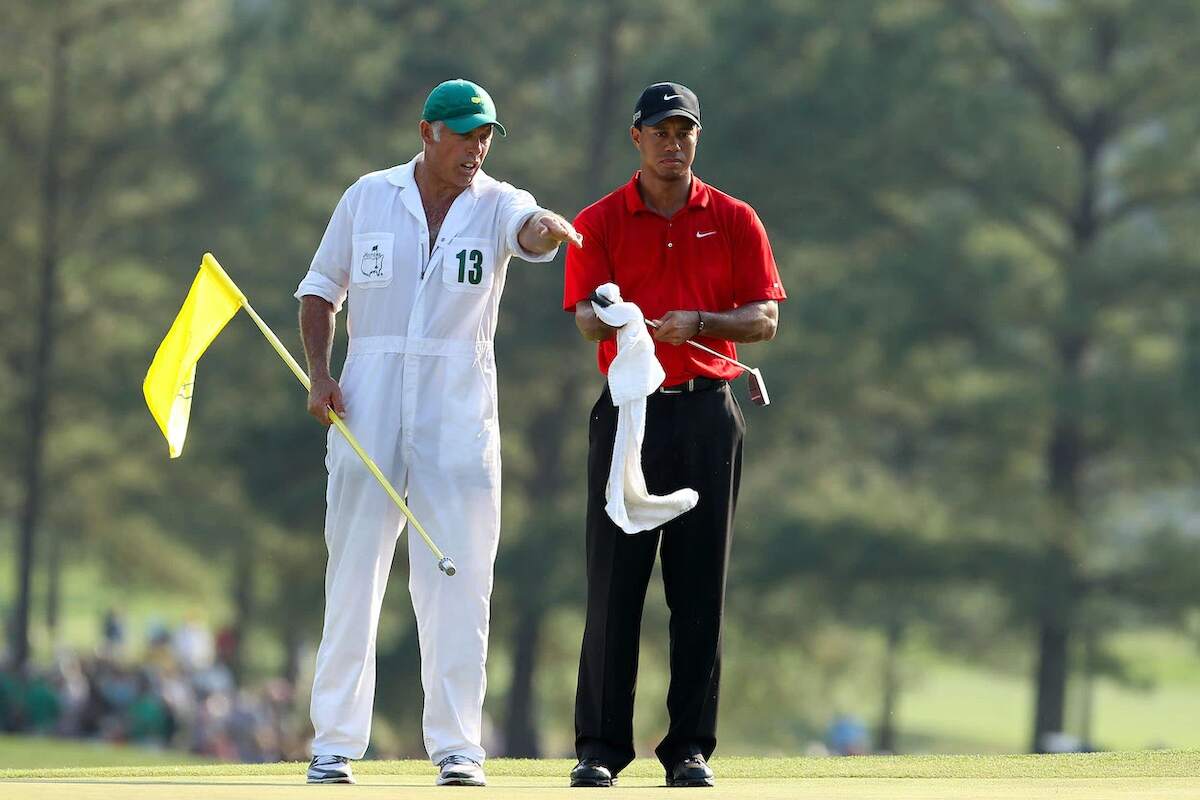 Tiger Woods Never Looked at How Much Prize Money He Made After Tournaments
Tiger Woods' caddie observed a major distinction between other pros and the legendary golfer concerning prize money sheets.
Tiger Woods has cashed more paychecks than any golfer who's ever teed it up on the PGA Tour. His $120.9 million on-course earnings are over $25 million higher than the second-biggest number on the list.
But Woods never stepped on a golf course with money signs in his eyes. His goal was to lift a trophy every time he entered a tournament. Recently, his former caddie, Steve Williams, revealed the unique thing Tiger never did on Sundays that proves he has always been a different breed.
Tiger Woods is the most prolific winner in golf history
Throughout his professional career, Woods teed it up on the PGA Tour, expecting to win every single week. He didn't, obviously, but the Hall of Famer is the greatest winner the sport of golf has ever seen.
Tiger is tied with Sam Snead for the most wins in PGA Tour history (82), and his 15 majors are second to only Jack Nicklaus' 18. He's also the only golfer in history to hold all four major championship trophies simultaneously.
Dozens of stats highlight the utter dominance Woods showed during his prime, but this one has to be the best: From 1997-2009, Tiger was a combined 134-under-par in majors. Phil Mickelson had the second-best score over that stretch. He was 99 over par.
Injuries derailed what could've been an even more impressive career, but we'll never see another Tiger Woods for as long as we live.
Woods never looked at the prize money sheet after tournaments
For most PGA Tour players, the first thing they'll do after draining a putt on the 72nd hole of a tournament is check out how much money they earned for their finish. But not Tiger.
Speaking recently on the Chasing Majors podcast series, Steve Williams, Woods' former caddie, said he's the only player who never even glanced at his tournament winnings. He explained:
"One of the things I admire most about Tiger — I admired a lot of things about him — but one thing I absolutely admired about Tiger is that at the completion of a tournament, you'd go into the scorer's hut, and you sign your scorecard, and you hand it in. And they always have a sheet with the prize money allocation for everybody so you can look up on the screen to see how you finished and look down and see how much you won. Tiger never, ever once took a look at that. … He played to win trophies and create records, not for prize money.
Williams admitted you could argue that Woods didn't need to look at the sheet, but "every player" he's seen looks at the sheet. Woods "never did."
Woods has 800 million reasons not to look
The now-47-year-old never looked at the prize money sheet because, in his mind, nothing else matters besides lifting a trophy at the end of every tournament. Whenever he didn't win, he wasn't interested in the consolation prize.
But considering he racked up more than $120 million in on-course earnings and has a net worth of $800 million as of May 2023, according to Celebrity Net Worth, it makes sense that he didn't worry too much about modest, six-figure paydays.
Like Sportscasting on Facebook. Follow us on Twitter @sportscasting19.