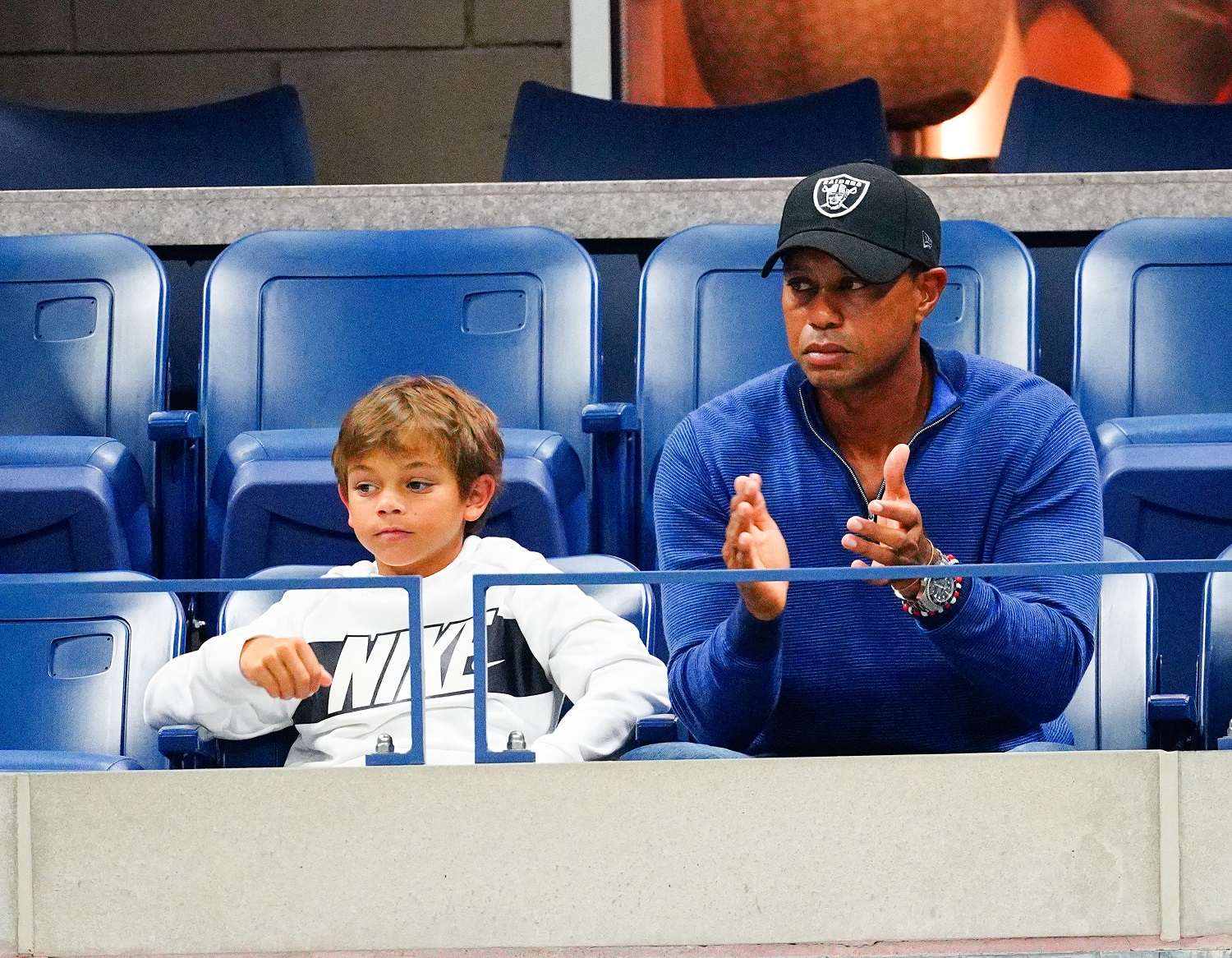 Tiger Woods Says He's Envious of One Part of His 11-Year-Old Son's Golf Game
15-time major champion and 82-time PGA Tour winner Tiger Woods says he's jealous of one part of his 11-year-old son Charlie's golf game.
One wouldn't think that Tiger Woods would be envious of anyone as it pertains to the game of golf. After all, he has 15 major championships, 82 PGA Tour wins and has earned more money than anyone in the history of the sport. But as it turns out, there is one person that's got Tiger a little jealous: his 11-year-old son, Charlie.
Tiger Woods was taught the game of golf by his father
Growing up in Orange County, California, Tiger Woods was introduced to the game of golf by his father, Earl, before the age of two. Young Tiger would watch his dad, who had a single-digit handicap, hit balls into a net and then attempt to imitate his swing. Woods obviously took to the game rather quickly as he made his first television appearance about three months shy of his third birthday, showing off his swing on "The Mike Douglas Show" and engaging in a putting contest with Bob Hope.
When he turned three, he broke 50 over nine holes for the first time, shooting 48 at the Navy course that his father had access to. At age five, he appeared on the cover of Golf Digest and later won the Junior World Championships a record six times. Tiger Woods first beat Earl at the age of 11, the same age young Charlie Woods is now.
Charlie Woods has an amazing golf swing
The student has now become the teacher. As Tiger Woods learned to play from his father, he's now teaching his son, 11-year-old Charlie Woods, the game that's brought him so much success. Over the past few years, Charlie has taken quite an interest in golf and often joins his famous father for rounds at Medalist Golf Club, the same course where Tiger and Peyton Manning recently defeated Phil Mickelson and Tom Brady in "The Match: Champions for Charity."
Charlie has developed quite the swing (which you can see above) and earlier this year tied for ninth in a junior tournament in Jupiter, Florida, shooting a five-over 41 over nine holes. And Tiger Woods is apparently jealous of at least one part of Charlie's swing.
Tiger Woods is envious of his son's 'move'
At 44 years of age with four back surgeries (that we know of) to his credit, Tiger Woods certainly has had to change his golf swing over the last few years. Well, he's actually changed his swing on numerous occasions throughout his career but this latest change has limited him from swinging how he'd like. Tiger recently told Golf Digest that while he loves being able to teach his son, he's a little jealous of how Charlie swings the club.
"He's starting to get into it. He's starting to understand how to play. He's asking me the right questions. I've kept it competitive with his par, so it's been just an absolute blast to go out there and just be with him. It reminds me so much of me and my dad [growing up].

"I wish I had his move. I analyze his swing all the time. I wish I could rotate like that and turn my head like that and do some of those positions. But those days are long gone, and I've got to re-live it through him."

Tiger Woods on his son Charlie's golf game
Perhaps we'll see Charlie Woods on the PGA Tour someday. But, for now, we'll just have to settle for his dad. Tiger Woods returns to action this Thursday at the Memorial, his first official start in five months.