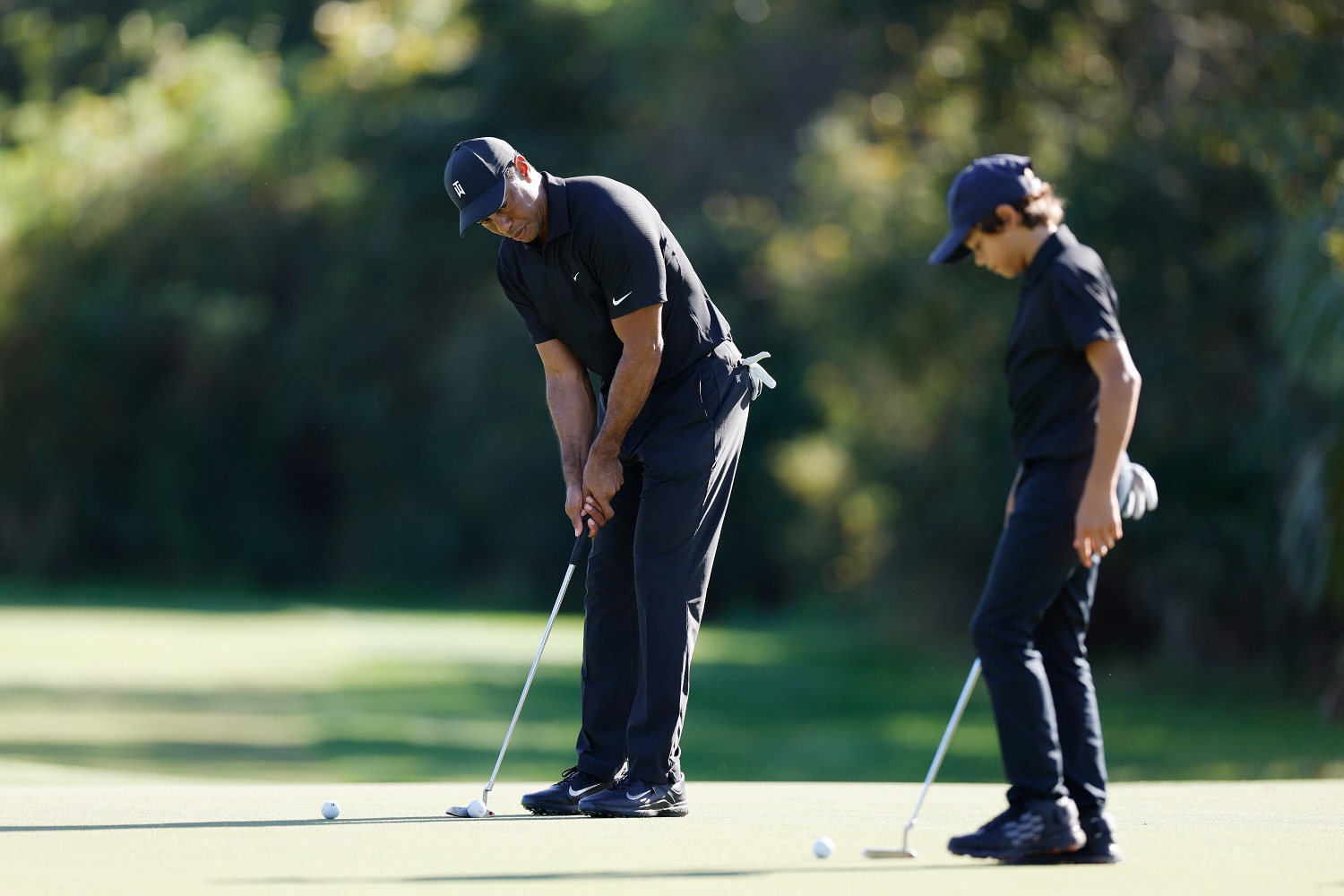 Tiger Woods Takes a Stand Regarding His PGA Tour Future That Even His Critics Must Respect
Tiger Woods is using a cart on the golf course this weekend, a concession he says he will never make in a PGA Tour event.
Article Highlights:
Tiger Woods will play 36 holes alongside his son, Charlie, this weekend in a Florida tournament
The 15-time champion in golf's majors is adamant that he will not seek to use a cart if and when he returns to the PGA Tour
Woods' stance on carts has been consistent over the years, even siding against friend and Stanford teammate Casey Martin
Though he's back out on the course, Tiger Woods would be the first to admit that what he's doing this weekend only marginally qualifies him as a golfer. Woods, 45, is in Orlando, Florida, with son Charlie for the PNC Championship, a scramble-format tournament that is more about fun than competition.
And that's good, because Woods is nowhere close to being in let's-try-winning-The-Masters-again shape. "I'm a long way from playing tournament golf," he said, according to Golf.com. "This is hit, hop in a cart and move about my business just like I would at Medalist."
This weekend is a small step forward for Tiger Woods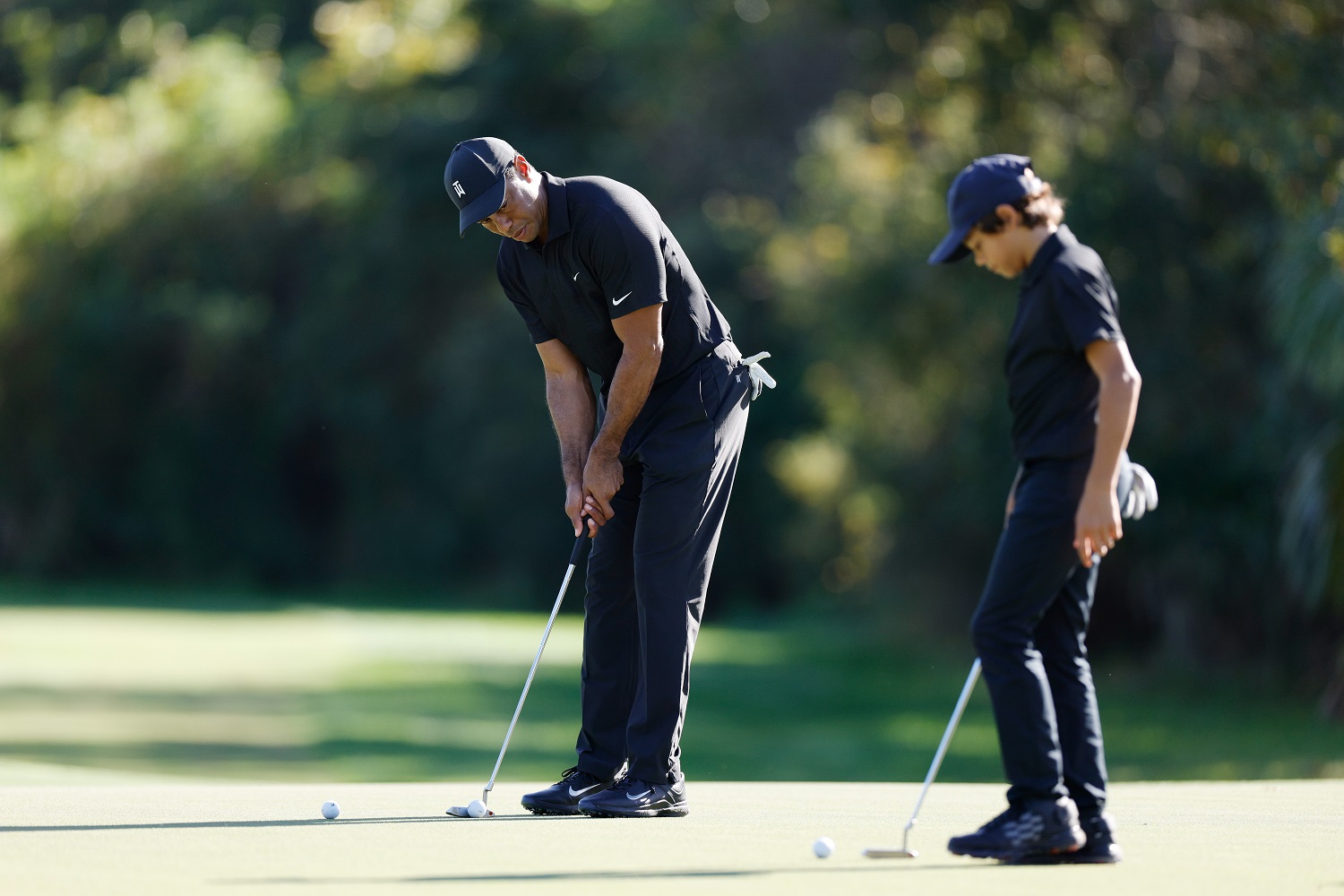 Playing 36 holes over two days is the most action Tiger Woods is seeing on an actual golf course since before the one-car wreck in February that left him with substantial lower-body injuries. However, the PNC Championship on the Ritz-Carlton Orlando course is strictly for fun.
We know that because Woods is teaming with son Charlie, 12, in the 20-team event and because he's anything but all business, poking fun at another of the sport's legends.
"You get guys that are in their 80s out here playing," Woods observed, according to USA Today, "and if they didn't have carts, we wouldn't be able to see the likes of Lee Trevino and Gary Player out here. Well, Gary's different, never mind. He would probably be doing wind sprints on some of these holes and then doing push-ups and then, you know, a bunch of sit-ups on the greens and stuff."
In his days as a full-time PGA Tour competitor rolling up most of his 15 career majors, Woods was legendary for his own workout regimens. Now, he's slowly working his way back from the broken fibula and tibia, which is why he'll be competing with the help of a cart this weekend. "Real golf" isn't in the cards just yet.
Tiger Woods takes a stand regarding his PGA Tour future
Although he intends to rejoin the PGA Tour, Tiger Woods has already conceded a full schedule is out of the question. Rather, the bet is he will focus on the four majors and a handful of other tournaments.
When he does return, however, he will not do so with the assistance of a cart.
"No. Absolutely not. Not for a PGA Tour event, no," Woods said after getting out on the course Friday. "That's just not who I am. That's not how I've always been, and if I can't play at that level, I can't play at that level."
Few have ever played at Woods' level. The 11-time PGA Tour Player of the Year and winner of 82 events has held the world's No. 1 ranking 683 weeks.
For this week, though, he's just a guy hanging out with his son and some fellow golf legends. He's grateful for the opportunity.
"We're out here having a great time, and that's what it's all about," he said. "It's about bonding and having the time of our lives."
Woods is being consistent in his stance about carts
There is no telling when we'll see Tiger Woods return to the PGA Tour, but the answer will be never if he cannot walk the four-plus miles for four consecutive rounds. That's because he has been consistent over the years in saying that physical endurance is part of the sport and that using a cart constitutes an unfair advantage.
Casey Martin, Woods' college teammate at Stanford, went to bat against the PGA Tour two decades ago in a bid to uses a cart when his degenerative circulatory disorder prevented him from walking the course. Woods sided against Martin, who has since had his leg amputated.
"I'm gonna give him crap," Martin told Sports Illustrated. "I'm going to text him: 'Hey, I'm pumped you're playing, but I want some kickbacks if you take a cart.'"
Woods and Martin are lifelong friends, so the jab about deserving a kickback was all in good fun. Still, Woods deserves credit for never wavering, even though using a cart could very well be advantageous for him in his comeback.
Woods has already played through leg injuries, famously winning the 2008 U.S. Open with a torn ACL. He briefly faced the prospect of amputation after the February accident.
He's on his way back now, doing so at his own speed on his own terms. Those terms won't change.
Like Sportscasting on Facebook. Follow us on Twitter @sportscasting19.