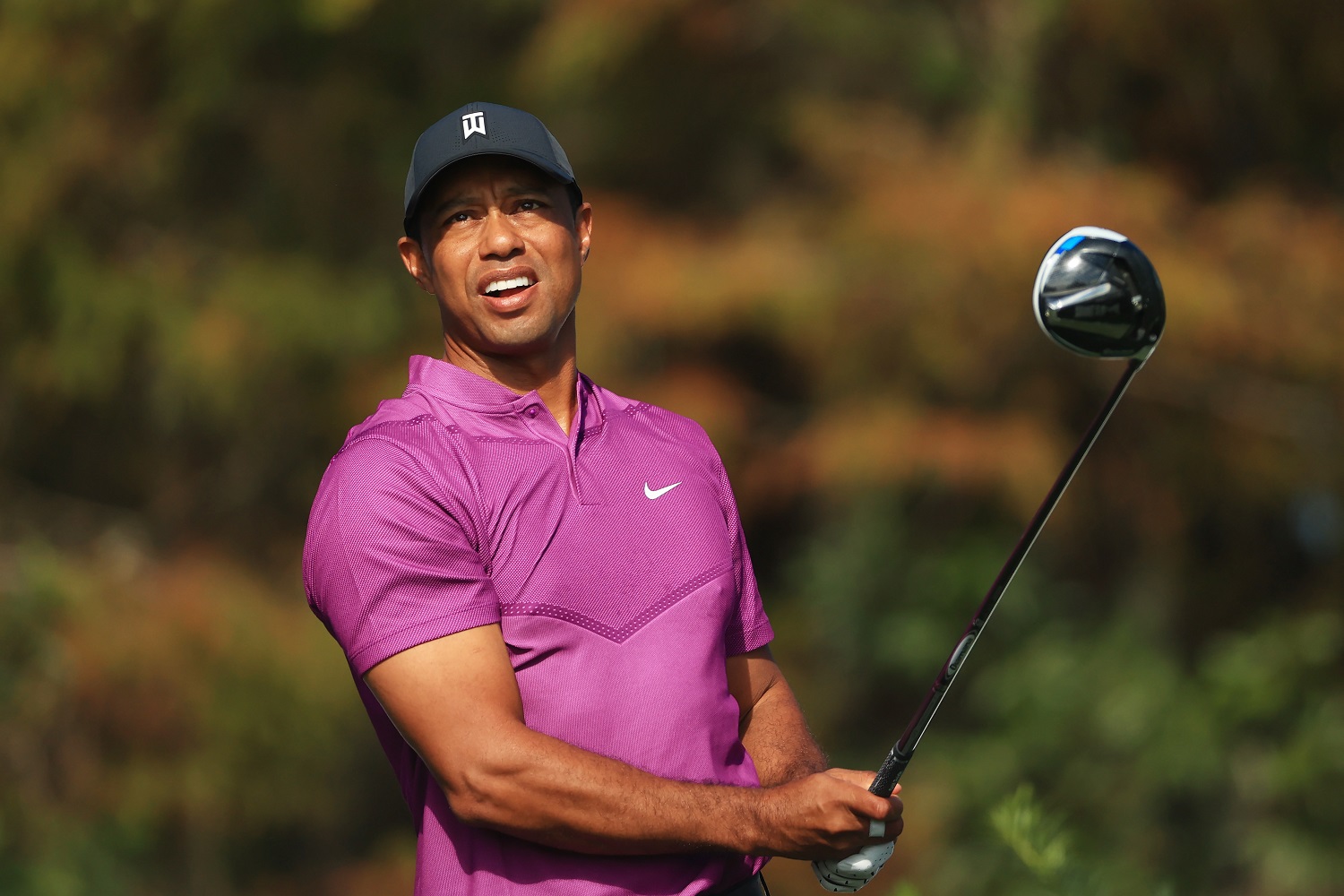 Tiger Woods Won't Be 'Lacking Any Fire' When He Returns, a PGA Pro Says
Rickie Fowler watched The Masters with Tiger Woods in Florida and says the 15-time winner of golf's majors won't be lacking fire when he returns.
Tiger Woods has missed The Masters Tournament four of the last eight years and will be 46 years old the next time the PGA Tour tees it up at Augusta National. Matching Jack Nicklaus' record for victories in major tournaments is unlikely, but a return to the top of tournament leaderboards isn't out of the question.
In fact, a fellow pro who watched part of The Masters with Woods last month is counting on Woods to expect nothing less from himself.
We don't know when Tiger Woods will be able to compete again
Woods, on crutches and accompanied by his dog, posted an Instagram picture of himself two months to the day after his Feb. 23 car accident. Woods had his right leg in a brace up to his knee. This left leg was in a cast.
Woods suffered fractures to both the tibia and fibula bones in his right leg after his SUV veered off a road outside Los Angeles. He underwent treatment at a pair of area hospitals before returning to his Florida home in mid-March.
The Los Angeles Country Sherriff's Department determined that speed was the primary cause of the wreck, Golf Digest reported. Woods is not facing charges in connection with the accident.
Afterward, Woods wrote about being focused on his recovery and his family. There was no mention of a timetable for a return to competitive golf. Woods is legendary for the conditioning regimen in his early years as a pro. He eased up over the years but can throw everything at returning to competitive shape once the brace and cast come off.
The world shouldn't be surprised if he makes his Thursday tee time at Augusta next April.
Rickie Fowler watched The Masters with Woods
Rickie Fowler won five times from 2012-19, but last season was his worst as a full-time PGA Tour pro. He missed six of 14 tournament cuts, placed in the top 10 just twice, and slipped to 97th on the money list. Just three years removed from a second-place finish at Augusta, Fowler did not score an invitation to play in The Masters last month.
With a free week in his schedule, Fowler returned to his Jupiter, Florida, home. He spent some of his time that week at Woods' house, and the two watched the Augusta action. Justin Thomas and Rory McIlroy spent time with Woods since the California accident, but this was different.
"We were definitely both very disappointed that we couldn't be out there to experience it because it's very few times where you do get to see Augusta that firm and fast." Fowler said, according to Golf Digest.
Fowler is positive the fire will be there
Fowler came away from his time with Woods with the distinct impression that the winner of 15 golf majors missed being out on the course.
"I don't think I have to tell you that," he told reporters. "Yeah, we were both in the same position. I guess not the same. Mine from not playing as well and him being laid up, but same position being that we weren't there.
"So yeah, both disappointed that we're not out there playing. But he's not lacking any fire in there right now. He never has."
Fans of the sport would settle for seeing Woods play again under any circumstances. Seeing him come back with his trademark competitive drive should be a television ratings bonanza.
Like Sportscasting on Facebook. Follow us on Twitter @sportscasting19.