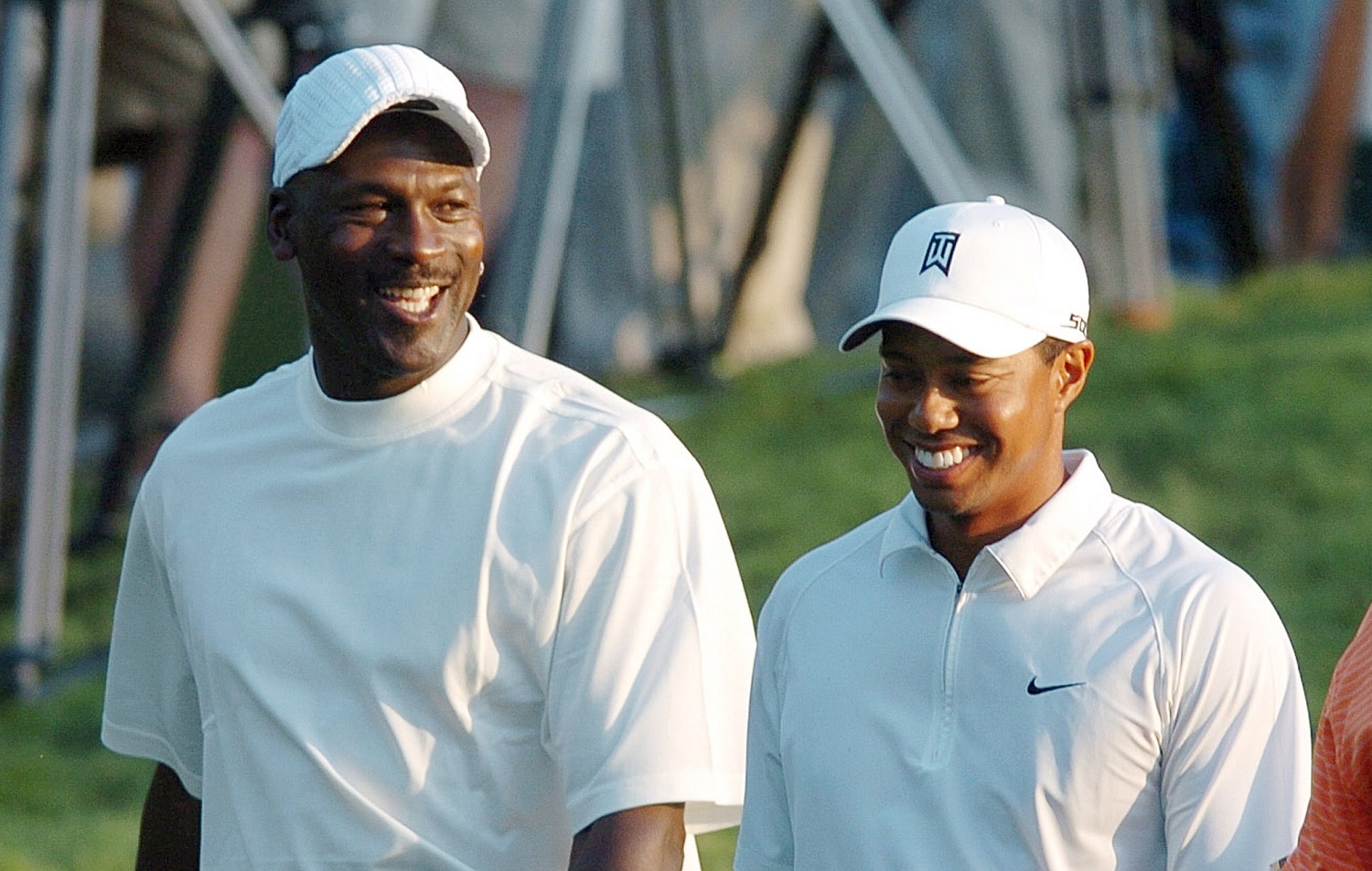 Michael Jordan's Gloating Message to Tiger Woods: 'I Don't Take Checks'
Tiger Woods doubted that Michael Jordan could crack 92 in a televised event on the Bethpage Black golf course that hosted the 2009 U.S. Open.
The world watched Michael Jordan conquer basketball with the Chicago Bulls and never fully get the hang of baseball during one season in the minor leagues. He was a fierce competitor in both instances, a trait that carries over to this day when he takes to the golf course.
That's exemplified by a 2009 episode involving Tiger Woods, Fred Couples, Justin Timberlake, and Ben Roethlisberger in which Jordan delivered a message.
Bethpage Black is a demanding golf course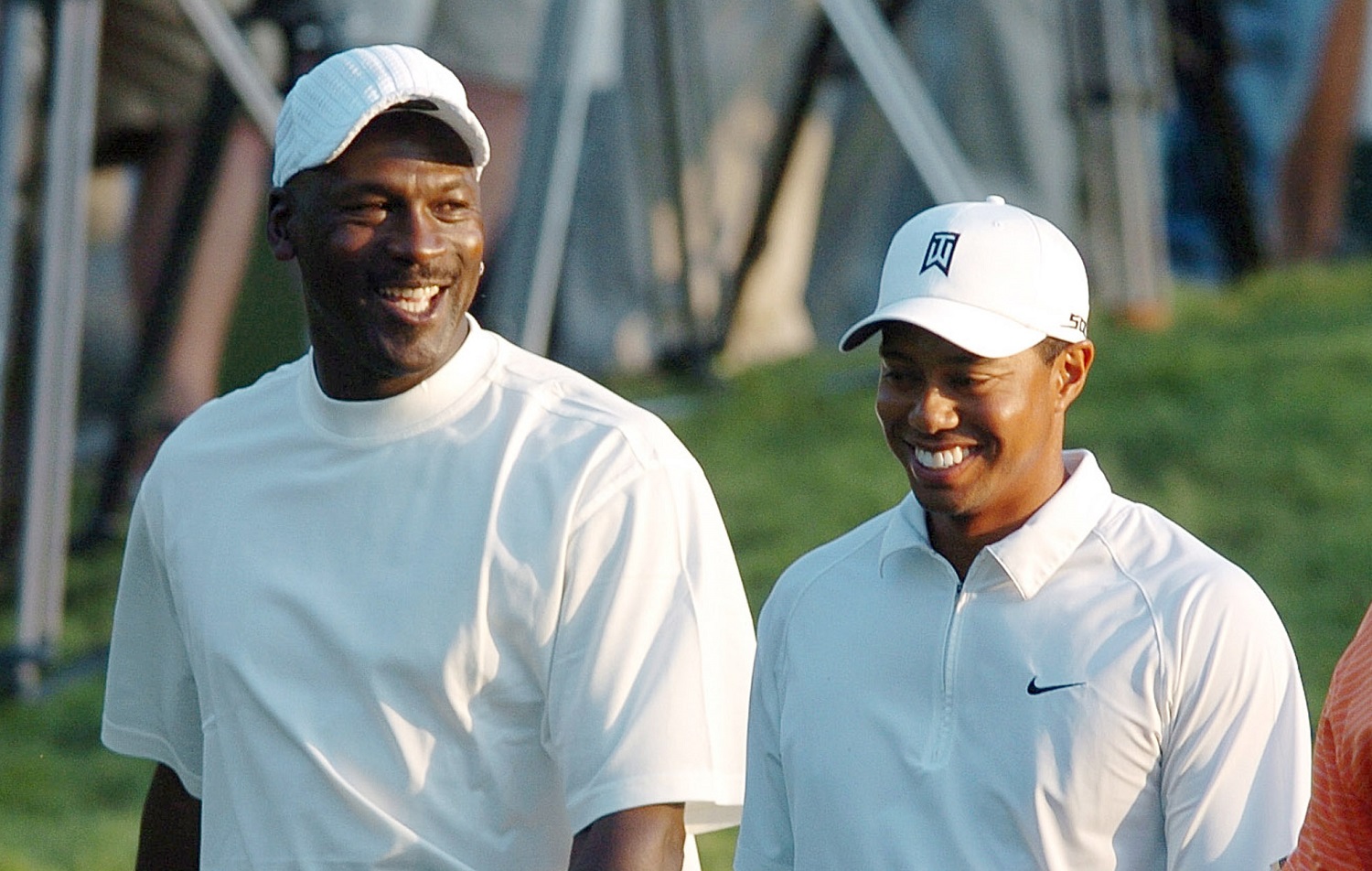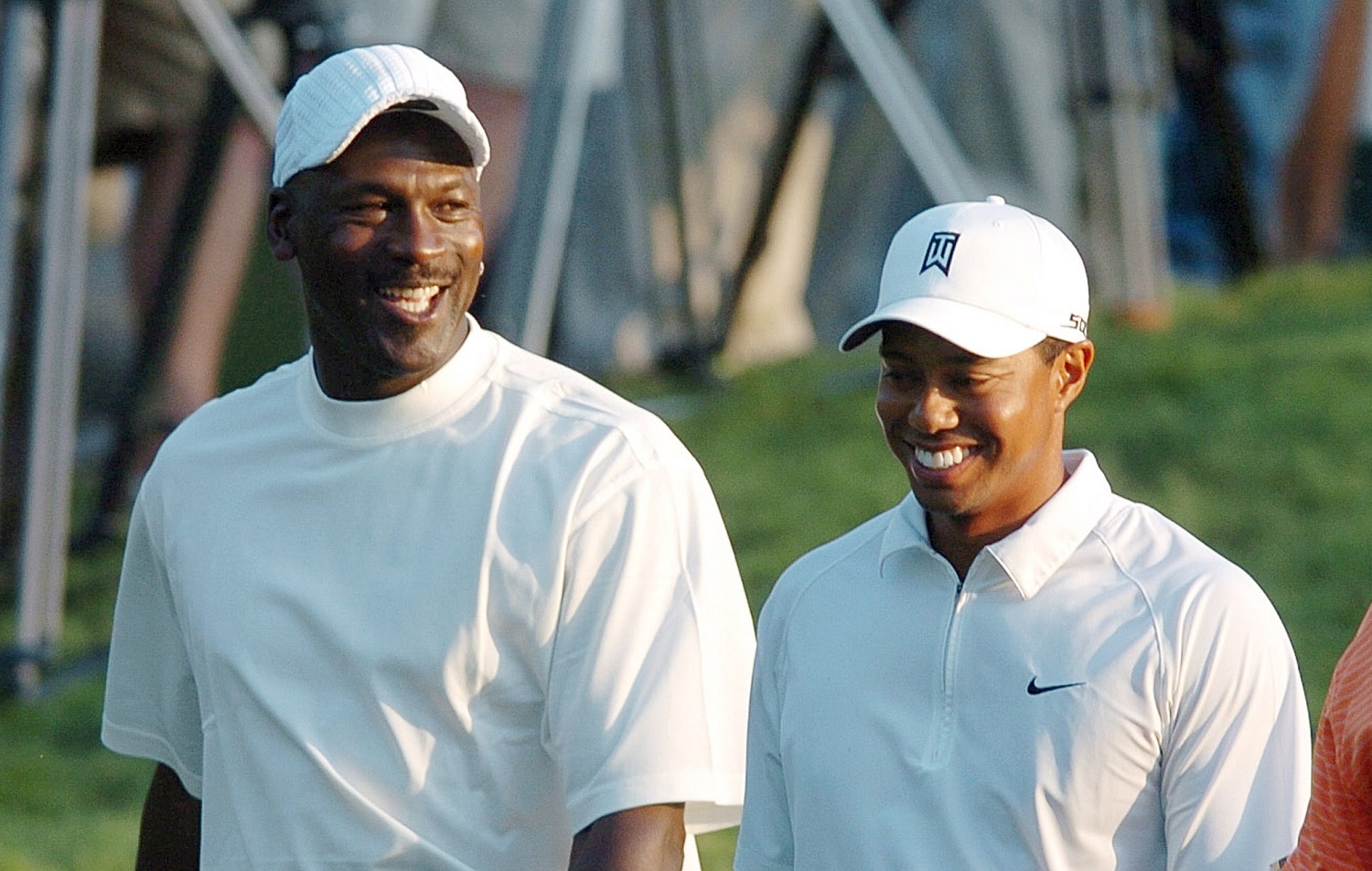 Golfpass.com looked through more than a million reviews of courses at Golf Advisor last fall and assembled the list of what it called the 50 toughest courses in the United States. Not surprisingly, Bethpage Black on Long Island led the list, helping to frame the story behind a bet involving Michael Jordan and Tiger Woods.
Bethpage State Park features five 18-hole golf courses including the famous Black Course. The park was carved out of a family-owned estate, and famous golf course architect A.W. Tillinghast designed and supervised construction of the Black, Red, and Blue courses alongside the existing Green layout. The Yellow course was added decades later.
Those who play there frequently – and well – generally agree that the greens are the least of a professional golfer's problems on the Black course. Rather, hitting into trouble off the tees means a nearly automatic bogey. Even golfers who play the par-70 course regularly will walk well ahead of their ball to assess potential pitfalls of approach shots that aren't readily apparent.
It helps to explain why the USGA considered the course good enough to bring the U.S. Open there in 2002 and '09. Brooks Koepka defended his PGA Championship there in 2019, and the Ryder Cup is scheduled for 2025.
Michael Jordan played Bethpage Black in 2009
A week before the 2009 U.S. Open, Bethpage Black hosted the Golf Digest U.S. Open Challenge, a made-for-TV tease to hype the tournament that Lucas Glover subsequently won by two strokes over Phil Mickelson, David Duval, and Ricky Barnes.
The celebrity event included Michael Jordan, Justin Timberlake, Pittsburgh Steelers quarterback Ben Roethlisberger and one amateur who qualified through a contest. Established PGA players Fred Couples, Rocco Mediate, and Anthony Kim worked as caddies.
Roethlisberger proved to be the star of the show. When Tony Romo played the inaugural event a year earlier at the slightly less demanding Torrey Pines, he fired an 84 on his way to winning. But Roethlisberger beat that by three strokes to lead the way for his foursome.
"Every golf course we play from now on will seem easy," Roethlisberger said, according to Golf Digest.
Michael Jordan 's message to Tiger Woods: 'I don't take checks'
Doomed from the start by an opening-round 74, Tiger Woods finished in a tie for sixth, four shots behind Lucas Glover, in the 2009 U.S. Open at Bethpage Black on Long Island.
A week before the tournament, Woods' eyes were on pal Michael Jordan as the retired NBA great played the same challenging course. Naturally, the two had a wager on how Jordan would fare, with Woods betting that Jordan couldn't break 92 on such a demanding course. Even someone as clutch under pressure as Jordan admitted feeling the jitters on his way to a triple-bogey 7 on the first hole.
"If we're playing basketball, you could turn the camera guys on all day," he said, according to Golf Digest. "But when you step outside your field, it's a whole different atmosphere. You become human, and I was nervous."
Jordan was still struggling early and found himself at 8-over-par though four holes. At that pace, he would have trouble breaking 100.
"After a while, I said, 'I'm an athlete. I love playing the game of golf, so enjoy it. Whatever happens, happens,'" Jordan said.
The approach worked. Jordan lost only eight more strokes to par the rest of the way. He finished with an 86, two strokes better than Justin Timberlake and easily good enough to win his bet with Woods.
So what was his message to Woods, second all-time in victories in golf majors?
"I don't take checks," Jordan joked.
Like Sportscasting on Facebook. Follow us on Twitter @sportscasting19.