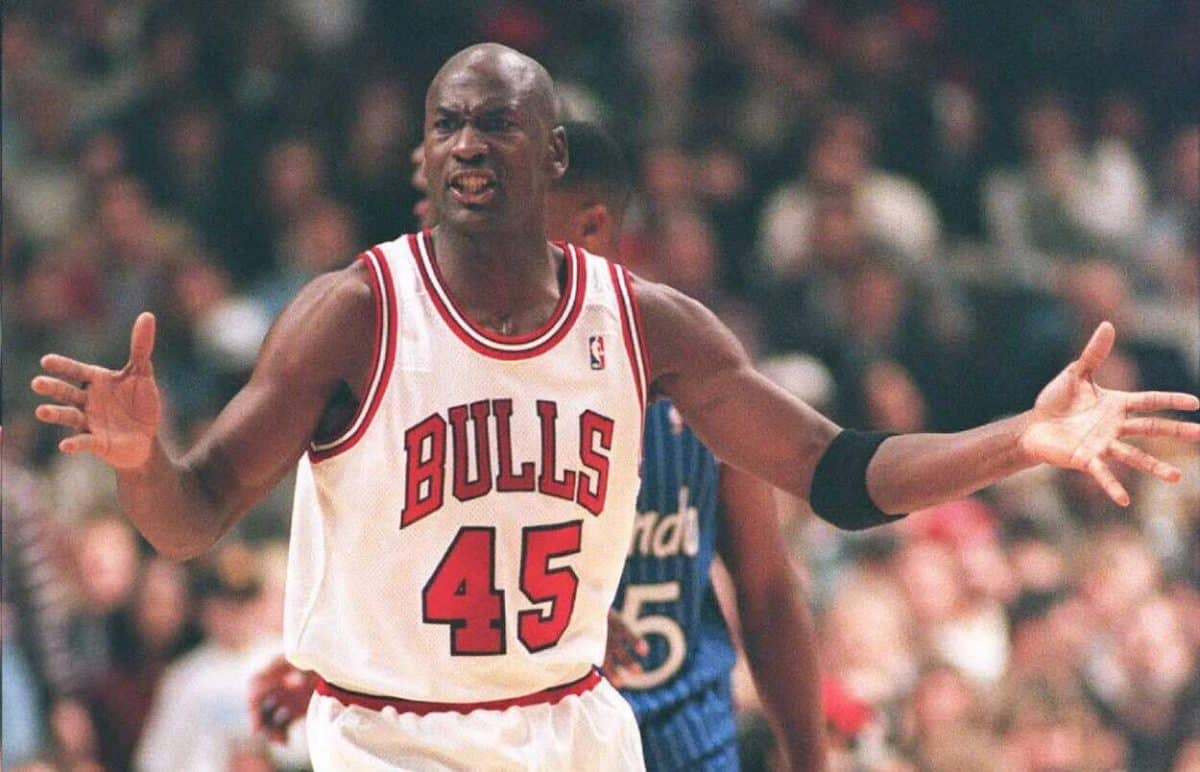 How Michael Jordan's Return in 1995 Cost the Chicago Bulls $100,000
When NBA legend Michael Jordan returned to the Chicago Bulls in 1995, he and his No. 45 jersey wound up costing the team $100,000 in fines.
Michael Jordan needed only two words to shock the Chicago Bulls and the world in 1995: "I'm back."
Well, the actual fax was a bit longer than that, but the point remained. After some time playing minor league baseball for the Chicago White Sox, Jordan hung up his bat and cleats to play basketball again.
On the court, the Bulls were thrilled to have their iconic guard back. But Jordan's return wound up costing the team $100,000 in fines.
Michael Jordan rejoined the Chicago Bulls in 1995
After a decade in the NBA, Michael Jordan — already among the greatest players in league history — retired from the Chicago Bulls in 1993.
Jordan wasn't going far, though, as he intended to play baseball with the Chicago White Sox. At age 31, MJ hit .202 with three home runs, 51 RBIs, and 30 stolen bases for the Birmingham Barons — a Double-A team — in 1994.
Although Jordan could have continued playing baseball in 1995, the ongoing labor problems got in his way. Jordan refused to cross the picket line, even if that would've meant he'd reach the majors, and returned to the Chicago Bulls.
Jordan sent his famous fax on March 18, 1995, and donned No. 45 for the Bulls a day later. In 43 minutes, he went 7-of-28 from the field for 19 points in a 103-96 loss against the Indiana Pacers. Jordan also grabbed six rebounds, dished six assists, and recorded three steals that night.
Michael Jordan's return cost the Bulls $100,000
Michael Jordan used what remained of the 1994-95 regular season to regain his momentum after nearly two years away from basketball.
Jordan averaged 26.9 points on 41.1% shooting from the field in 17 games, 13 of which the Bulls won. The legendary guard added 6.9 rebounds, 5.3 assists, 1.8 steals, and 0.8 blocks in 39.3 minutes per night. He did all that wearing No. 45, a number he kept when the playoffs started.
However, Jordan returned to his trademark No. 23 for Game 2 of the Eastern Conference semifinals against the Orlando Magic. He said he felt more comfortable in his old number and wore No. 23 for the rest of that series. Shaquille O'Neal and the Magic defeated Jordan's Bulls in six games.
The NBA may have been happy to see Jordan back. But the league wasn't pleased they didn't know ahead of time that he was switching numbers. According to the Associated Press, the Bulls were fined $25,000 each time Jordan wore No. 23 instead of No. 45 after Game 2.
In total, the Bulls had to pay $100,000 in fines.
LeBron James did his best to avoid a similar problem
Michael Jordan wasn't the first player in sports to change his number midseason, and he wouldn't be the last.
Baseball players, especially those who frequently went between the major and minor leagues, often changed numbers throughout the year. A pitcher who wore No. 37 in May might have switched to No. 55 when the team recalled him in July because a newly-acquired first baseman took the old number.
The NBA wanted to avoid similar situations. While with the Cleveland Cavaliers in 2009, LeBron James had to apply to wear No. 6 in 2010 instead of his trademark No. 23.
According to ESPN, James — who announced his intended change in November 2009 — had to submit his official number change request by March 5, 2010. Of course, James only had to file that paperwork if he re-signed with the Cavaliers.
As we know now, James joined Chris Bosh and Dwyane Wade in Miami. Because free agents can freely pick a new number, James chose No. 6, and the rest is history.
Like Sportscasting on Facebook. Follow us on Twitter @sportscasting19.