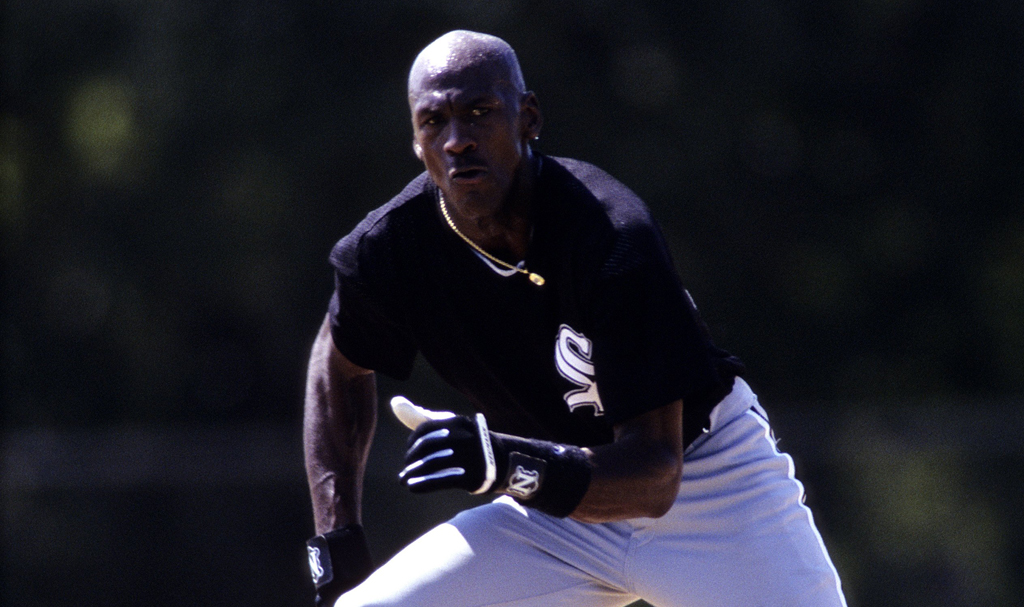 Michael Jordan Hit so Much That His Hands Would Bleed
Michael Jordan was determined to prove himself as a baseball player, beginning with brutal workouts held in secret.
The Last Dance documentary on ESPN over the past month has provided sports fans with insight into the drive and determination of Michael Jordan, who was not only the best Chicago Bulls player during the dynasty years but the greatest competitor.
The desire to succeed also carried over to his short-lived baseball career.
A very secret mission to prepare MJ for baseball
The story of Michael Jordan's departure from basketball after the 1993 NBA playoffs had already been told and retold before ESPN embarked on its documentary this spring about the Chicago Bulls. But the deeper that the media digs, the more we learn about how immersed Jordan was becoming a legitimate baseball player.
The beginning of Jordan's foray into baseball was conducted in such clandestine fashion that few people were there to observe the intensity from the start. One of them was Herm Schneider, who spent 40 seasons as the trainer for the Chicago White Sox.
White Sox chairman Jerry Reinsdorf enlisted Schneider to prepare Jordan for what turned out to be one season with the Birmingham Barons. No one was more surprised at being entrusted with such responsibility than Schneider.
Reinsdorf owned both the Bulls and White Sox, so he was one of the first people to know Jordan's intention to swap basketballs for baseballs. He also knew that he had an enormous investment to protect, prompting him to call upon the trainer.
As Schneider recounted to the Rochester Business Journal, Reinsdorf met with him in November 1993 to tell the trainer to get Jordan conditioned for spring training less than three months away.
"I didn't say anything at first, but my look said it all, I thought my boss was pulling my leg. But Jerry quickly made it clear he was serious. I was looking forward to it, but I also knew it was going to be quite a challenge, even for the world's greatest athlete, because we only had eight, nine weeks."

Herm Schneider
Michael Jordan never does anything in half-hearted fashion
Herm Schneider, who retired from everyday duties with the Chicago White Sox in 2018, had one of the world's best-known athletes as his exclusive student for more than two months hidden away inside Comiskey Park. He says Michael Jordan would have been the valedictorian even if there had been a hundred others to teach.
"It was never a case of me having to push Michael,'' Schneider said. "It was often a case of having to hold him back."
The first 10 days consisted primarily of routine weight training and stretching aimed at preparing Jordan for what thousands of swings in a short time would do to his shoulders and arms. Once the live drills began with help from former players Bill Melton and Mike Huff, Jordan worked with such ferocity that Schneider worried that he would injure himself before reaching spring training in Florida.
"Michael was constantly pushing the limits,'' Schneider said "He was so thirsty for knowledge about the game and always wanted to do extra drills. He'd hit until his hands bled. I'd patch up those blisters and force him to scale back."
Secrecy taken to the extreme
All of the early Michael Jordan workouts at Comiskey Park in Chicago were done under the radar in and around the indoor batting cages to keep things out of the public eye. Part of it was to avoid distractions, but it was also to give everyone deniability in case the experiment flopped.
Jordan would show up each morning for four or five hours of work, and trainer Herm Schneider would open the gates and have Jordan park out of public view. It was only when the workouts moved to a college gym so that Jordan could field fly balls that sports fans learned what was going on.
The workouts moved to Sarasota, Florida, about 10 days before the White Sox reported to spring training so that Jordan could get some meaningful outdoor work.
Schneider recalled taking Jordan grocery shopping late one night when there were barely any customers – until word got around rather quickly.
"Within a half-hour, the store is packed, and people are surrounding Michael, asking for autographs and taking their pictures with him," Schneider said. "This is 1994, so there aren't any cellphones, but the word still spread like wildfire. That's when I realized how tough it was being Michael Jordan. He really couldn't go anywhere."