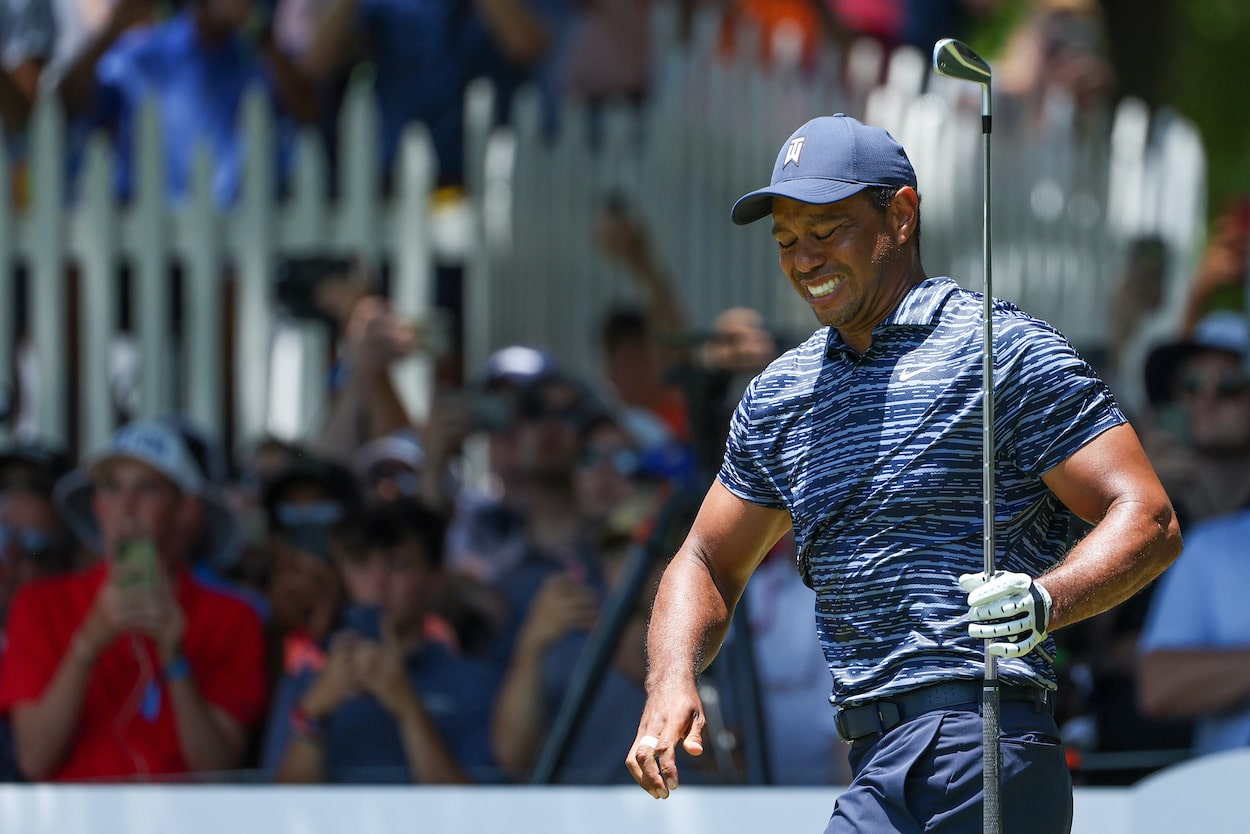 Tiger Woods Sends a Troubling Message After His Up-and-Down First Round at the PGA Championship
Tiger Woods may not be around for the weekend at the PGA Championship.
Expectations were sky-high for Tiger Woods heading into his second start of the year at the PGA Championship. After a strong showing at The Masters, the 46-year-old entered the second major championship of the season feeling "a lot stronger" and much more confident in his injured right leg.
That confidence was evident early, as Tiger birdied two of his first five holes to vault near the top of the leaderboard. But his game fell apart on the back 9, and the 15-time major champion will now need a low round on Friday just to see the weekend.
After the round, Woods admitted his leg was in pain down the stretch, painting a grim picture of his chances of making the cut.
Tiger Woods falters after a strong start to the PGA Championship
The Tiger hype train was humming down the tracks early on Thursday morning.
Woods came out and stuffed his first approach shot of the day to set up an easy birdie. He then drained a 13-foot birdie putt on his fifth hole of the day to get to 2-under par. There weren't many positives from there, however.
After the strong start, Woods bogeyed two of the last four holes on his front 9 to fall back to even. He carded five bogeys to just one birdie on the back 9 to finish with a 4-over par 74 and currently sits in a tie for 120th place.
The injured right leg was clearly bothering Tiger down the stretch of his round. He winced in pain after his last three full swings of the day, and he wasn't able to control the golf ball the way he normally can.
Woods has a lot of work to do tomorrow if he wants to jump inside the top 70 and make the cut, and based on his post-round comments, that doesn't seem likely.
Tiger sends a troubling message about his leg and chances of making the cut
Everyone watching could tell Tiger's injured right leg wasn't holding up the way he had hoped, and the 82-time PGA Tour winner admitted as much after the round.
"I just can't load it," Woods told reporters, per ESPN. "Loading hurts, pressing off it hurts, walking hurts, and twisting hurts. It's just golf. I don't play that, if I don't do that, then I'm all right."
The strength of Woods' game is normally his iron play, but he actually lost strokes on approach and tee-to-green in the first round.
"I did not hit a lot of good iron shots," Woods said. "I drove it well, but my iron shots were not very good. I didn't get the ball very close. I got off to a great start and didn't keep it going. I really didn't give myself any looks for birdie. I was struggling trying to get the ball on the green, and I missed quite a few iron shots both ways. It was a frustrating day."
Tiger will have to battle the heat and the whipping winds at Southern Hills Country Club Friday if he wants to stick around for two more days. Considering he'll have to shoot under-par in Round 2 on an injured leg, it's going to take a heroic effort to make the cut.
Like Sportscasting on Facebook. Follow us on Twitter @sportscasting19.