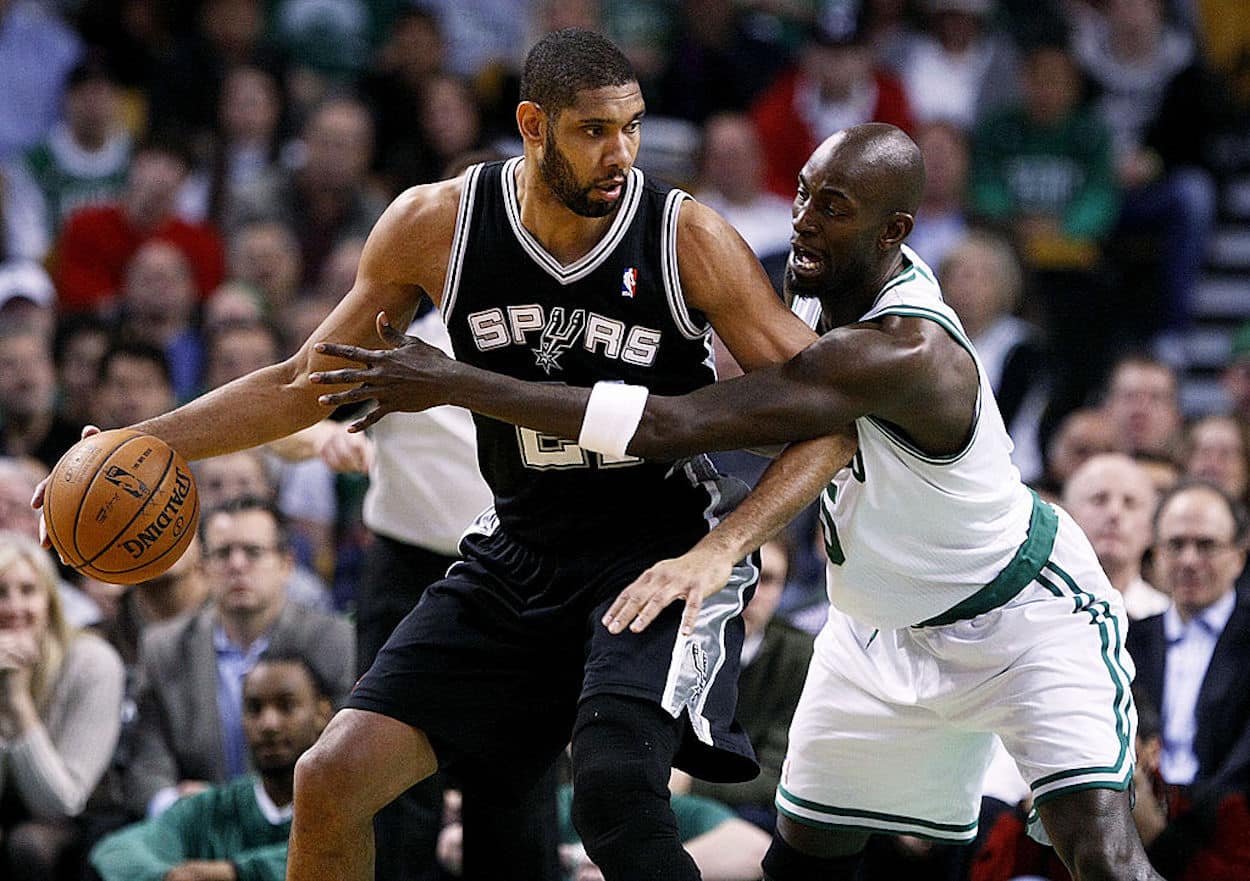 Tim Duncan Proved to Be an Underrated Trash-Talker Without Using Full Sentences
Tim Duncan was the master of fundamentally sound basketball. His trash talk apparently followed a similar mold.
While the cliche says that all's fair in love and war, basketball also has some pretty loose boundaries. Once you step on the court and the whistle blows, it's game on. Trash talk, like it or not, is simply part of the game. And although he had a reputation as one of the NBA's good guys, Tim Duncan still understood that reality.
The Big Fundamental, however, did things a bit differently. Rather than poking at opponents with elaborate insults, he kept things a bit simpler. Duncan, for the most part, preferred to rely on a few key phrases. Full sentences, by and large, were off the table.
Sound bizarre? Let Kevin Garnett explain.
Tim Duncan was apparently a master of low-key trash talk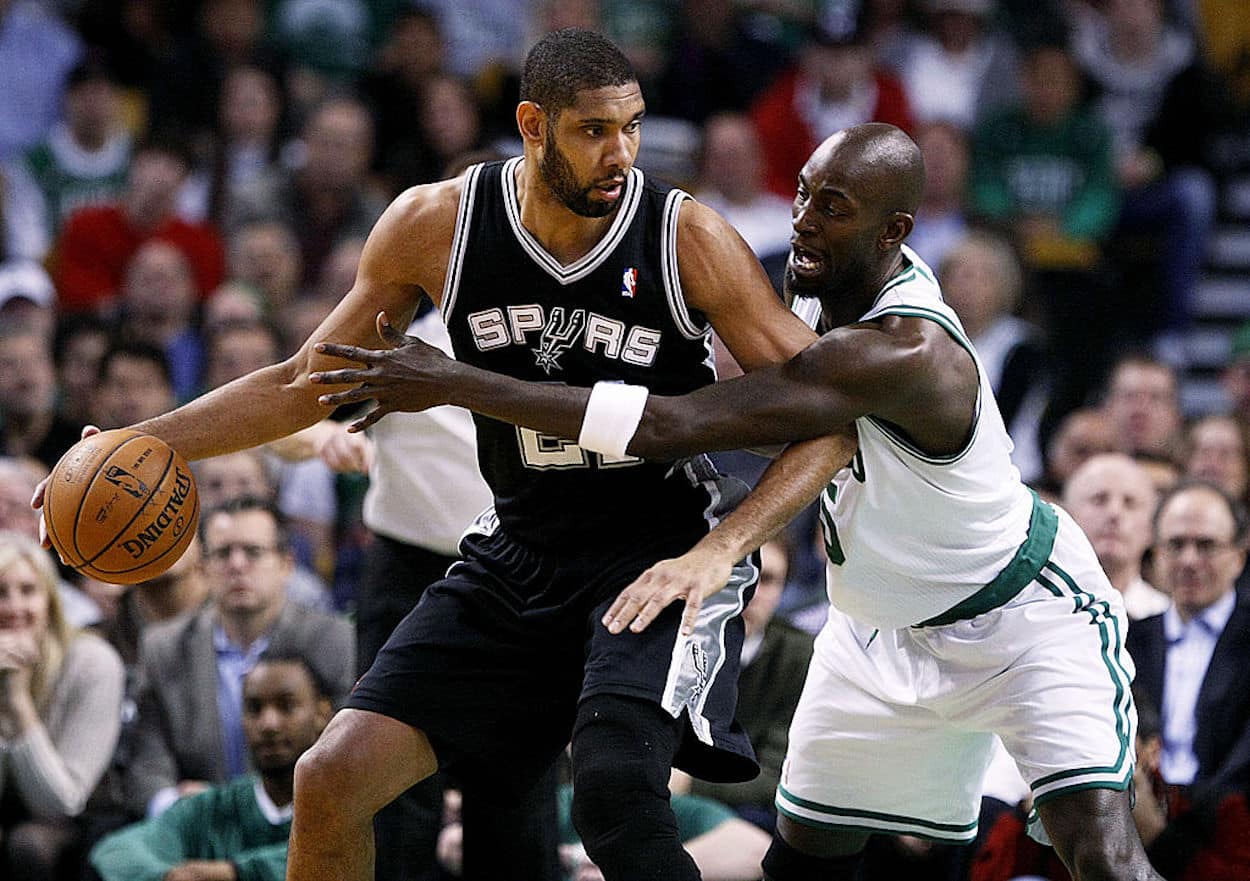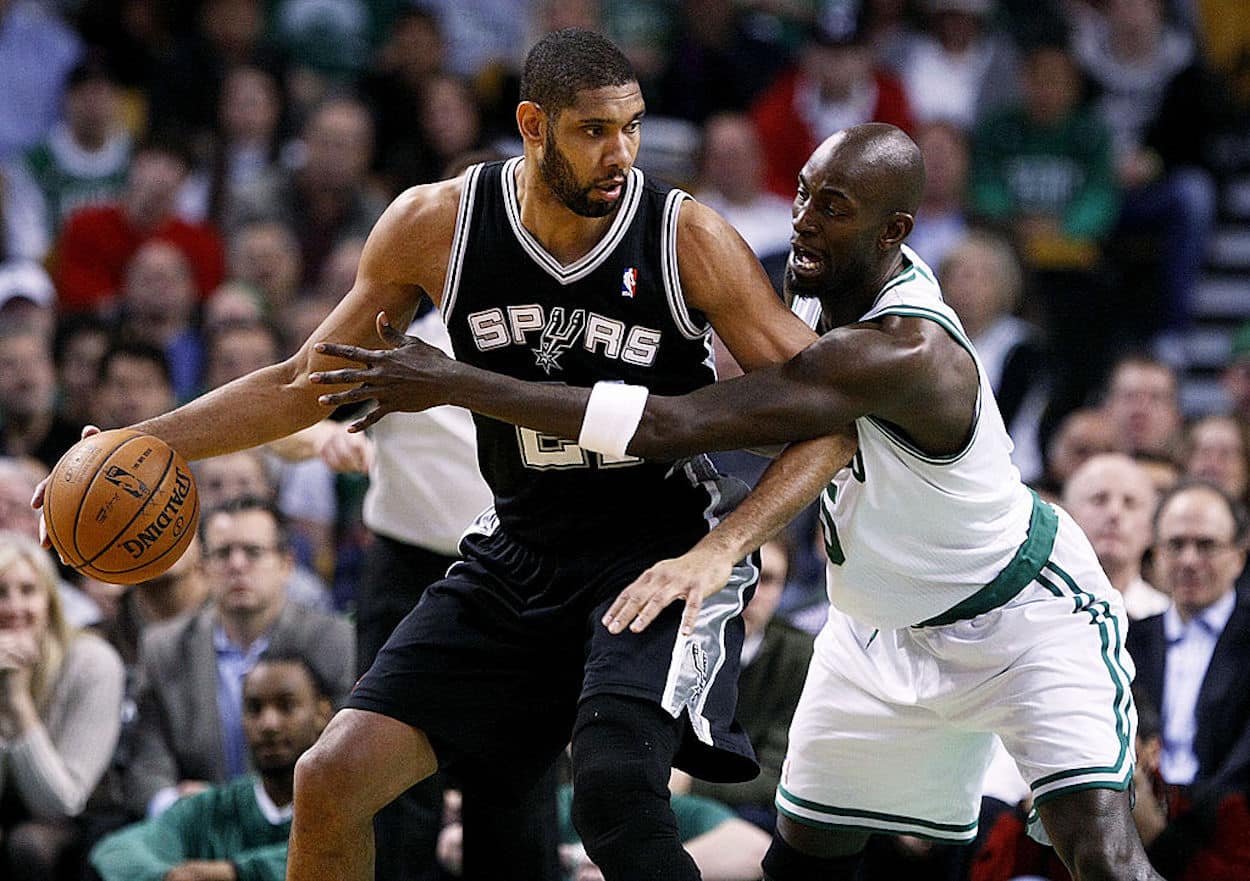 During his time on the hardwood, Kevin Garnett dished out plenty of trash talk. Despite that skill set, the Big Ticket was still struck by Tim Duncan's technique.
"Believe it or not, Tim Duncan," KG explained on All the Smoke when asked about players who could talk a big game and then back it up. "Tim Duncan. Shout out to Timmy. People would not see him verbally saying stuff because he wouldn't talk in sentences."
While that might sound bizarre, the former Minnesota Timberwolf did provide some examples of the way Duncan went about his business. Stephen Jackson, for what it's worth, laughed and nodded along in agreement.
Timmy would hit you in phrases. 'Got you.' 'Oooh. Almost.' This the worst right here: 'Nice try.' Like subtle s***. No gangster s***. No real hardcore s***. Just subtle ways to back your ass up and put back in like this over here.

Kevin Garnett speaking on 'All the Smoke'
To make things even worse, it was almost impossible to get under the big man's skin. Try as he might, Garnett simply couldn't bother Duncan.
"And then, what really, what really, what really, really, really pissed me off was when the trash talk wasn't affecting him," KG added. "So now you spending all this energy trying to rile this up, you forgot about your own game … and that's actually when I quit talking trash to Timmy."
Duncan also shared his perspective on sparring with KG
While hearing Garnett's perspective was certainly interesting, basketball fans can also get the other side of the story. During an appearance on The Ringer NBA Show, Duncan got to say his piece.
"[Garnett will] test you early," the legendary Spur explained. "Figure out who you are. And, depending on your response, you get a certain type of response from him later on."
That reality explained why Duncan chose not to engage.
"With him, because that's what he wanted," the forward explained when asked why he wouldn't respond to Garnett's trash talk. "That's what he wanted. He wanted to get you outside yourself. He wanted to piss you off and kind of control the situation. I guess I recognized that, plus it wasn't part of my game."
The Big Fundamental also explained that he found the best course of action was to keep playing his game without stopping, and that would eventually frustrate the opposition. Based on Garnett's take, Duncan's logic worked out perfectly.
Was Tim Duncan a great trash-talker? Or was he simply going about his business in the only way he knew how? You can be the judge of that, but no matter what, it was certainly effective.
Like Sportscasting on Facebook. Follow us on Twitter @sportscasting19 and subscribe to our YouTube channel.