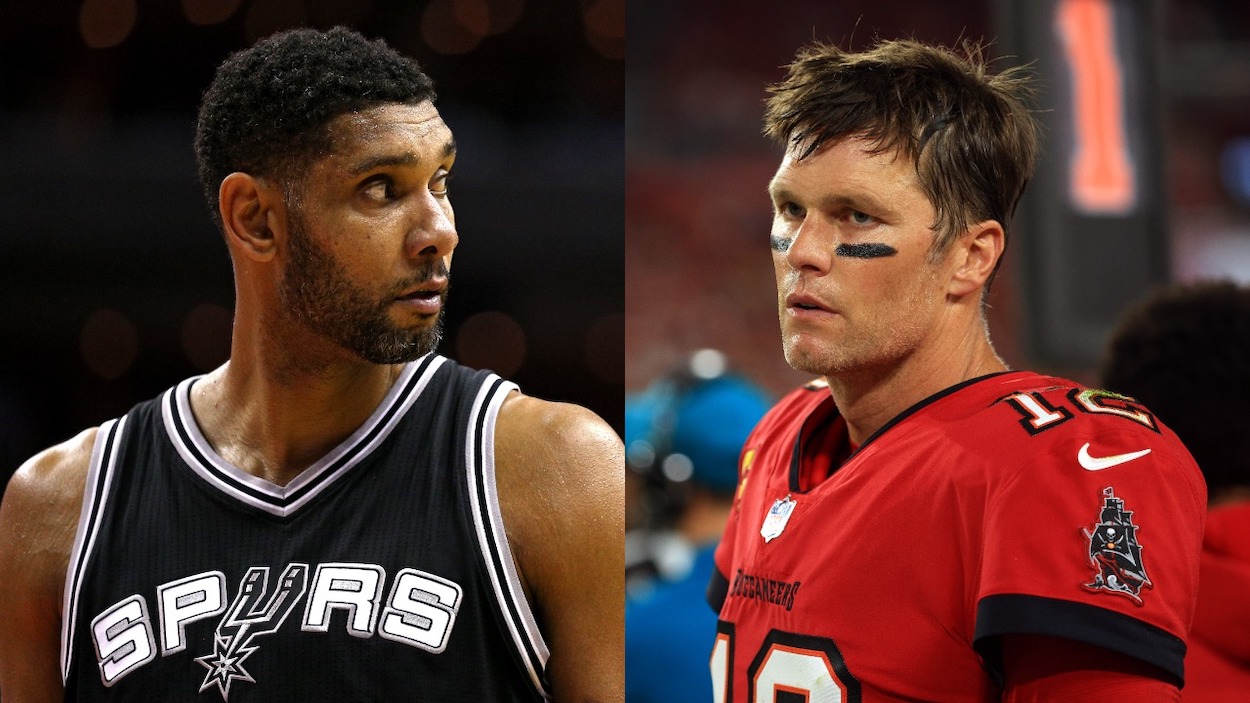 Tom Brady is the NFL's Tim Duncan, According to Hall of Famer Cris Carter: 'He Mastered All the Little Small, Mundane Things'
Is Hall of Fame NFL WR Cris Carter right when he says that the best cross-sport comparison for Tampa Bay Buccaneers QB Tom Brady is NBA legend Tim Duncan?
Reports that Tom Brady will retire after 22 seasons continue, despite sources close to Brady and the Tampa Bay Buccaneers denying the QB's made a decision. Even without an official announcement, current and former NFL players are looking back at the quarterback's illustrious career and paying tribute. This includes Hall of Fame wide receiver Cris Carter who compared football's GOAT not to Michael Jordan but to another legendary NBA player, the San Antonio Spurs Tim Duncan.
Chris Carter says Tom Brady is similar to Tim Duncan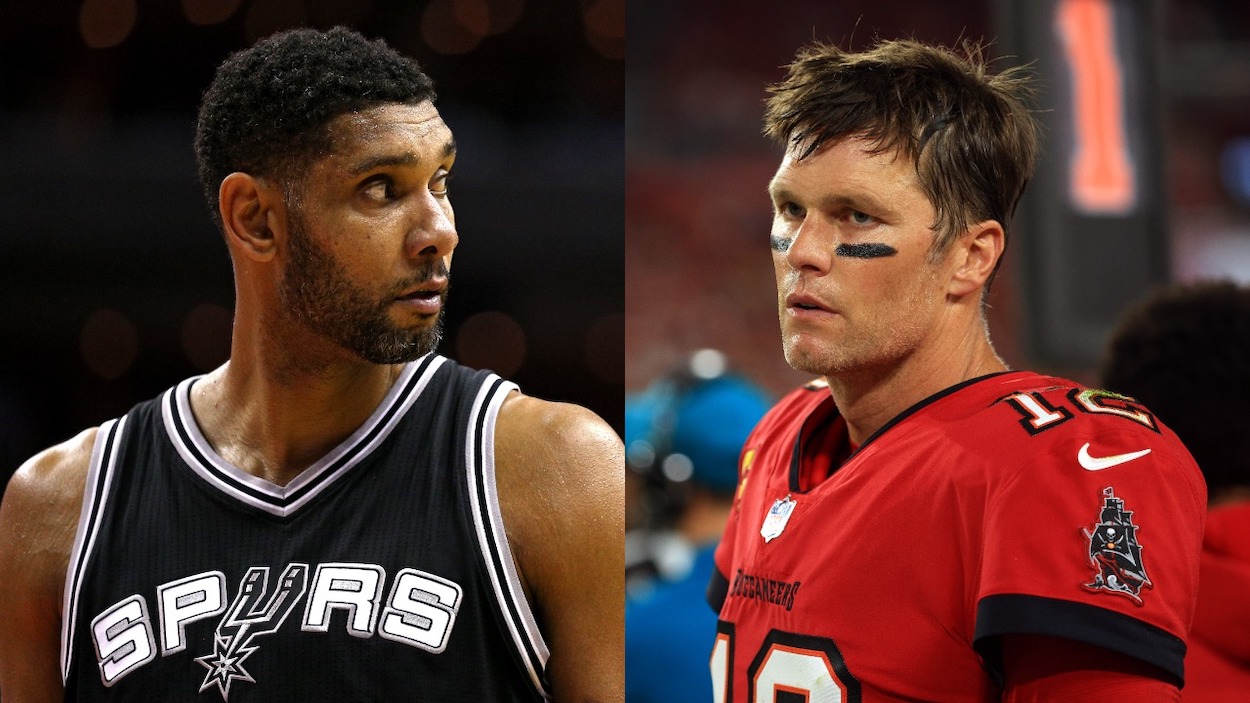 As rumors about Tom Brady's imminent retirement persist, Hall of Fame wideout Cris Carter joined the Good Morning Football crew to discuss the no-doubt HOF QB.
Carter talked about Brady "reinventing" himself over the years and having "two Hall of Fame careers" — although you can argue it's actually three. He then compared the Tampa Bay Buccaneers QB to an NBA legend:
God didn't give [Tom Brady] the best skills. Some of the skills that we talk about that quarterbacks have. But he made himself, he fell in love with the game. He reminds me of Tim Duncan, 'the Big Fundamental,' but playing quarterback. He mastered all the little small, mundane things that you have to and turned it into TB12. And what a treat to be able to cover him, to be able to watch him over the years.  

Cris Carter on Tom Brady and Tim Duncan
The Duncan/Brady is an interesting cross-sport comparison for the QB. With his seven Super Bowl wins and his (nearly) unquestioned status as the Greatest of All Time, Brady is often compared to the likes of Michael Jordan and Derek Jeter, not Duncan.
Comparing Brady and Duncan does work on some levels, but it also falls apart for several reasons. Here is a look at how Brady and Duncan are similar and how they differ.
How Brady and Duncan are the same
As Cris Carter pointed out, there are a lot of similarities between Tim Duncan and Tom Brady.
You can start with the 1997 NBA Draft and the 2000 NFL Draft. Yes, Duncan was a much-coveted prospect who went No. 1 and Brady went No. 199, but what they have in common is that they both came out as developed products thanks to four years in college.
After the draft, they both hooked up with all-time great coaches. You can't tell the story of Brady or Duncan without Bill Belichick or Gregg Popovich. While the players may have succeeded independently, it's unlikely they reach the lofty heights they did without these coaches.
As Duncan and Brady went through their careers, there are three areas where they were more alike than any others.
First, they did the selfless, little things it took to win. Whether the brilliant game plan was to hand the ball off 20 times to start the game or set picks to exploit a Tony Parker mismatch, Brady and Duncan would do that with as much gusto as when the game plan was solely on their shoulders (which it often was). They had those brilliant tacticians as coaches, but they were open to that coaching which sets them apart from other, more selfish athletes.
Second, they took less money to keep important teammates around. Yes, Brady is married to one of the richest supermodels in the world, and Duncan's $242 million in career earnings seem like more than enough to finance his quiet post-NBA life in Texas and his native U.S. Virgin Islands. That said, plenty of sports superstars (deservedly) took every dollar their teams offered them, although it may have hurt the team in the long run.
Third, they each reinvented themselves over long careers, as Carter suggests. Duncan went from playing Robin to David Robinson's (aging) Batman, to an MVP-level superstar, to Parker, Manu Ginobili, and Kawhi Leonard's wise older brother on his way to picking up five NBA titles.
For Brady, it was the transition from the game manager of Belichick's defense, to all-time great QB assassin, to the conductor of Tampa Bay's talented orchestra that led to his seven championships.
The commonality that runs through these phases for Brady and Duncan is that they wanted to win at all costs. And they did.
How TB12 and The Big Fundamental are different
There are a few crucial differences between Tom Brady and Tim Duncan, though. The first one that you can't overlook is that despite some similarities between their college experience and entrance in their respective leagues. Teams desperately tanked for the honor of drafting Duncan. The New England Patriots decided to take a flyer on Brady after six other QBs got drafted.
Also, Duncan came in and played six seasons with David Robinson, one of the 50 greatest players in NBA history. Brady did play with three NFL 100 players. However, he only played with Randy Moss for a little over three seasons late in the WR's career. Rob Gronkowski is only on the list because of Brady, and the third player is kicker Adam Vinatieri.
The point is, Duncan played with more talent than Brady ever did.
Finally, Brady did it without Bill Belichick, while Duncan never left Gregg Popovich. There is a fascinating hypothetical about what would have happened if Duncan signed with the Orlando Magic in 2000 to join Grant Hill and Tracy McGrady, as he told NBA.com in 2010 (h/t CBS Sports). However, that never happened, so it's just hypothetical.
Brady left Belichick's nest in 2020 and won a Super Bowl. That is proof that the QB's greatness isn't entirely tied to his coach.
There is no perfect NBA doppelganger for Brady. That said, despite the differences, Cris Carter is right. Duncan is about as close as you can get.
Like Sportscasting on Facebook. Follow us on Twitter @sportscasting19