Todd Gilliland Is Winning Even Before Reaching Las Vegas
On the spectrum of bad decisions, buying gas station sushi at 2 a.m. rates a 10 on the scale of 1-10. The worst decision in NASCAR so far this season scores a 4.5 on that same scale, but it's nice that amends have now been made toward Todd Gilliland.
Gilliland had a huge concern lifted from his shoulders this week when a sponsor came through to make sure he can race a full Cup Series schedule.
Front Row Motorsports pulled the rug out from under Todd Gilliland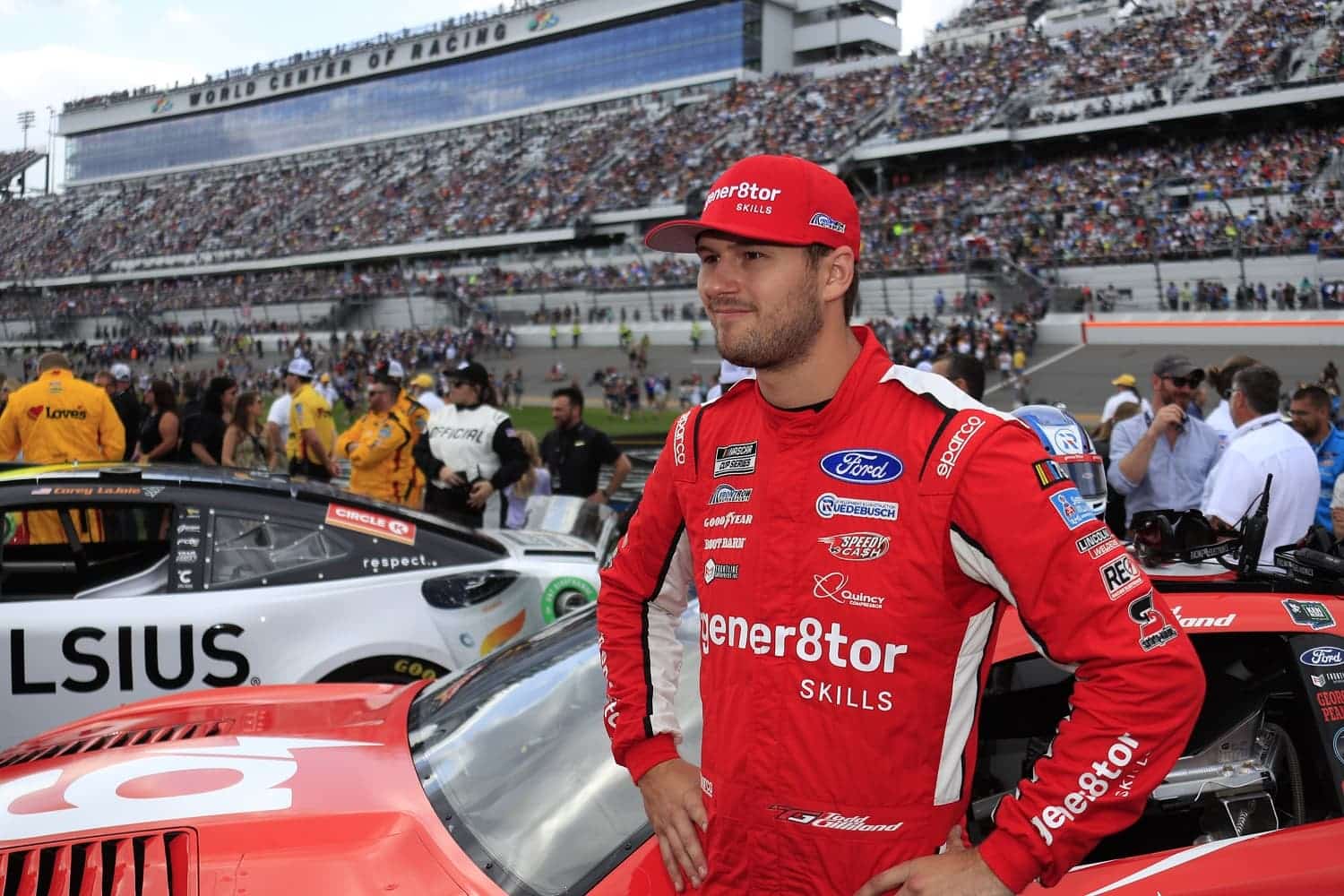 With the Daytona 500 less than two weeks away, Front Row Motorsports announced 2022 Craftsman Truck Series champion Zane Smith would attempt to race his way into the race in the No. 36 Ford, an unchartered car. That wasn't a surprise since the team revealed at the end of last season it would seek opportunities for its rising star.
The more significant news was that FRM committed to giving Smith six starts in the chartered No. 38 Ford beginning with next week at Phoenix. Those rides are coming at the expense of second-year driver Todd Gilliland, and the price was substantial at the time. That's because Gilliland can't qualify for the playoffs without racing the full Cup Series season.
While wanting to give Smith a look in the top series makes sense, sabotaging one of its own driver's prospects wasn't a good look for an organization with a reputation for routinely putting recent drivers (Chris Buescher, John Hunter Nemechek, Anthony Alfredo) through the one-and-done revolving door.
While the odds of Gilliland winning his way into the playoffs are slim, no one gave Buster Douglas a chance against Mike Tyson in Tokyo either.
Todd Gilliland now has a full 2023 Cup Series schedule
Good news came quickly for Todd Gilliland. Within days, he was able to forge a deal with Rick Ware Racing to drive one of its cars in five of the six races that Front Row Motorsports had stripped from his schedule. The exception was the April race at Talladega, which didn't leave Gilliland much time to develop a solution.
That changed this week while Gillibrand and his team were preparing for Sunday's NASCAR Cup Series race in Las Vegas. Commercial real estate developer Carl Ruedebusch, whose company sponsored Gilliland in three races last season, agreed to fund the No. 36 entry through FRM for the April 23 race at Talladega.
"He has proven that he can compete with the best of the best and be successful," Ruedebusch said in the announcement.
With that, Gilliland tried to distance himself from any speculation that his relationship with FRM might be irreparably damaged by earlier events.
"It's important to be clear that Bob Jenkins has put more resources into my career than anyone outside my family," he said. "It was unfortunate that I can't race all 36 races with FRM, but the team is working hard to build my program for the future."
One season is not enough to determine whether a driver can cut it
Todd Gilliland finished last in points among the three NASCAR Cup Series rookies in 2022, though just one spot behind 27th-place driver Harrison Burton. His best finish was fourth on the Indianapolis road course, and he posted just one other top-10 result.
As a 22-year-old rookie making the jump from his father's truck series team, the results weren't all that surprising. Nor was it a shock to see multiple people react positively on social media to seeing Gilliland get dumped from his car in favor of Zane Smith for six races this season.
The hate was misguided when you consider that few rookies find stardom right out of the gate and fewer still find it with a middle-of-the-pack (or worse) team. On top of everything else, the FRM decision may not have even been fully inspired by 2022 results. Gilliland's father, David Gilliland, has owned a team in the truck series since 2018. Shortly after last season, Gilliland switched affiliations from Ford to Toyota. It's not a huge leap to suggest Ford may have pushed FRM into giving rides to Smith at Gillibrand's expense.
Gilliland opened this season with 27th place at Daytona after getting caught in an overtime crash, then 17th place last weekend at Fontana.