Tom Brady Has Already Taken the Next Great Buccaneers Wide Receiver Under His All-Powerful Wing
Tom Brady knows what it takes to be successful in the NFL better than anyone who's ever played the game of football. The future Hall of Famer has always put an emphasis on developing trust with his offensive weapons throughout the year, and that hasn't changed since he joined the Tampa Bay Buccaneers.
Ahead of the 2021 season, Brady has taken rookie wide receiver Jaelon Darden under his wing and made it a point to teach him something new every practice. So, naturally, we should probably just start designing Darden's Hall of Fame bust now.
Jaelon Darden can add game-breaking speed to the Buccaneers offense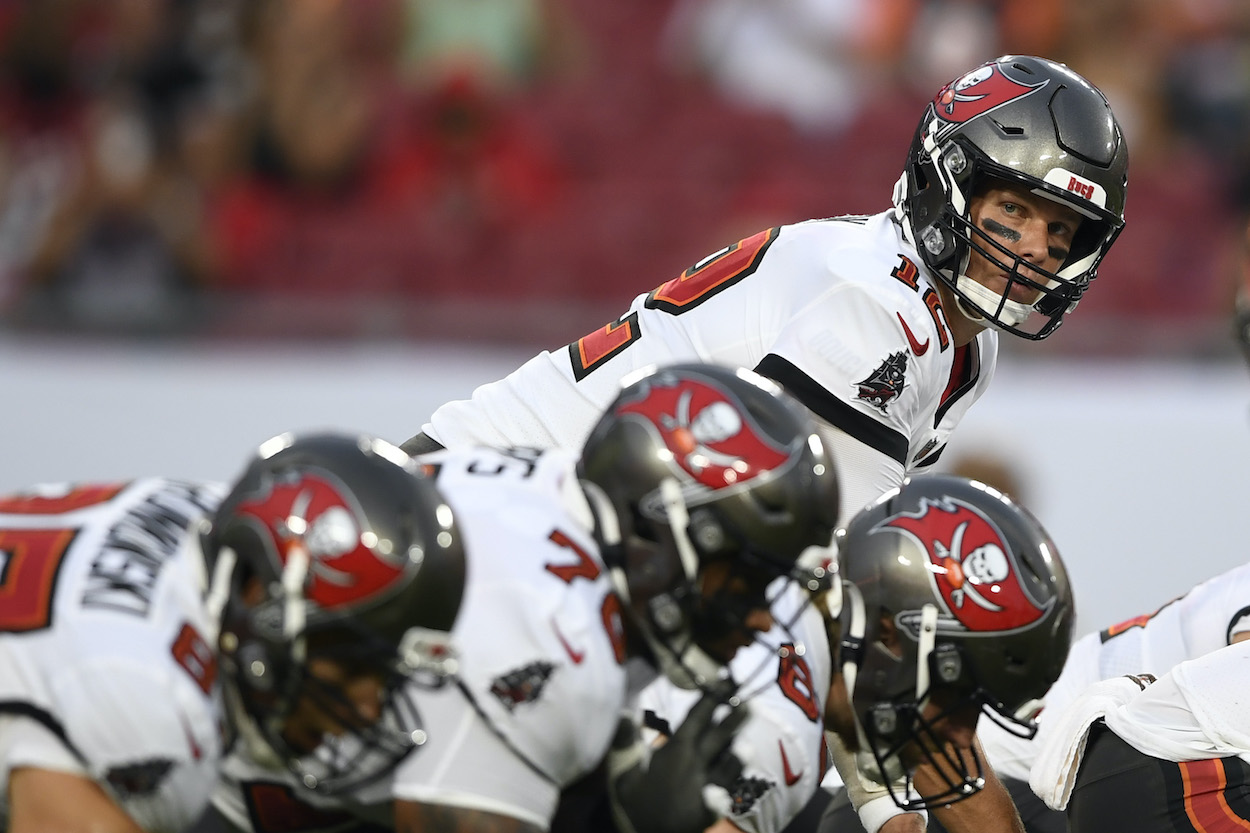 Darden might not be a well-known name in the NFL just yet, but he's a promising, young talent who ran circles around opposing secondaries throughout his collegiate career. In four years at North Texas, Darden racked up 2,782 receiving yards and 38 touchdowns.
The speedy receiver improved his production in every season during his NCAA career, and he capped it off with a dominant senior year in which he recorded 1,190 receiving yards and 19 touchdowns. Darden finished the 2020 season third in the country in receiving yards and second in receiving touchdowns behind Heisman Trophy winner DeVonta Smith.
Speed is the secret to success for Darden. The rookie ran a 4.46 40-yard dash and an elite 6.66 in the three-cone drill at his Pro Day.
Tampa Bay noticed his breathtaking speed and took a chance on him in the fourth round of the 2021 NFL draft. Even with the top-notch weaponry Brady has at his disposal this year, Darden can still carve out a place in this offense with his ability to break big plays.
Tom Brady has already placed Darden under his wing
The Buccaneers saw something special in Darden when they spent a fourth-round pick on the North Texas product. Evidently, so has Brady.
In Peter King's latest edition of Football Morning in America, the NBC Sports writer detailed how Brady has been mentoring Darden all offseason and spending extra time with him at every practice.
Last year, in camp, Brady was a personal tutor for tight end O.J. Howard. Coaching points every day, up close and personal. This year, that guy is a fourth-round pick from North Texas, smurfy receiver Jaelon Darden. Nearly every day, Brady's close to him in practice, giving teaching points about precisely where he wants him on every route of the route tree. He does this so, in the biggest games, he's got weapons not named Mike Evans and Chris Godwin (likely to see blanket coverage) who he can trust. Think back to the Super Bowl comeback win over Atlanta. Brady's most important wide receivers down the stretch of a 25-point comeback? Chris Hogan and Malcolm Mitchell.

Peter King
Could Darden become one of the unsung heroes of another Brady Super Bowl run this season?
Darden was "starstruck" when he met Brady, but he's ready to give the GOAT his all
It can be intimidating for young players to team up with a living legend like Brady. Many of these rookies couldn't even talk when Brady was drafted by the New England Patriots in 2000, so they've spent their whole lives watching and idolizing him.
For Darden, he was "starstruck" when he first met Brady, but now he's working harder than he ever has to impress the GOAT.
"He said, 'Hey Jaelon. Happy to have you on the team. I studied your film.' What an honor," Darden told King. "Then he took time to teach me how to win against coverages. Like, 'When the corner plays you here, I'm gonna have the ball at this exact spot.' Every day, I put my hard hat on and work and learn."
Brady clearly sees something special in Darden, and it wouldn't be surprising to see the rookie become the next great Buccaneers WR.
All stats courtesy of Sports Reference