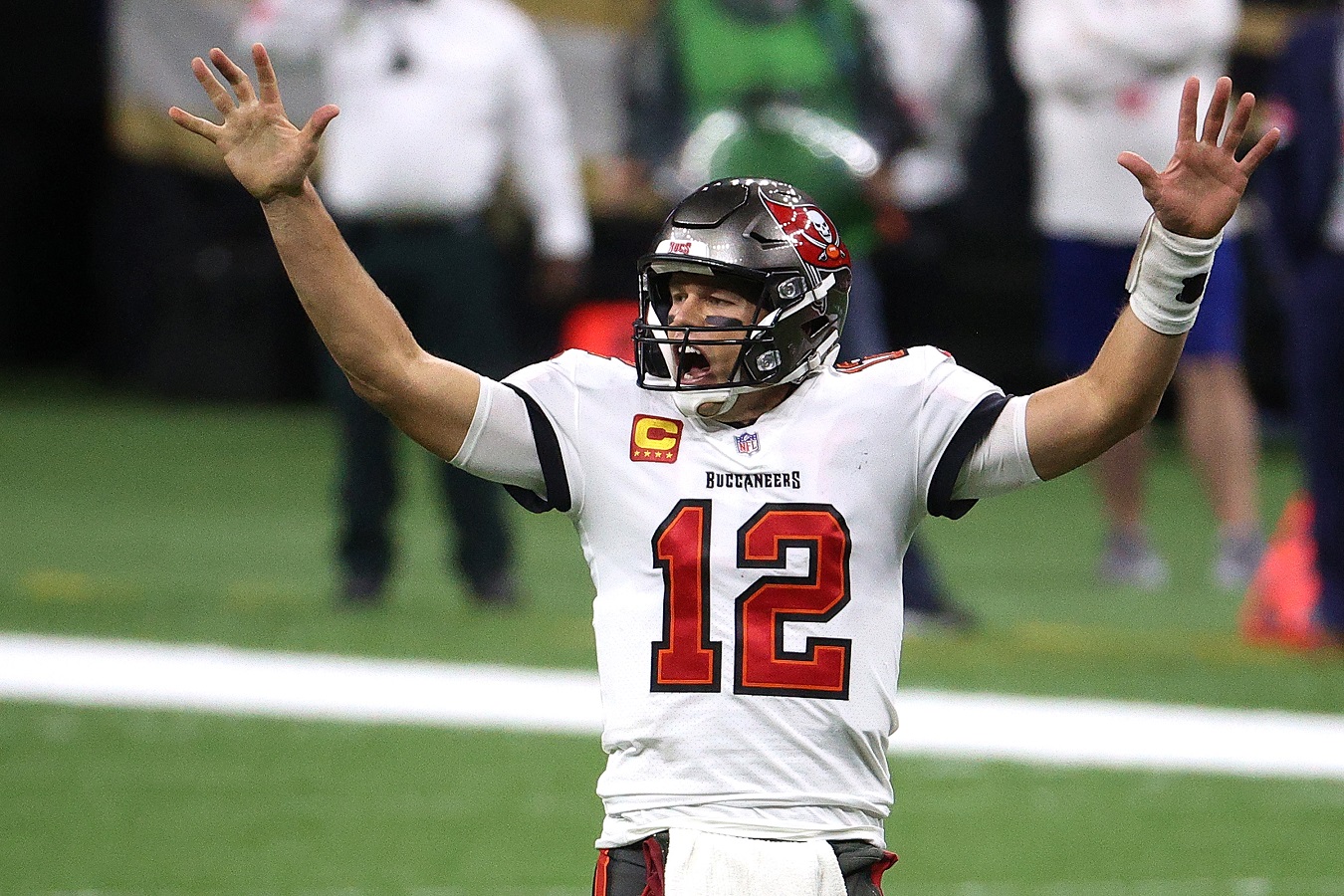 Tom Brady Candidly Addresses GOAT Status, What It Means to Him, and How Fear Has Driven Him to Success
Tom Brady is considered the GOAT by most. By his own definition, he understands how people might not view him as the best to ever play the game.
Tom Brady is considered the GOAT by most followers of the NFL, including players, coaches, and fans. However, there is a contingent of folks who mention other quarterbacks like Joe Montana as the greatest. On SportsCenter, Suzy Kolber spoke with Brady and directly asked him the question about being considered the GOAT. The 43-year-old Tampa Bay quarterback offered a very interesting response.  
Tom Brady has recorded numbers never seen before
Tom Brady's career numbers are staggering. For starters, he's playing in his 21st season as a starting quarterback in the NFL. His durability at the position is second to none. 
What he's accomplished in those 21 seasons is nothing short of remarkable. He's led the league on three separate occasions for total passing yards. He's thrown the most touchdowns during an NFL season four different times. All of his individual numbers have earned him three All-Pro nominations and 14 Pro Bowls. 
More important than any individual accolades, Tom Brady's accomplishments as a team leader are what truly sets him apart from any other player that's played the position. In his two-plus decades under center, Brady has taken his teams to the playoffs an unbelievable 18 seasons. He has won 33 playoff games during that time. Brady's total is more than double the next closest of San Francisco 49ers Joe Montana with 16.
Making the playoffs is one thing, winning is something altogether different. Again, Brady stands head and shoulders above the competition, appearing in 14 conference championships games, including 10 wins. Montana is second on the list and he's only appeared in nine conference title tilts. 
Lastly, Tom Brady is heading to his 10th Super Bowl, looking for his seventh ring. Terry Bradshaw and Montana each have four.   
Despite numbers, some question Brady as GOAT
The ongoing debate on whether Michael Jordan or LeBron James is the GOAT in the NBA makes sense. The numbers between the two are close with Jordan winning six NBA titles and James currently at four and looking for more. 
However, the opposite is true in the case of Brady. Montana and Bradshaw's playing days are long behind them while Brady is looking to add a seventh championship. Despite that disparity, Brady has his doubters who refuse to call him the GOAT, most notably, one of the quarterbacks in second place, Bradshaw.
"He is, to me, by far, the best quarterback we've seen in the last 25 years," Bradshaw recently said during a Fox NFL Sunday broadcast.  
What Tom Brady thinks of the GOAT conversation
As Tom Brady and the Tampa Bay Buccaneers prepare for Super Bowl 55, he sat down for an interview with ESPN's Suzy Kolber, which aired on Sunday night's SportsCenter. Kolber mentioned how GOAT gets thrown around a lot and wondered how Brady viewed it. 
"Everyone has different tastes for different things," Brady said. "If I say, what's your favorite meal, some people like steak, some people like chicken, some people like lasagna, some people like pizza. That's athletes. It just depends on what style you like at the end of the day."
Brady said he doesn't worry about that kind of stuff but instead focuses on the job at hand each season, where he takes an interesting approach for someone so successful.   
"I always felt like the goal for me of playing was to win games and never be the reason why we lost games. That's always going to be how I end up judging myself at the end of the year." 
The fear of failure is often a driver for many of the most successful people in the world. For Tom Brady, that fear has worked out pretty well for him.
Like Sportscasting on Facebook. Follow us on Twitter @sportscasting19.