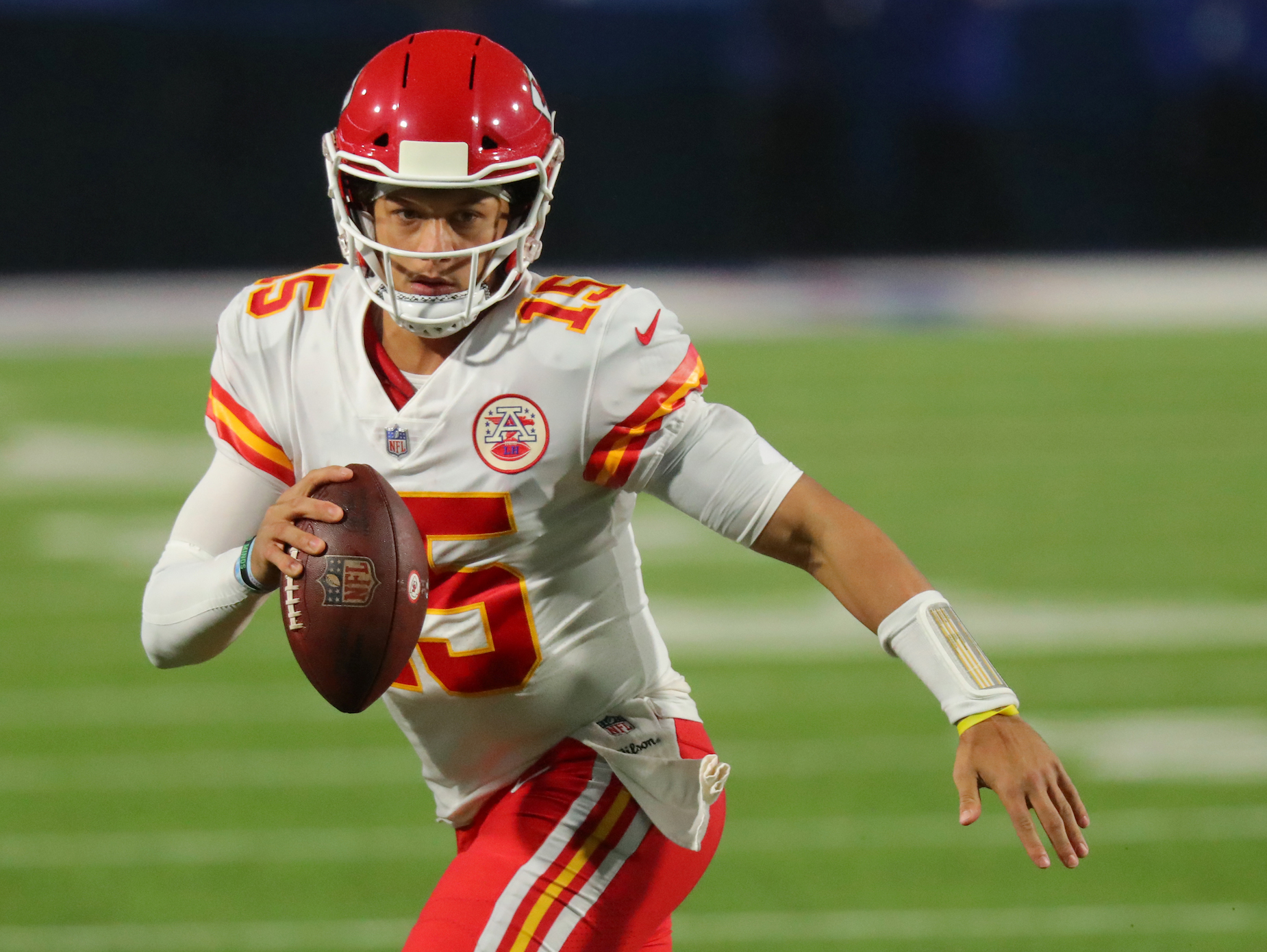 Joe Montana Has No Doubt That Patrick Mahomes Is Well on His Way to NFL Greatness
During his relatively brief time in the NFL, Kansas City Chiefs quarterback Patrick Mahomes has already impressed Joe Montana.
Over the course of their franchise history, the Kansas City Chiefs' quarterbacks have been a bit of a mixed bag. On one side of the aisle, there's Len Dawson and Joe Montana; on the others, there are the likes of Todd Blackledge, Brodie Croyle, and Tyler Thigpen. With Patrick Mahomes at the helm, however, the Chiefs are clearly in good hands.
Mahomes isn't only the darling of the Chiefs fans, though; plenty of former players are also singing the young signal-caller's praises. In fact, Joe Montana himself believes that the current KC quarterback is well on his way to becoming an all-time NFL great.
Joe Montana knows a thing or two about succeeding at quarterback
In the annals of NFL history, some names stand head and shoulders above the rest. Joe Montana is one of those men whose legacy will never be forgotten.
Montana played his college ball at Notre Dame, where, despite his eventual success, didn't look like much of a star; despite some notable performances, he threw 25 touchdowns and 25 interceptions in college before joining the San Francisco 49ers as a third-round pick.
As his draft status would lead you to believe, Montana didn't immediately take the NFL by storm. He spent his first professional season on the bench; midway through the 1980 campaign, however, everything changed.
With Montana at the helm, the 49ers took the NFL by storm. While there were a few injury issues along the way, the quarterback piled up 244 touchdowns and more than 35,000 passing yards in the Bay Area; he also lifted four Lombardi Trophies, which is nothing to sneeze at by anyone's standards. He would also spend two seasons in Kansas City before calling it a career.
Joe Montana has no doubt about Patrick Mahomes' potential
With all due respect to Joe Montana, he wasn't exactly at the height of his powers by the time he arrived in Kansas City. Patrick Mahomes, however, is a different story.
Unsurprisingly, the veteran quarterback has plenty of praise for his younger counterpart. In a recent interview, Montana made that view abundantly clear.
"I think when you look at [Mahomes] and his age and the things he's accomplished already and, really, his ability to do the things he's been able to prove that he can do, I see him obviously coming up to the top quickly," Montana told Mark Carman of FanSided, when asked about the quarterback's "ability to ascend the ladder of all-time greats."
"I don't think anything holds him back unless anyone forbid that anyone gets hurt," Montana continued. "That's the only thing that slows the guy down. I don't think you can slow him down any other way."
At this point, it's safe to assume that Patrick Mahomes will continue to dominate
As any sports fan can tell you, it's impossible to predict the future; even the most promising players can drop off the scene and never return to dominance. Patrick Mahomes' stardom, however, seems like a pretty safe bet.
As Montana noted, Mahomes has already proved his worth to the Kansas City Chiefs; he's thrown for more than 11,000 yards and 90 touchdowns through less than three seasons in the starting job. Perhaps more impressively, the quarterback has shown an ability to make something out of nothing, and lift the Chiefs to victory. Kansas City has also done a great job of surrounding their young star with plenty of offensive talent, making his life even easier.
"As long as they keep adding weapons for him—and as they say, you can't teach speed and they've got some speed on that team—he's got a cannon so he can let it fly," Joe Montana rightly added.
Stats courtesy of Pro-Football-Reference