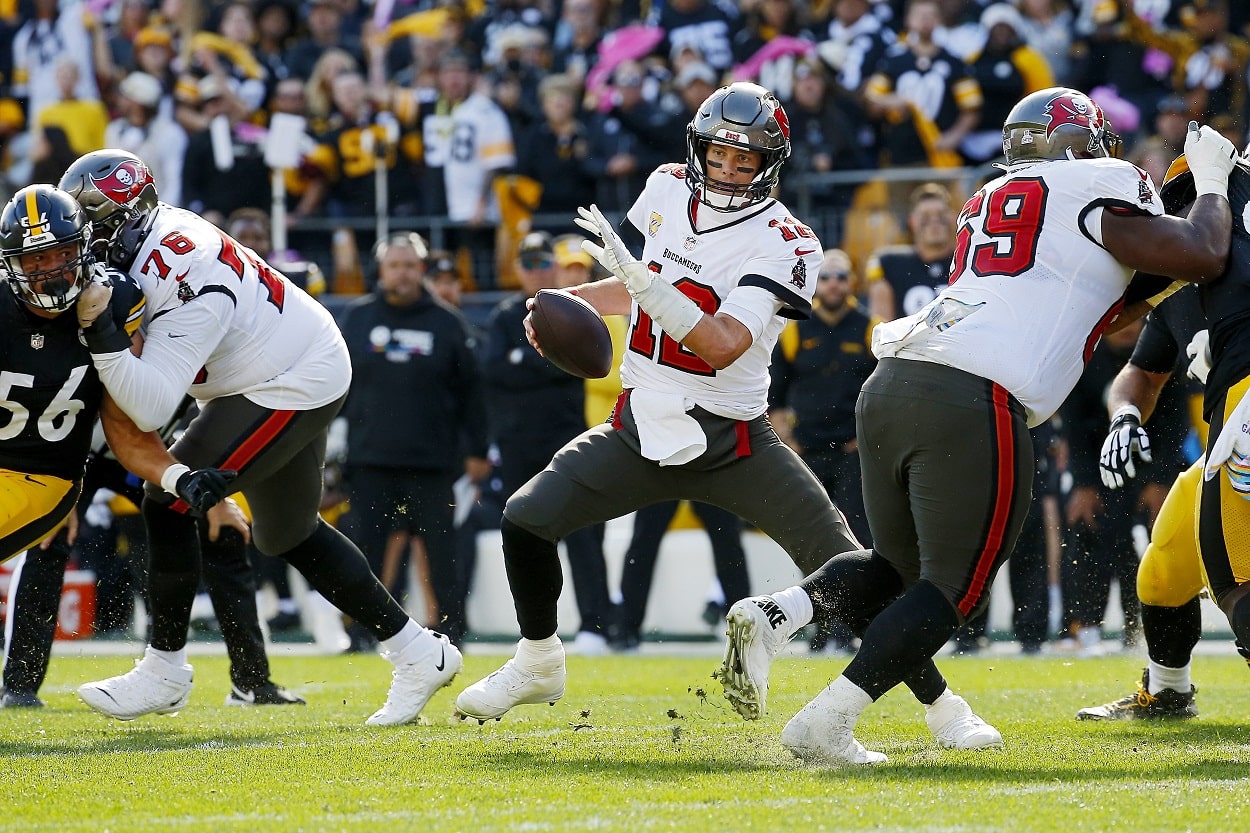 Tom Brady Needs to Take a Hard Look in the Mirror Following His Outburst Against His Buccaneers Teammates Before It's Too Late
Tom Brady hasn't been the leader the Tampa Bay Buccaneers need him to be lately.
It certainly hasn't been smooth sailing for Tom Brady or the Tampa Bay Buccaneers through the first six games of the season. Just two years removed from winning his seventh ring, the third year of the TB12 era has featured far more frustration than jubilation from the legendary quarterback. 
In Sunday's two-point loss to the Pittsburgh Steelers, the men tasked with keeping Brady out of harm's way saw (and heard) his anger on full display in a NSFW moment captured by the Fox broadcast. 
While the GOAT's supporters will excuse his behavior as an example of his fiery competitiveness, it's time to hold Tom Brady accountable. Because even though his incessant desire to win can lead to emotional outbursts, the fact the Buccaneers own a 3-3 record and rank 20th in scoring has as much to do with him as it does with an offensive line that has taken a sizable step back in 2022. 
And if Brady doesn't do some serious self-reflection and change his approach moving forward, he won't come close to capturing Super Bowl title No. 8.
Offensive line problems are just part of the story for the Buccaneers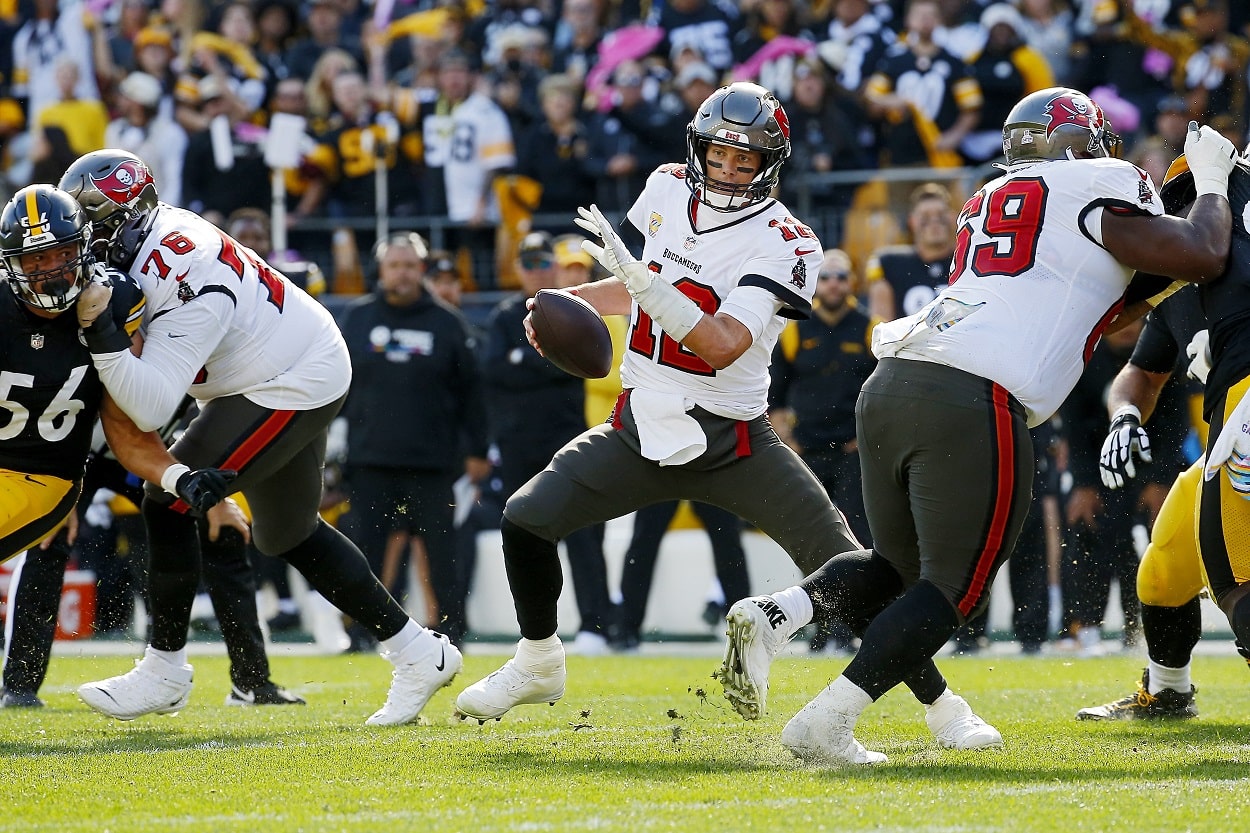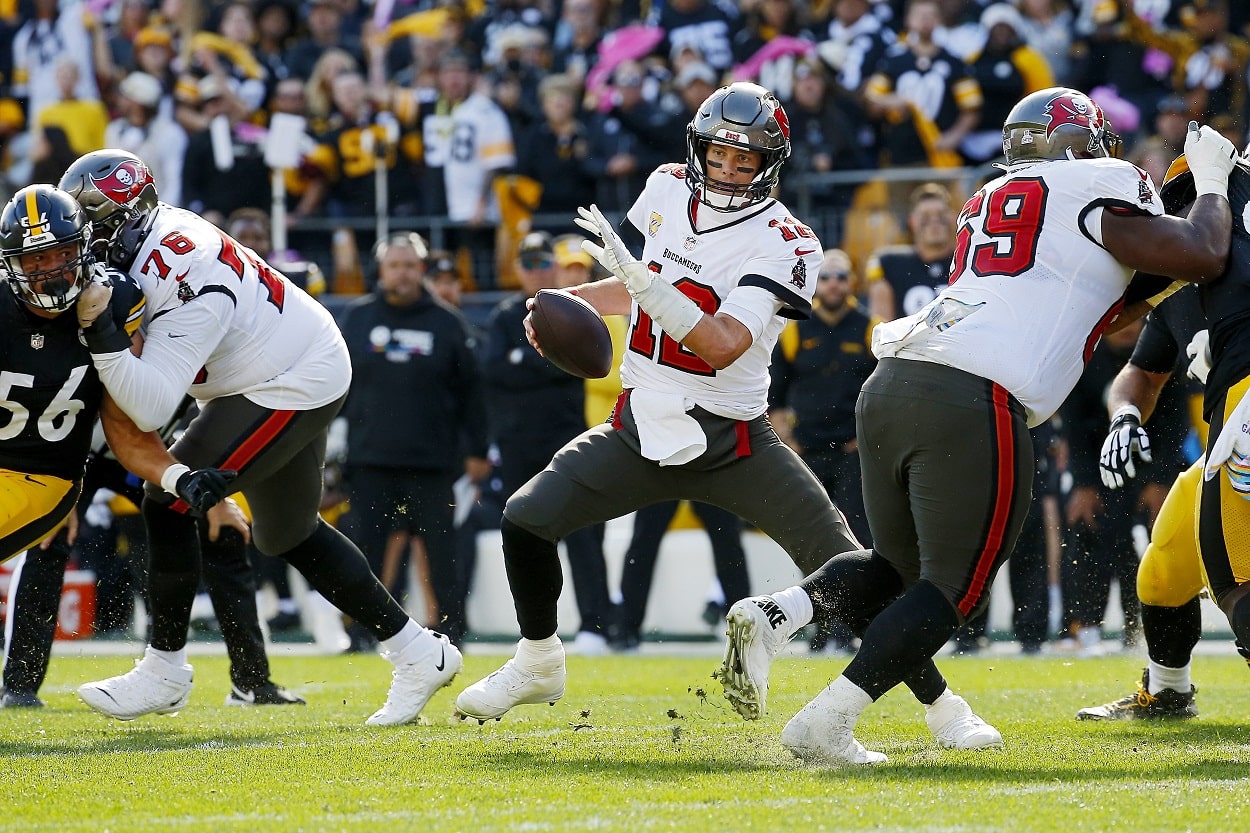 With a new starting interior trio, Tampa's offensive line entered the season with much to prove. To this point, though, it's clear the unit isn't nearly as strong as in the previous two years. 
Although Robert Hainsey has acquitted himself well at center, rookie Luke Goedeke ranks 73rd out of 75 guards in Pro Football Focus' grading system. Surprisingly, longtime New England Patriots starter Shaq Mason has struggled in his first season in Tampa. After earning an 85.2 PFF grade in 2021, the veteran right guard ranks 21st at his position with a disappointing mark of 65.4. 
To make matters worse, fellow veteran Donovan Smith has also experienced a dropoff following a standout 2021 campaign. Brady's blindside protector has seen his PFF grade drop from 83.3 to 69.3 through six games. 
However, it would be unfair to place all the blame for the Buccaneers plummeting from second in scoring to 20th on the line alone. 
After all, the offense has been forced to get by without Chris Godwin and Julio Jones, both of whom have missed significant time with injuries. Plus, Leonard Fournette has averaged nearly a full yard less per carry than he did a year ago. And there's no denying that Brady misses the presence of trusted target and top tight end Rob Gronkowski, either. 
Still, the offensive line bore the brunt of Brady's frustration in Sunday's 20-18 loss to the Steelers. 
"You're so much better than the way you're f***ng playing!" he yelled on the sidelines. "Get your f***ing act together!" 
Ironically, though, it's Brady who needs to get his act together.
Tom Brady's personal issues have undoubtedly hurt his team's chances of success
Have the Buccaneers provided their star quarterback the same level of protection as 2020 and 2021? 
No. 
Has Brady provided the same level of commitment to the team that he did in year one? 
Absolutely not. 
Instead of spending every available second developing chemistry with new receivers Julio Jones and Russell Gage, getting acclimated to working with a new center, and setting the tone for Todd Bowles' first season as head coach, Brady missed a large chunk of training camp for "personal reasons."
His 11-day absence raised warranted questions about his future and whether the organization knew he would take time off before camp began. 
Remember when Brady epitomized the #NoDaysOff mantra? 
That version of the GOAT doesn't exist anymore. Instead, the 2022 edition of TB12 gets every Wednesday off for a "personal day" that leaves the Buccaneers without their QB1 available. 
Think that would fly with Bill Belichick? 
Speaking of former bosses, how about the way Brady handled Robert Kraft's wedding? While Belichick specifically mentioned that he skipped his employer's big day to prepare to beat the Cleveland Browns, his longtime quarterback skipped the Buccaneers' walk-through to attend the celebration. 
That decision caught the attention of a player who should earn a bust in Canton one day, too: Andrew Whitworth. 
"It bothered me because that's how I look up to Tom Brady," the retired offensive tackle said on The Herd with Colin Cowherd. "That's a pivotal day to get ready and prepare." 
Again, since when does Tom Brady not do everything possible to put his team in a position to win?
Can Brady and the Bucs turn things around before it's too late?
Ultimately, it's obvious a 45-year-old Brady doesn't think, behave, or act the same way as he did during his 20s or 30s. Priorities have changed, but the impact of his well-publicized pending divorce from Gisele Bundchen has undoubtedly hurt him from a football perspective. 
Not only has he missed crucial practice time, but he has to be dealing with the emotional and mental toll of such a major life decision. On one hand, it's easy to see how football might not be as important, but the Buccaneers expected him to be all-in when they extended his contract.
And for someone who's prided himself on being ultra-prepared on game day, it's strange to see Brady eschewing opportunities to do just that in favor of anything else. 
Will his off-field life continue to capture attention and provide at least some distraction that throws the team off track? Or can Brady and his teammates get on the same page, build momentum, and climb out of an unfamiliar hole of being .500? 
If there's anyone who can channel a negative story or criticism into motivation, it's definitely TB12. 
So, it's time for the GOAT to get his act together, too.
Have thoughts on this topic? Keep the conversation rolling in our comments section below.