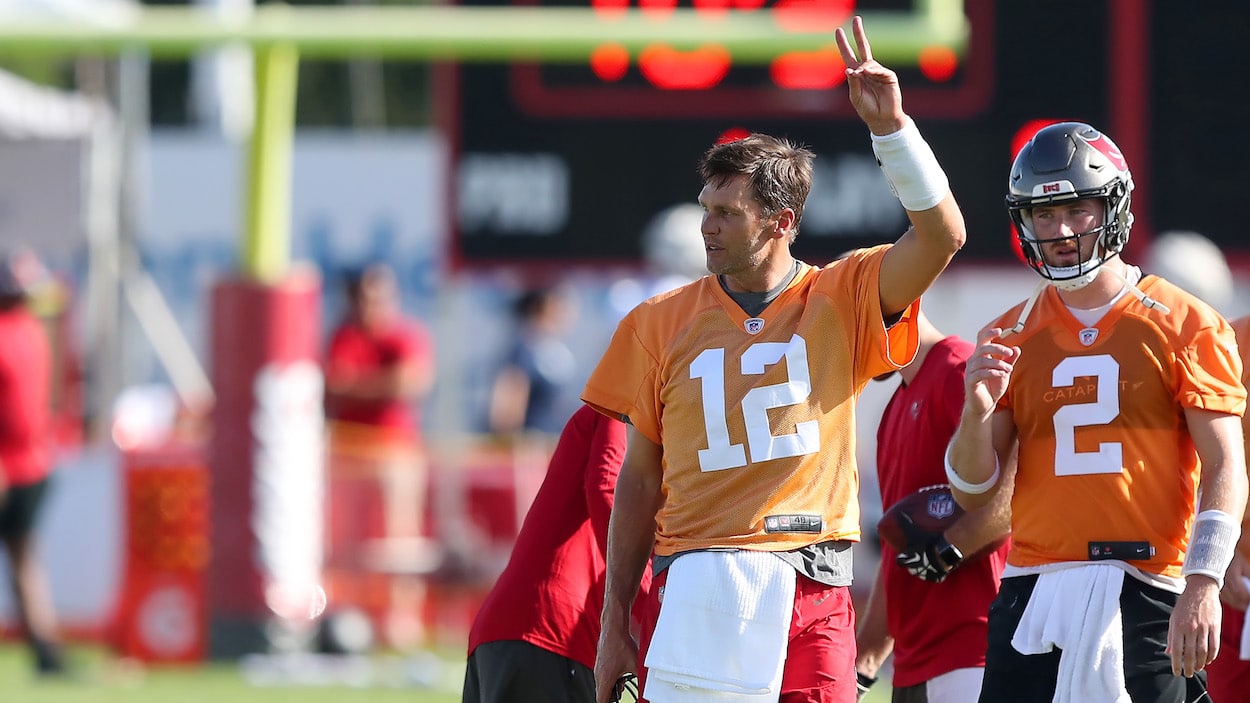 Tom Brady's 'Personal Matter' Is About 'Work/Life Balance' According to NFL Insider Ian Rapoport
Tom Brady's 'personal matter' might sound bad, but Ian Rapoport says his absence from Tampa Bay Buccaneers camp is for good reasons.
Outside of an NFL suspension (2016) and a catastrophic knee injury (2008), Tom Brady hasn't missed a game since he became a starter. If Brady can walk and is legally allowed, he shows up. That's why Brady's prolonged absence from Tampa Bay Buccaneers training camp this season is taking so many by surprise. However, according to NFL insider Ian Rapoport, the GOAT's absence from his team doesn't sound as serious as it initially did.
Tom Brady's work/life balance is the cause of his absence from Buccaneers training camp
On Thursday, August 11, news broke that Tampa Bay Buccaneers quarterback Tom Brady was taking a leave from the team. The stated purpose of the leave is to deal with a "personal matter."
New Bucs head coach Todd Bowles announced that Brady wouldn't just be missing a day or two of practice. Instead, Bowles said that the franchise didn't expect the seven-time Super Bowl winner back with the team until sometime after the second preseason game against the Tennessee Titans on Saturday, August 20.
This extended leave came as a shock to most fans and outside observers. Plus, the cryptic nature of Brady's "personal matter" added to the speculation. Despite what it may sound like, Brady's vacation from training camp seems like just that.
Hours after the announcement, NFL Network insider Ian Rapoport joined the Pat McAfee Show to explain more about Brady's situation.
"It was planned. No one is worried. He's fine. It's not — to my knowledge — it is not a medical emergency related to him or, I believe, anyone close to him," Rapoport explained. "I was told everything is OK. The best description I got about this is was that it's important to find a work/life balance."
After that explanation, McAfee speculated that Brady probably planned something for this next week-plus while he was retired. And now, he is simply honoring that commitment to his wife and/or kids.
"I don't know specifically, but my guess is, just judging from the people I've spoken with, that you're kind of in the right area," Rapoport confirmed. "Like, there is a family thing that I believe is happening — that is good — that he's not playing football."
The fact that Brady is basically skipping Buccaneers training camp at the age of 45 shouldn't be all that surprising. He was obviously torn between continuing his career and spending more time with his family when he retired this offseason. This break gives him the best of both worlds.
Brady, a consummate observer of the game, also probably took a cue from Aaron Rodgers last season. The Green Bay Packers QB hardly attended training camp. However, he stepped in Week 1 and led the Packers to the best record (13-3) in the NFC.
The one note there is that the only blemish on Rodgers and the Packers' stellar season last year is that the New Orleans Saints blitzed Green Bay 38-3 in Week 1.
This might mean that the best bet on the Tampa Buccaneers this season would be to win the division and make the playoffs, but take the 2022 Dallas Cowboys at home against Tom Brady and the Bucs in Week 1.
Like Sportscasting on Facebook. Follow us on Twitter @sportscasting19 and subscribe to our YouTube channel.