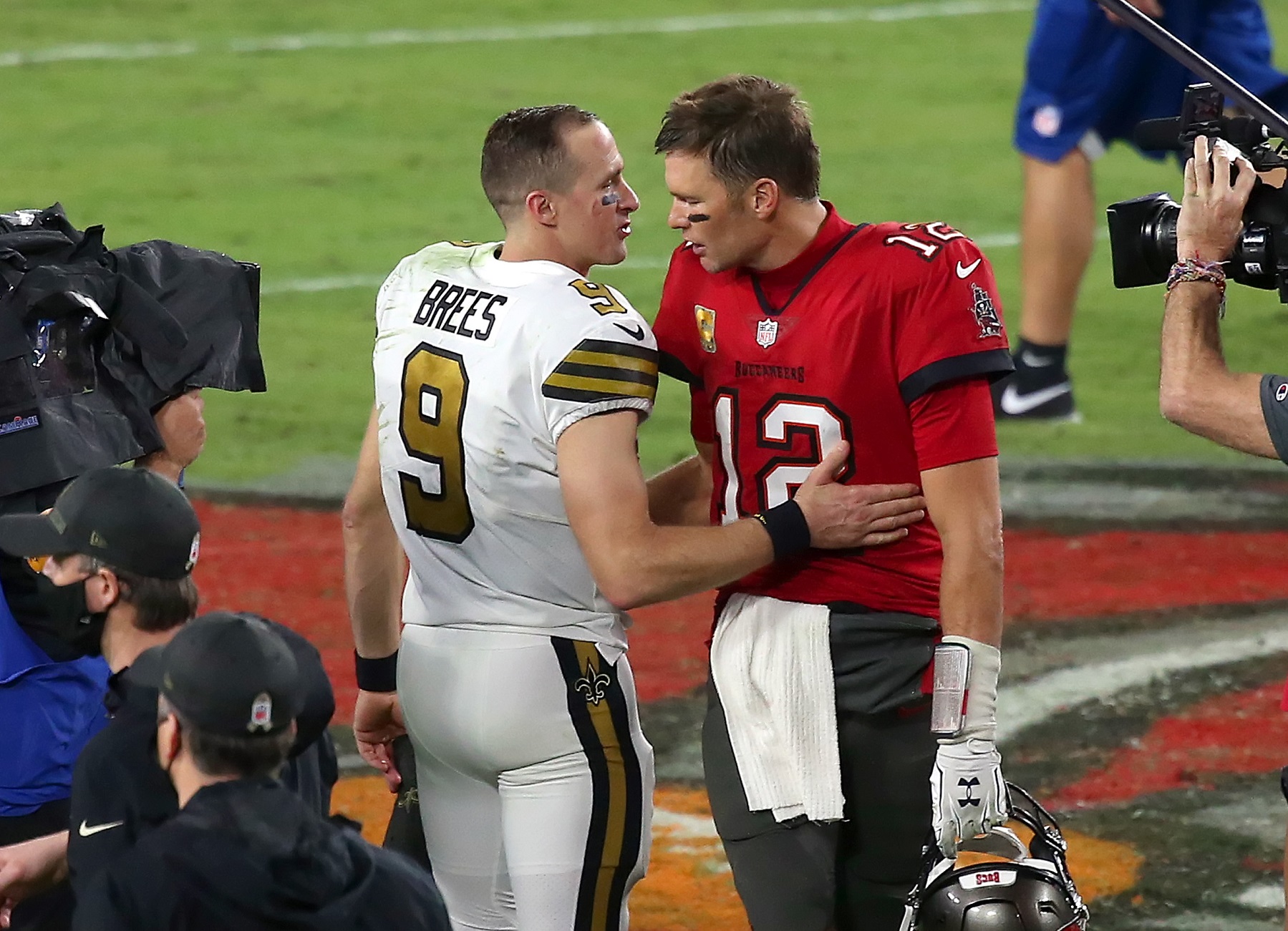 Tom Brady's Touchdown Pass To Drew Brees' Son Was the Best Play of the Weekend
Tom Brady made a special throw while chatting with fellow future Hall of Fame quarterback Drew Brees after the NFL divisional playoff game in New Orleans.
On any other weekend, Tom Brady and Drew Brees could have just been a couple of fathers heading toward their minivans in the parking lot following their sons' Pop Warner game behind the junior high school. But what football fans got to see Sunday was two legendary quarterbacks sharing a cool moment after they had faced off in the NFL playoffs.
And Brady gave them a really cool moment to remember.
Tom Brady is one win away from another Super Bowl
There really isn't anything that can be said about Tom Brady that hasn't already been said. His personal statistics from two decades as an NFL quarterback are preposterous. And, of course, there are the bigger accomplishments.
Brady won six Super Bowls with the New England Patriots and is two victories away from another, this time with the Tampa Bay Buccaneers. He has already won nine conference titles. His appearance next weekend against the Green Bay Packers will be his 14th in a conference championship game, which is more than any two other QBs combined. (Joe Montana has seven while Roger Staubach, Terry Bradshaw, and John Elway have six apiece).
Hate on him all you want for his amazing career and his perfect wife, model Gisele Bundchen, but football will not see the likes of another Tom Brady in our lifetime. His stats may be challenged, but certainly not his ring collection.
Drew Brees reportedly is riding off into the sunset
Tom Brady has unfinished business this year, beginning with an appointment in Green Bay next weekend, and then he is almost certainly heading into a minimum of one more season with the Tampa Bay Buccaneers.
On the other hand, Drew Brees is widely reported to be headed for retirement following the New Orleans Saints' 30-20 loss to the Buccaneers on Jan. 17, 2021. As farewells go, it was hardly the way Brees wanted to see his career conclude. He was just 19-for-34 for 134 yards and three interceptions that more than offset his one touchdown pass.
Still, the loss in the NFC divisional round can't detract from a 20-year NFL career in which Brees threw for 80,358 yards and 571 touchdowns in the regular season. He was 9-9 in playoff starts with another 37 TDs.
Brees and Tom Brady sit atop several statistical categories. Brees is No. 1 and Brady No. 2 all-time in yardage and completions. Brees is second to Brady in touchdown passes.
Tom Brady and Drew Brees share a cool moment together
Quarterbacks Tom Brady and Drew Brees had their usual media responsibilities following Tampa Bay's 30-20 victory over the Saints. Afterward, the two met in street clothes on the field inside the Mercedes-Benz Superdome in New Orleans.
Cameras captured the moment as the two spoke, surrounded by members of Brees' family. It was a case of two future inductees into the Pro Football Hall of Fame showing friendship and mutual respect. Barring a wildly unexpected twist, they will never share a football field again unless Brees is interviewing his peer after a presumed move into broadcasting.
Brady said goodbye to his former rival with an embrace, but not before capping his day on the field with a touchdown throw to one of Brees' sons. It was a perfect way to end the day.
All stats courtesy of Pro Football Reference.