Tony Finau's Mother Was Tragically Killed at Age 47 and He Wears Green on Sundays to Honor Her
Just like his idol, Tiger Woods, Tony Finau chooses to wear the same color shirt every time he tees it up for the final round of a PGA Tour event. Tiger has famously worn red on Sundays for decades essentially because his mother told him to as she believes it's her son's power color.
Tony Finau chooses to wear green every Sunday and his decision is also based around his mother, only for far different reasons.
Tony Finau's mother fully supported her son's dream of being a pro golfer
When young Tony Finau decided he wanted to take up golf, his mother was all for it.
Vena Finau had been an athlete herself, following in both of her parents' footsteps as a volleyball player at BYU-Hawaii. She met Tony's father on a coed volleyball team in California and married him in Long Beach in 1985. The family relocated to Salt Lake City in 1989 and she gave birth to Tony the following year.
When Tony Finau was seven years old, he watched then-21-year-old Tiger Woods win the 1997 Masters and decided right then and there that he wanted to be a professional golfer. So Vena helped make it happen. The Finau family certainly wasn't rich by any stretch of the imagination but they somehow made the dream come true.
Coached by his father, who had no golf experience whatsoever, Tony and his younger brother, affectionately known as Gipper, chipped and putted at a course a few blocks from the family apartment and the two would hit balls into a mattress in the garage as there often wasn't enough money for greens fees. But the Finaus became such fixtures at the course that the pro eventually started letting them play for free. Both Tony and Gipper became very good players but when it was time for Tony to enter high school, there was a big problem: the school didn't have a golf team.
She forced him to go to a high school with no golf team
As Tony Finau was becoming one of Utah's best junior golfers, East High School in Salt Lake was becoming a golf powerhouse. They'd won two big-school state titles in a row as Finau was set to enter high school and they made it known that he was more than welcome to come and join the team. But the Finau family lived in West High School's district, not East's, and West didn't even have a golf team.
Naturally, Tony wanted to attend East and his father wanted that for him as well. But Vena wasn't having it. She was adamant that her son go where he was supposed to go and that's exactly what happened. She was still supportive of his ambitions but wanted him to remain loyal. West did end up bringing back their golf program to accommodate the Finaus and two years later, Tony led the state's oldest high school to its first state title in 114 years.
Tony Finau won the Utah State Amateur at age 16 and turned pro the day he graduated from West, despite numerous offers to play at the college level. As always, Vena supported him.
Tony Finau's mother was killed in a car accident in 2011, which is why he wears green on Sundays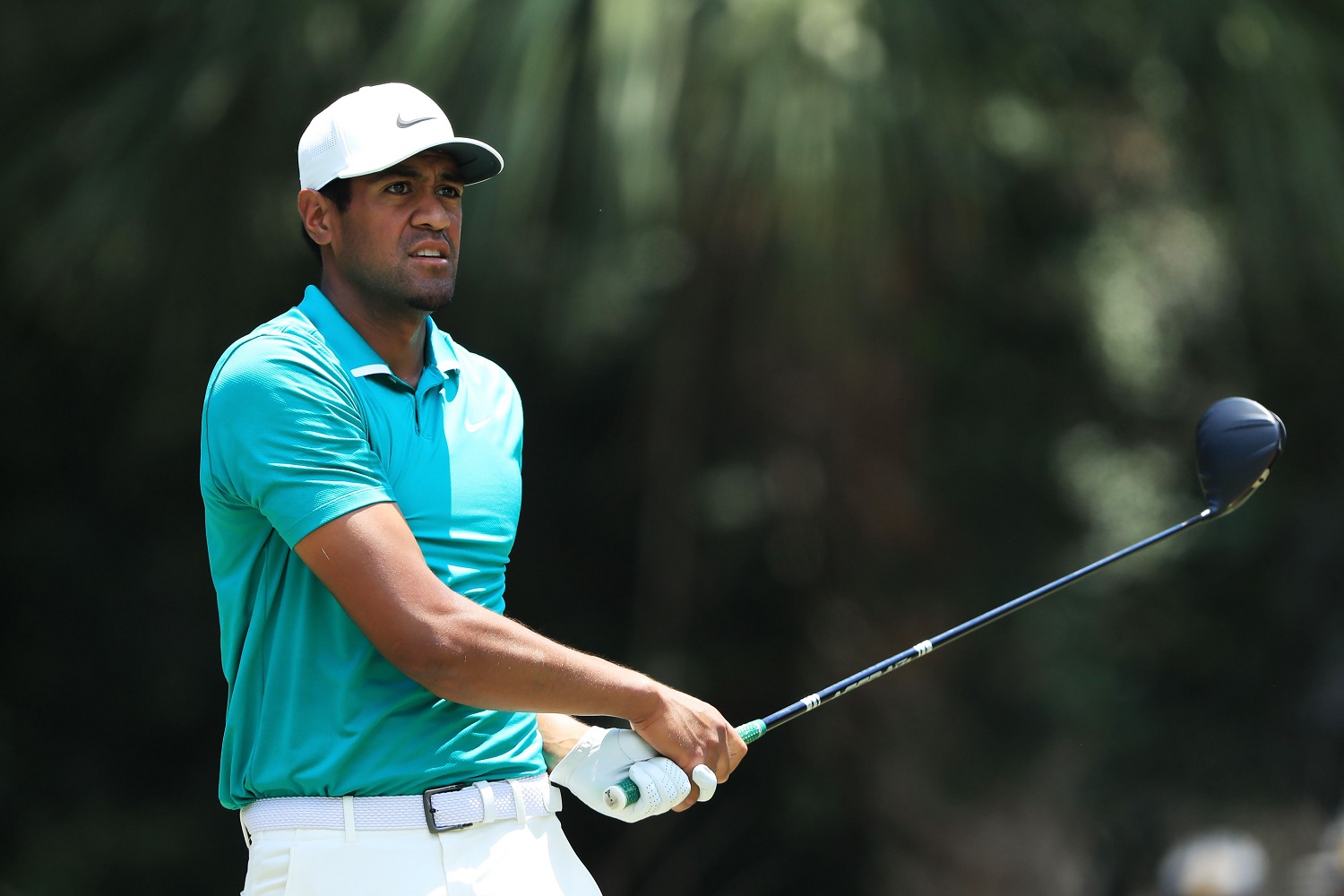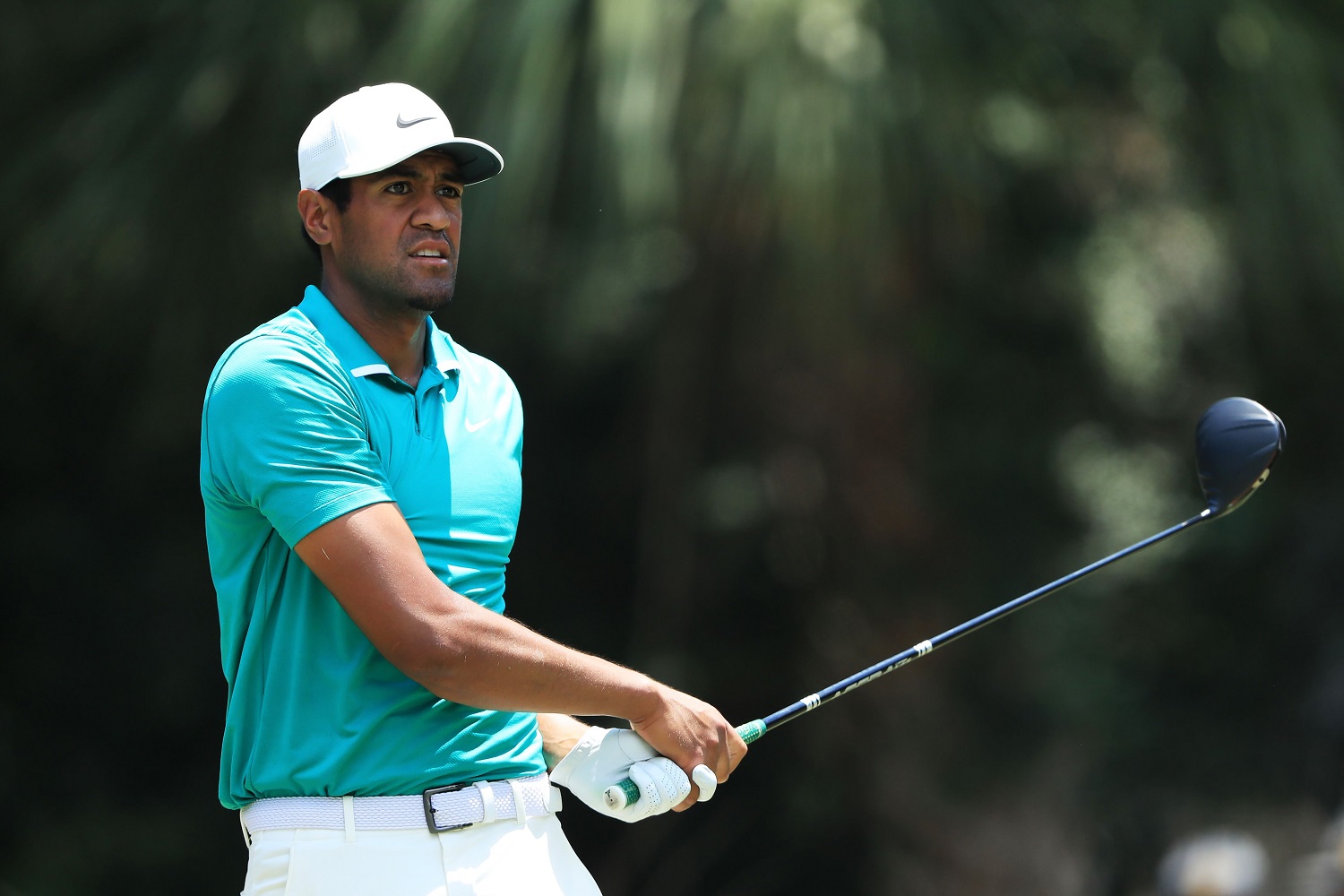 From 2007 to 2011, Tony Finau toiled on the mini-tours in an attempt to achieve his dream of playing on the PGA Tour. He went to qualifying school every year, never making it out of the second round. Then, in November 2011, tragedy hit him hard.
On her way home from a wedding in Reno, Vena Finau was killed in a car accident at the age of 47. Tony was devastated. His mother had been his rock his entire life and she was suddenly just gone. He became so depressed about the loss of his mother that he developed a stomach ulcer and was hospitalized. He couldn't walk for weeks and couldn't swing a club for two months. But he knew that his mom wouldn't want him to quit. In the first mini-tour event he played following her death, he won. And then he won his next event as well.
He then started a tradition of wearing a green shirt in the final round of events as that was Vena's favorite color, as he once told Deseret News.
"I know she's there. I know she's following me."

Tony Finau
Vena would certainly be proud of what her son has accomplished. Tony Finau earned his way onto the Web.com Tour (now the Korn Ferry Tour) ahead of the 2014 season and earned his PGA Tour card later that year. He won his first PGA Tour title in 2016 at the Puerto Rico Open and is now one of the best players in the world. He's been ranked in the top 20 in the world rankings for close to two years now and, at still just 30 years of age, is only going to continue to get better.
So when you see Tony Finau in a green shirt on Sundays, now you know it's because he's got his mom on his mind.