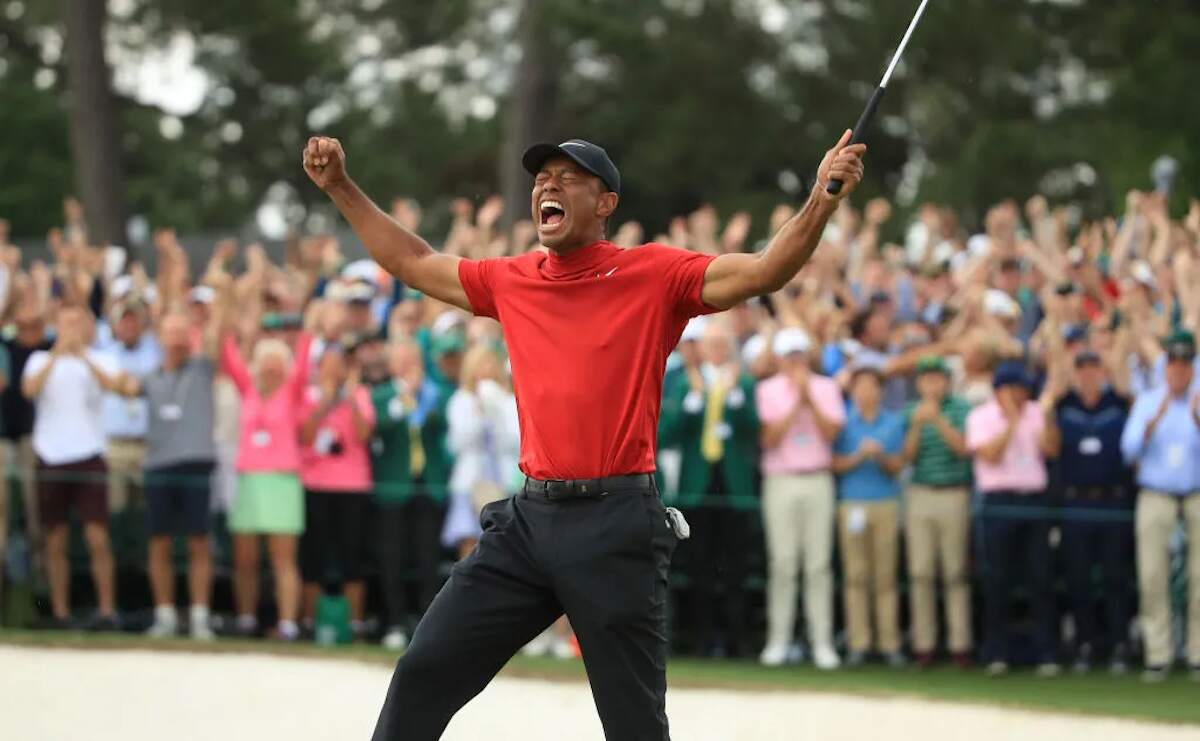 Why Does Tiger Woods Wear Red on Sundays?
When you think of Tiger Woods you think of his iconic red polo and black pants, but do you know why he wears those colors every Sunday?
What do you picture when you hear the name Tiger Woods? You probably envision him holding a trophy or pumping his fist after a clutch putt. Maybe he's twirling a club after a nuked drive or flushed iron. Maybe it's his stoic game face as he plods through the back nine on Sunday. Whatever you picture, there's one thing every memory has in common.
In everyone's mind, he's wearing his iconic red polo and black pants. Woods' Sunday look is synonymous with his legacy in golf. He is arguably the greatest golfer of all time, and his Sunday red might be the greatest look in PGA Tour history. But do you know why Tiger wears red on Sundays?
Tiger Woods has worn red since his junior golf days
Golf fans remember the 1997 Masters as the coming-out party for Tiger Woods and his iconic red and black Sunday look. Woods sported a dark red Nike sweater and black pants Sunday en route to a 12-stroke victory at Augusta National.
1997 might be the first time fans got a look at Woods in red, but his affinity for the color red is traced back to his junior golf days. Woods wore red for closing rounds throughout high school and his college career at Stanford. Woods spoke about the origin of his go-to color after the AT&T National in 2013.
"I've worn red ever since my college days basically, or junior golf days — big events on the last day," Woods said, according to GNN. "I just stuck with it out of superstition, and it worked. I just happened to choose a school that actually was red, and we wore red on our final day of events. So it worked out."
Tiger still wears red today because of his mother
Like all athletes, Woods found something that worked for him, and he stuck to it as a superstition. Once a tradition or small quirk leads to winning on the playing field, athletes will consider it a lucky charm. Some carry a rabbit's foot or undergo the same pregame routine before every competition. For Woods, it's his red polo.
The tradition of red on Sunday has continued to this day, and Woods' mother, Kultida, has a lot to do with that.
"I wear red on Sundays because my mum thinks that that's my power color," Woods said, according to the Independent. "And you know you should always listen to your mom."
A mother's always right. In Woods' case, she was right to the tune of 82 PGA Tour wins and 15 major championships. He held every last trophy on Sundays donning the color red.
The iconic color scheme inspired younger golfers to copy Woods
Tiger Woods quickly became an idol and hero to aspiring young golfers. Every golf fan growing up in the '90s and 2000s wanted to be like Tiger. For some, that meant looking the part.
Patrick Reed famously sports the red and black color scheme on Sundays. He said wearing red is a tribute to Woods, not a shot at him. Reed won the 2018 Masters in red and black. The next year, red and black again triumphed at Augusta, but this time it was Woods.
Reed had the honor of placing the green jacket on his hero's back that April. The man he grew up idolizing once again proved the power of red.