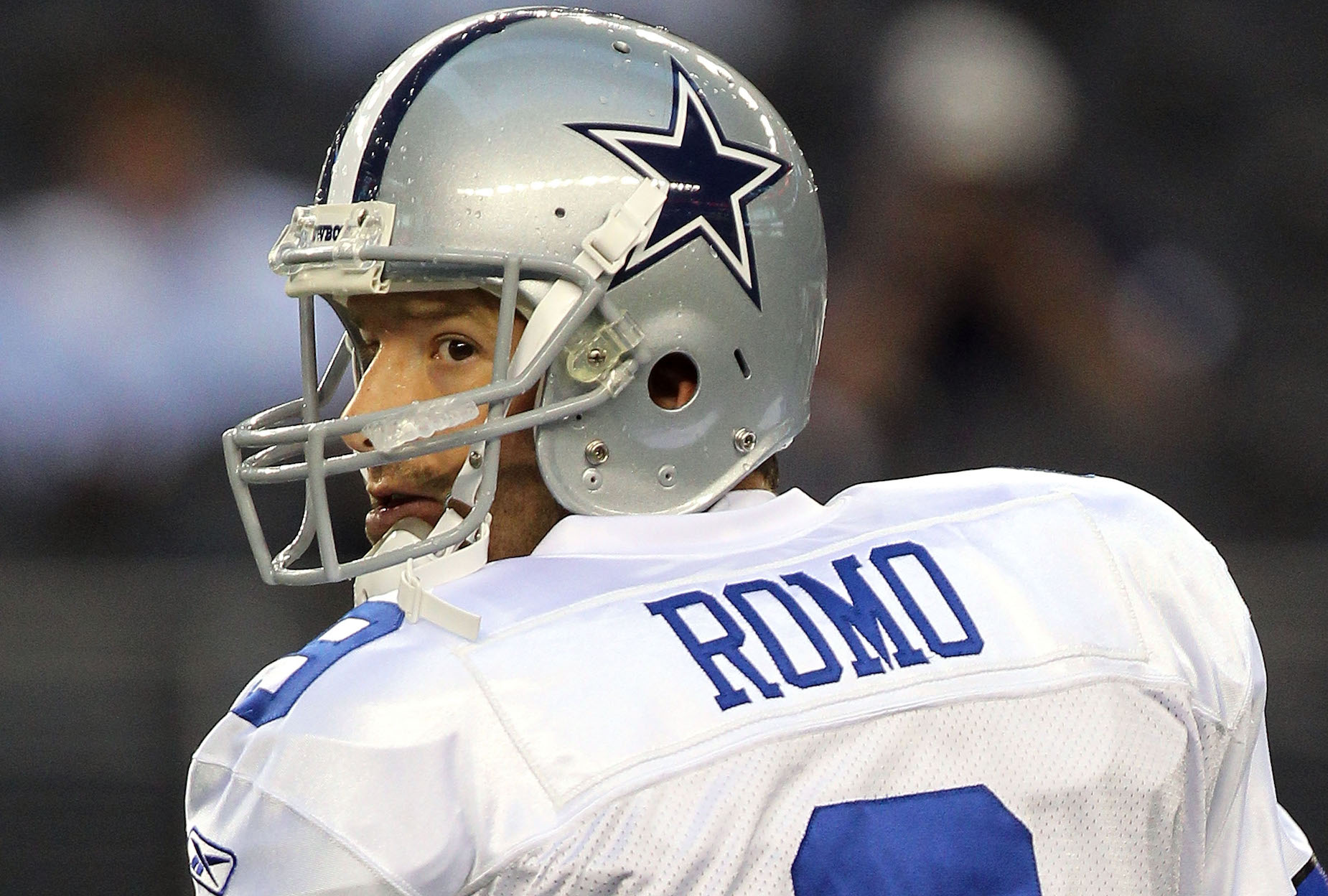 Tony Romo Almost Ruined His Dallas Cowboys Career Before It Began by Taking a 'Pretty Stupid' Risk
As an NFL sophomore, Tony Romo took a "pretty stupid" risk. If things went differently, he could have ruined his Dallas Cowboys career.
These days, it's impossible to associate Tony Romo with anything other than football. Whether you still think of him as a Dallas Cowboys quarterback or known him as a talented color commentator, he's built a career around the gridiron. One play, however, could have changed everything.
During Tony Romo's second NFL season, he decided to take a risk and trust his gut instinct. That moment may have been lost to time, but it changed the course of the quarterback's entire career.
Tony Romo's road to the Dallas Cowboys
When you imagine an NFL starting quarterback, you'd probably assume they cut their teeth at a big-name NCAA program. Tony Romo, however, took a different path to the pros.
After playing his high school football in Wisconsin, Romo didn't receive any offers from the NCAA's blue-bloods. Undeterred, he headed to Eastern Illinois University; while the Panthers might not be a powerhouse, the quarterback still managed to post big numbers during his time under center. According to  EIU's official website, Romo piled up 8,212 passing yards and 85 touchdowns before leaving campus once and for all.
Despite that statistical success, Romo went unselected in the 2003 NFL draft; he then signed with the Dallas Cowboys as a free agent but failed to dress for a single game during his rookie season. Then, during the 2004 preseason, the quarterback decided to take a big risk,
Taking a stupid risk during a preseason game
Heading into his second NFL season, Tony Romo was still sitting toward the bottom of the Cowboys depth chart. Based on that reality, he wasn't going to pass up a chance to make an impact, even in the preseason.
"We're at Oakland in the [2004] preseason. Fourth quarter, late, and we're in a two-minute drill, driving, down a touchdown [actually 20-14]," Sean Payton, who was the Cowboys quarterbacks coach at the time, told Peter King. "We get down to, like, the one, and Tony's the quarterback, and the clock's running down, and [Bill] Parcells yells, 'Clock it! Clock it!' So I tell Tony to clock it, and he runs to the line, and we all think he's going to clock it. But he calls, '98! 98!' That's the call for the quarterback sneak."
Romo, however, added some extra color to the story. While he was calling for a sneak, the quarterback was apparently prepared to spike the ball, if necessary.
"The one thing they didn't know on that play was I called '98' to quarterback-sneak it, but I was still planning on spiking it," he explained. I just wanted the option to sneak it if the defense wasn't aligned properly. If Oakland would have been aligned right and in their stances with intensity, you have to spike it. But they weren't. It's an educated guess I took."
If that risk went wrong, it could have ended Tony Romo's career
Despite what would unfold in a Hollywood movie, Tony Romo's gutsy decision didn't impress his coaches and immediately earn him the starting job. He spent that season as the Cowboys' backup and didn't become the starter until the following season.
If the play had gone wrong, however, Romo could have found himself in a much different situation. "I'm pretty sure I'd have been on a bus back to Burlington, Wisconsin, if I wasn't lucky enough to get in. It was pretty stupid at that stage to risk that. But hell, I was young and dumb."
As an undrafted, third-string quarterback, it's unclear if Tony Romo would have ever gotten another NFL job. In the end, though, he stayed on the roster and eventually seized became the starting quarterback; if he never shone at the NFL level, it's unlikely that he would have become a TV analyst, let alone one earning $17 million per season.
By calling his own number, Tony Romo took quite the risk. His confidence, however, both literally and figuratively, paid off.