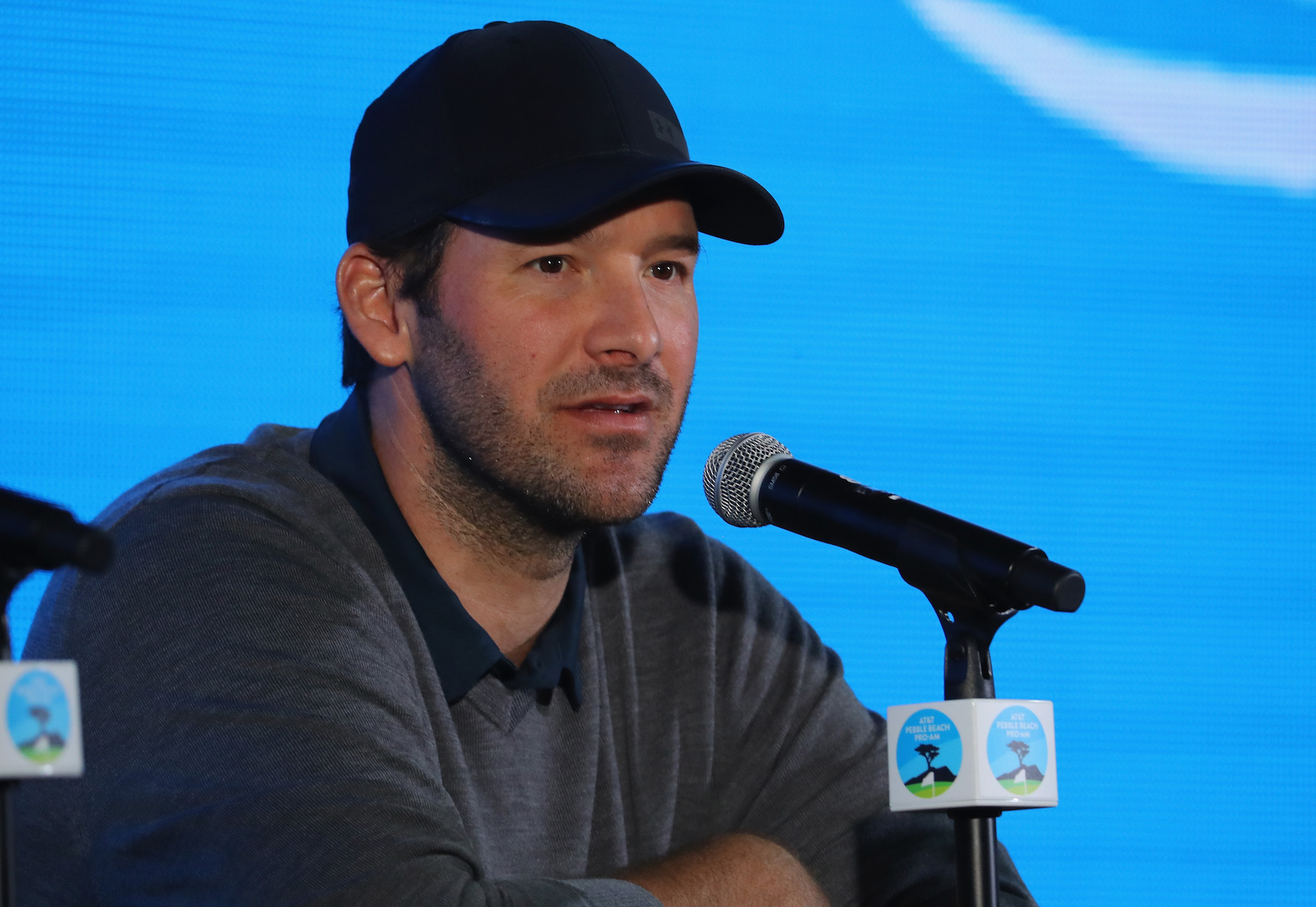 Tony Romo Knows All About the NFL, But He's 'Not That Smart in Fantasy Football'
Despite what his Corona commercials would lead you to believe, Tony Romo doesn't know much about the world of fantasy football.
Based on his time in the public eye, it's safe to say that Tony Romo knows a thing or two about football. He, of course, made a name for himself as the Dallas Cowboys quarterback; now, he's a big-name color commentator with an uncanny knack for predicting what will happen on a given play. His experience, however, doesn't extend to fantasy football.
Although Tony Romo plays fantasy football, the former Dallas Cowboys QB doesn't have any special insight into the online action. If anything, he's less knowledgable than the average fan.
Tony Romo's on-field football career
Based on his success in the broadcast booth, it's easy to think that Tony Romo has been calling NFL games for years. That, of course, isn't the case, though.
Romo made a name for himself at Eastern Illinois University, where he proved to be a talented quarterback. While the Panthers aren't exactly a power program, the signal-caller still stuffed the box score. According to  EIU's official website, Romo threw for 8,212 yards and 85 touchdowns during his three seasons under center.
When the 2003 NFL draft rolled around, though, no team was interested in Romo's services. He did join the Dallas Cowboys, though, albeit as an undrafted free agent; he then spent two seasons sitting on the bench before replacing Drew Bledsoe in 2006.
While he couldn't get the Cowboys over the hump, Romo did pretty well for himself in Big D. Before retiring, he piled up 34,183 passing yards and 248 touchdowns, earning four Pro Bowl berths.
Making an even bigger name for himself as an NFL broadcaster
After losing the starting job to Dak Prescott, Tony Romo wasn't ready to leave football behind. Instead, he headed upstairs and found a home in the broadcast booth.
While some former athletes aren't at ease in front of the camera, Romo hasn't missed a beat. With some help from Jim Nantz—the veteran broadcaster could make anyone feel at home in the booth—the former quarterback has become one of the best color commentators around. He's able to strike the perfect balance between knowledge and enthusiasm, breaking down the nuances of every play without making you feel like you're sitting through a lecture.
Romo hasn't only been a hit with fans, though; CBS has also taken notice of his talent. Earlier in 2020, the network inked their rising star to a massive,  $17 million-per-season contract.
Tony Romo doesn't know much about fantasy football, though
Given his knack for predicting plays and the fact that he discussed the NFL for a living, you'd probably think that Tony Romo is a walking encyclopedia of football knowledge. The former Cowboys quarterback, however, probably can't help you build the perfect fantasy team, despite what his Corona commercials might lead you to believe.
According to Todd Brock of Cowboys Wire, Romo co-manages a fantasy football team with Jim Nantz; the play-by-play man, however, is the brains of the operation. The former quarterback struggled to wrap his mind around drafting in a keeper league, admitting that it was "much harder" than he thought.
After grappling with the challenges of a PPR format—it wasn't obvious how to strike the right balance between marquee running backs and players who would pile up receptions—Romo realized that he was out of his depth. Real-life knowledge, it seems, doesn't always translate to fantasy football.
"And I'm like, 'I don't know the rules to this whole thing. I can't even help you," Romo explained. "It's actually really hard for me to help. I'm not that smart in fantasy football. Unless you want to call the Corona Hotline."
Tony Romo has probably forgotten more NFL knowledge than the average fan can muster. In the realm of fantasy football, however, that can't bail the former Dallas Cowboy out.
Stats courtesy of Pro-Football-Reference