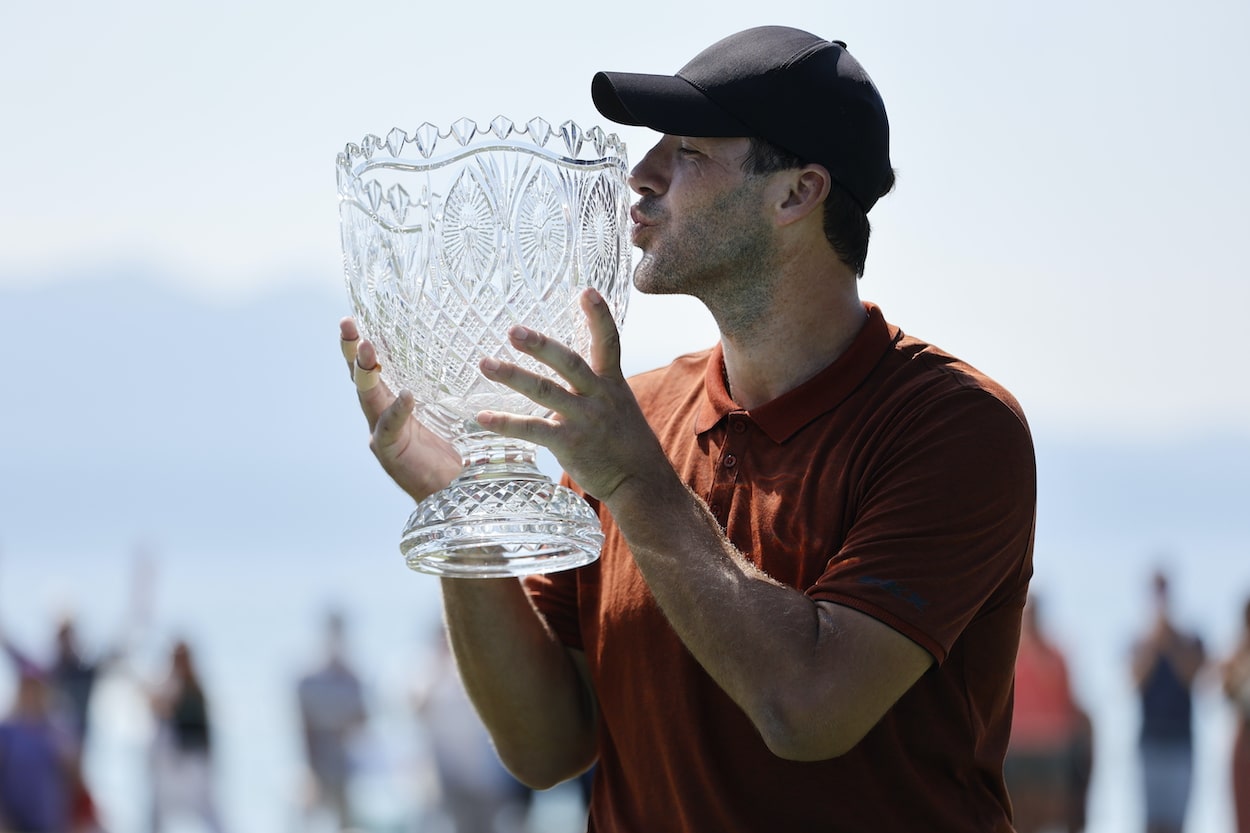 Tony Romo Beats Star-Studded Celebrity Field in Playoff of American Century Celebrity Golf Championship to Win $125K
Tony Romo may have choked in the NFL playoffs as a Dallas Cowboy, but on the golf course, he was calm and cool against his fellow celebs.
Playoff. Game on the line. Tony Romo steps up to the ball.
This may not have been a recipe for success when Romo was quarterbacking the Dallas Cowboys a few years ago. But at the American Century Celebrity Golf Championship, the former QB got it done in the clutch and took home the title against a star-studded field of amateur celebrity golfers in South Lake Tahoe, Nevada.
Tony Romo won the ACC Golf Championship in a playoff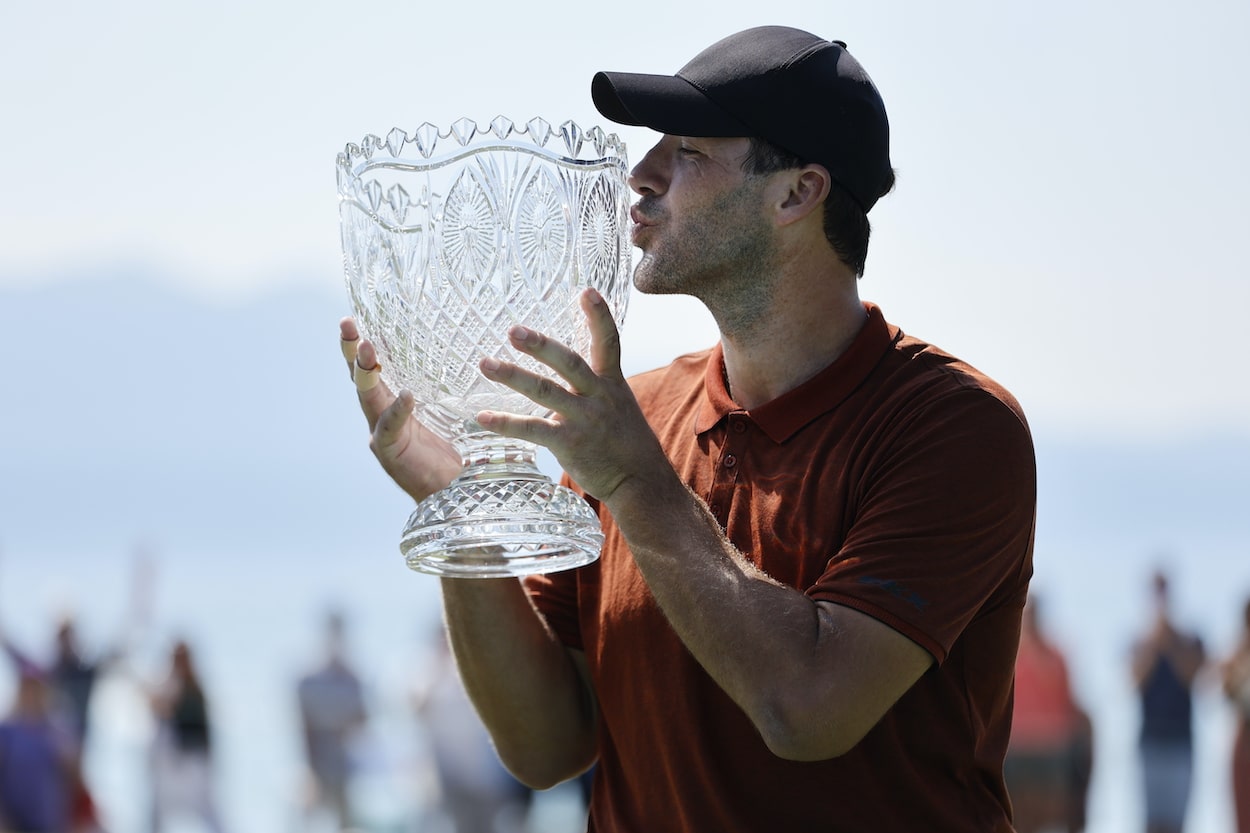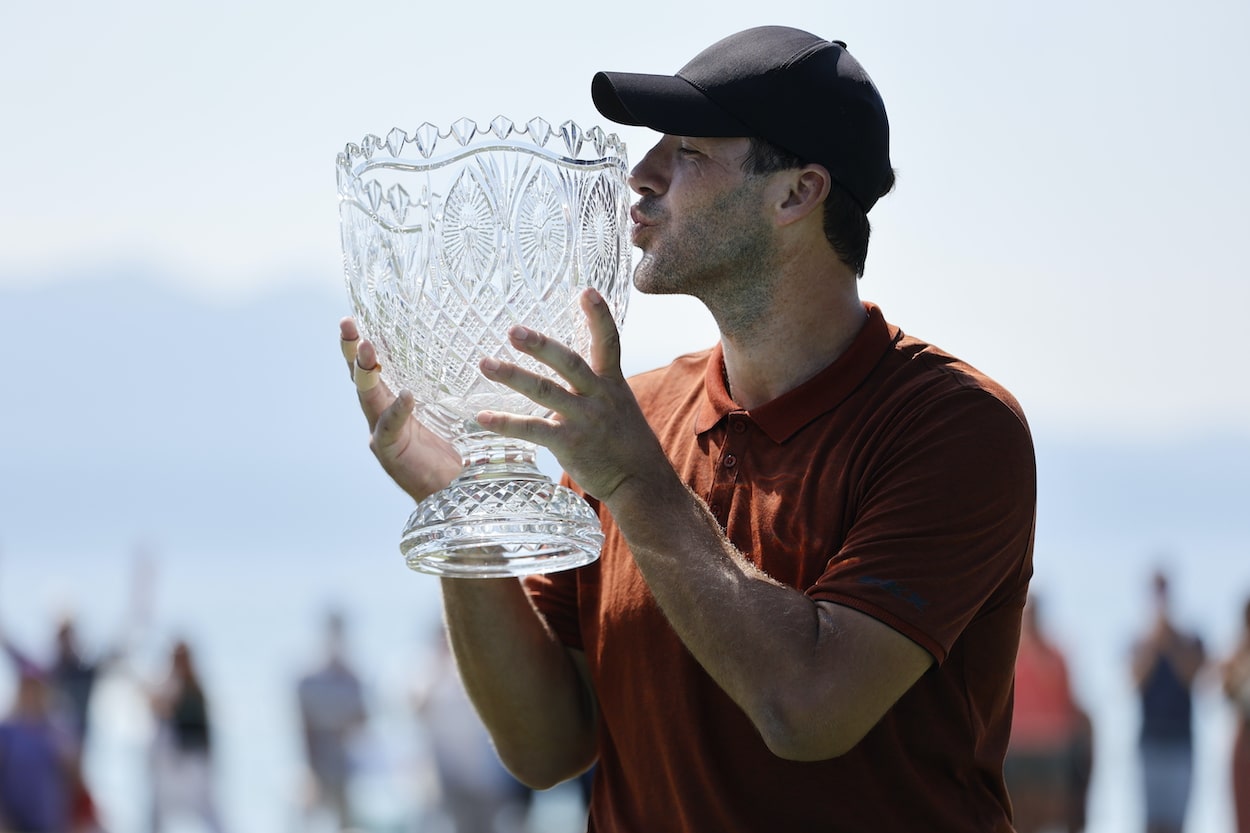 The American Century Celebrity Golf Championship is an annual celebrity golf tournament held at Edgewood Tahoe Golf Course in South Lake Tahoe, Nevada, for the last 33 years.
The tournament "is a made-for-TV event owned and broadcast by NBC Sports," per the tournament website.
The AAC Golf Championship raises money for charity and pays out a $600,000 purse to the participants, with the first-place winner receiving $125,000. It is a 54-hole (three-round) tournament that uses a modified Stableford scoring system, as opposed to traditional stroke scoring.
For the 2022 version of the event, former Dallas Cowboys QB and current CBS NFL analyst Tony Romo, former Oakland A's and St. Louis Cardinals pitcher Mark Mulder, and current Dallas Stars NHL player Joe Pavelski all finished with a score of 62. They then went to a two-hole, sudden-death playoff.
After finishing even after one pass at the 18th hole, Romo prevailed over Mulder and Pavelski to win the cup.
The victory was Romo's third, pulling him even with Mulder, who's also won the event three times. However, both ex-pro athletes have a long way to go to catch former NFL QB Billy Joe Tolliver, former NHL forward Dan Quinn, and former MLB pitcher Rick Rhoden, who've won the tournament four, five, and eight times, respectively.
What celebrities play in the American Century Celebrity Golf Championship?
The American Century Celebrity Golf Championship bills itself as "the premier celebrity golf tournament" and has the field to back it up. The 2022 tournament included 87 celebs from the NFL, NBA, MLB, NHL, LPGA, and WWE, as well as singers, actors, comedians, and entertainers of all types.
On the athletes side, some of the most well-known active names were:
Aaron Rodgers, Green Bay Packers
Josh Allen, Buffalo Bills
Patrick Mahomes, Kansas City Chiefs
Travis Kelce, Kansas City Chiefs
Andre Iguodala, Golden State Warriors
Kyle Lowry, Miami Heat
The Miz, WWE superstar
The Dallas Stars' Joe Pavelski would have become the first active player to win the event since the Pittsburgh Penguin's Mario Lemieux took home the 1998 title. The group of retired athletes — where the winner usually comes from — were represented by greats like:
Jerry Rice, NFL
Emmitt Smith, NFL
Brian Urlacher, NFL
Charles Barkley, NBA
Vinny Del Negro, NBA
Tom Glavine, MLB
Tim Wakefield, MLB
Former LPGA champion and South Lake Tahoe resident Annika Sorenstam finished T4. And former NBA player Del Curry finished two points behind his son, Golden State Warriors star Stephen Curry, but 54 points ahead of the Brooklyn Nets' Seth Curry.
It wasn't just athletes out on the course, though. Plenty of entertainers joined the festivities, including:
Justin Timberlake, singer
Nick Jonas, singer
Alfonso Ribiero, actor
Miles Teller, actor
Larry the Cable Guy, comedian
Colin Jost, comedian
Country singer Jake Owen (12th) and soap opera actor Jack Wagner (14th) finished highest among the entertainers.
Several prominent sports media personalities like Pat McAfee, Joe Buck, and Jay Bilas also participated, with Buck (31st) prevailing in that group.
Like Sportscasting on Facebook.
RELATED: NBC's Peter King Calls Out Tony Romo and Troy Aikman's Broadcasting Salaries