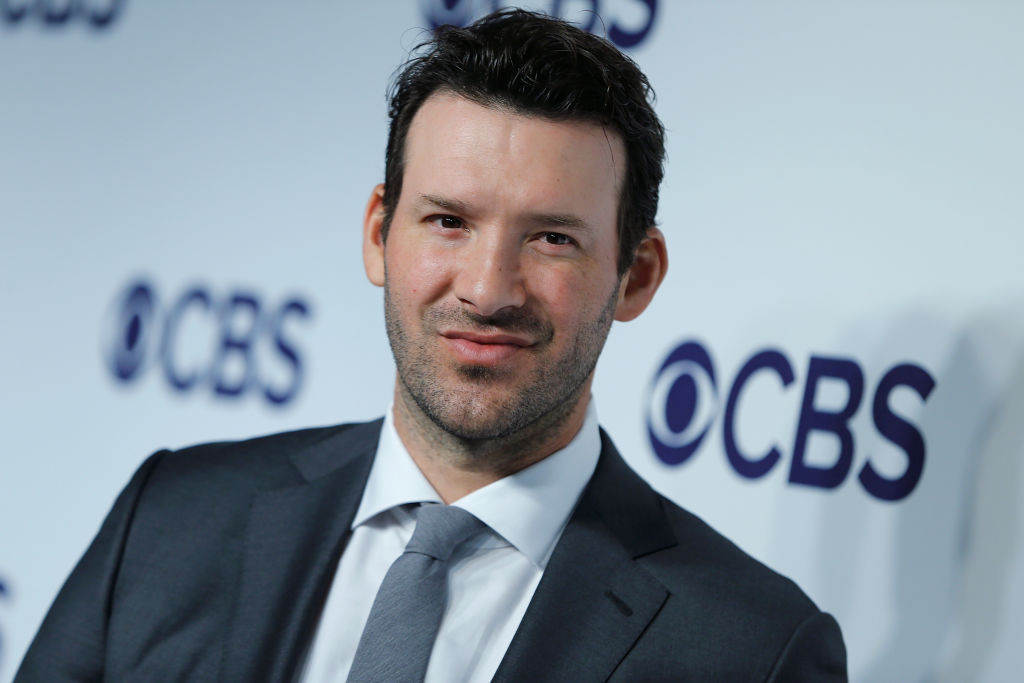 Tony Romo Seems to Know Where He'll Be Broadcasting Next Season
Tony Romo says he likely knows for which network he'll be broadcasting next NFL season. Will it be CBS or ESPN?
Even with his playing days with the Dallas Cowboys behind him, Tony Romo may be one of the biggest free agents this NFL offseason. As an announcer for CBS Sports the last three seasons, Romo has garnered praise for being one of the best in the business.
His initial three-year contract with CBS is up and many have wondered where Romo will land. Will he stay with Jim Nantz or jump ship to ESPN?
When did Tony Romo start with CBS?
After retiring from the NFL ahead of the 2017 season, it didn't take long for Tony Romo to find a job in the broadcast booth. He was quickly hired by CBS Sports to be their lead color analyst, immediately replacing Phil Simms, who moved to the studio. Many were shocked that Romo was given the number one spot alongside Jim Nantz so quickly, but the four-time Pro Bowler made an immediate impact.
Romo added the excitement that seemed to be lacking with Simms and it didn't take long for people to notice. Romo's ability to predict plays on both sides of the football received praise from NFL viewers. The 14-year veteran quickly became one of the most popular broadcasters in all of sports.
Can CBS match any offer that Tony Romo gets?
While Tony Romo's CBS contract is officially up, he's somewhat of a restricted free agent. CBS does hold the right of first refusal, meaning that they can match any offer that comes Romo's way.
ESPN, the network most believe is the only other network in play at this time, is expected to throw a big bag of cash at Tony Romo. Some expect that offer to be somewhere between 15 to 20 million dollars per year. That would easily make Romo the highest-paid announcer in sports.
However, since CBS can match any offer, ESPN may just be acting as somewhat of an agent for Romo, driving up the price without actually getting him. The New York Post's Andrew Marchand states that CBS is prepared to compete aggressively to keep Romo and Nantz together.
Tony Romo drops a hint on his future
CBS or ESPN? That's the question everyone has right now for Tony Romo. And he may have an answer for everyone very soon.
Speaking with "The Ben and Skin Show" on 97.1 The Eagle out of Dallas/Fort Worth, Romo spoke about his situation, likening it to negotiations with Jerry Jones and the Cowboys.
"It reminds me a lot when I was in year two with the Dallas Cowboys. I had no idea how to negotiate with Jerry Jones. It's like, I just want to play. You don't really know any better. I feel like this thing won't be that. . . All I want is like an obvious answer, right? You just want something to be very straight-forward.

"I think I'm already there a little bit, but we'll see how it plays it, even though I think I already know, but I'm just not telling you guys."

Tony Romo
It's important to note that he was laughing when he said that he had things pretty much figured out. As he is so often during his broadcasts, Tony Romo is one step ahead of everyone else.