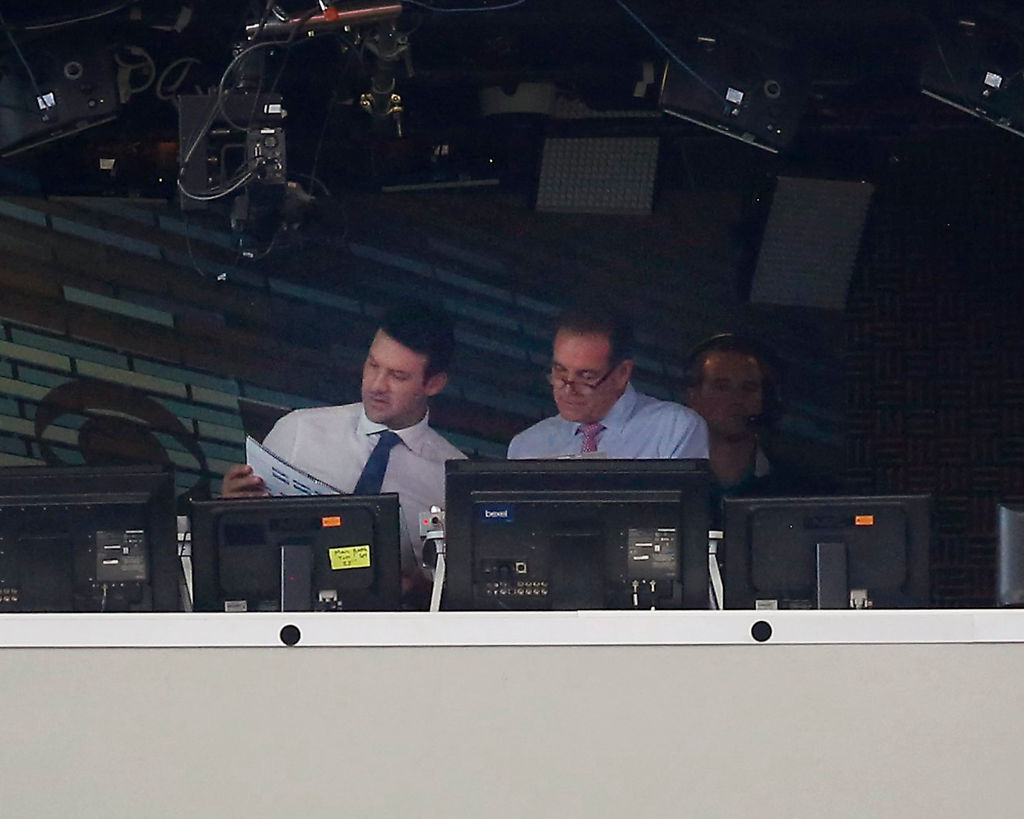 Could Tony Romo Replace Booger McFarland on MNF?
Could former Cowboys quarterback Tony Romo really replace Booger McFarland in the Monday Night Football broadcast booth?
Once the NFL playoffs end, all eyes will turn to free agency. Whether your club won the Super Bowl or failed to qualify for the postseason, everyone could make at least one personnel change. The same thing is true for broadcasters; Booger McFarland and Tony Romo could reportedly on the move during the offseason.
According to Andrew Marchand of the New York Post, ESPN is looking to shake up the Monday Night Football broadcast team. Could Tony Romo really make the switch and replace Booger McFarland in the booth?
Tony Romo's rise to broadcasting stardom
During his playing career, Tony Romo was more than capable under center. His success on the gridiron, however, gave way to success in the broadcast booth.
Following his retirement, Romo signed a deal with CBS and stepped upstairs; while changing careers is never easy, the quarterback looked at home in front of the camera. He teamed up with Jim Nantz and quickly formed one of the NFL's best broadcast teams.
Romo's appeal is grounded in his knowledge of football and love of the game. While the former-quarterback is more than capable of breaking down a play—he usually knows what's going to happen before the snap—he's not a dry professor holding a lecture or reminding you of his playing career; he seems to be genuinely excited without dipping into homerism. The experienced Nantz is also adept at setting Romo up and giving him the space to explain what should or shouldn't have happened on a given play.
Booger McFarland isn't as popular
Tony Romo and Booger McFarland are a study in contrast. While Romo played quarterback and now shines on CBS, Booger spent his career in the trenches before making his way to ESPN. The differences don't end there, though.
McFarland might be making history on Monday Night Football, but that doesn't mean he's popular with football fans. The former lineman seems to have a knack for making negative headlines with mistakes and missteps. Even some NFL players have joined in on the act, dragging Booger on social media.
While some criticism of Booger may be a bit unfair—one of his "mistakes," for example, was a reference to a famous Hank Stram quote—Monday Night Football is supposed a marquee broadcast. Even if some critiques are a bit harsh, ESPN won't be blind to the fact that fans spend more time ripping their color commentator than watching the game.
Could Tony Romo replace Booger McFarland on ESPN?
While nothing is set in stone, it seems like ESPN could try to bring Tony Romo on board to replace Booger McFarland. That, however, would mean giving the former quarterback a massive paycheck.
According to Andrew Marchand of the New York Post, ESPN could shell out over $10 million a year to bring Romo on board. The quarterback might also be tempted by the change of schedule; Monday Night Football would theoretically make it easier for Romo to spend Thursday and Friday on the golf course.
Regardless of what happens with Romo, though, Marchand reports that both Booger McFarland and play-by-play announcer Joe Tessitore face "offseason uncertainty." If ESPN does decide to make a change, though, they'll have plenty of options, ranging from taking another pass at Peyton Manning to promoting an internal candidate from one of their college football broadcasts.
No matter what happens, though, we know two things for sure: Tony Romo will remain one of the top color commentators, and he'll be getting a nice payday.