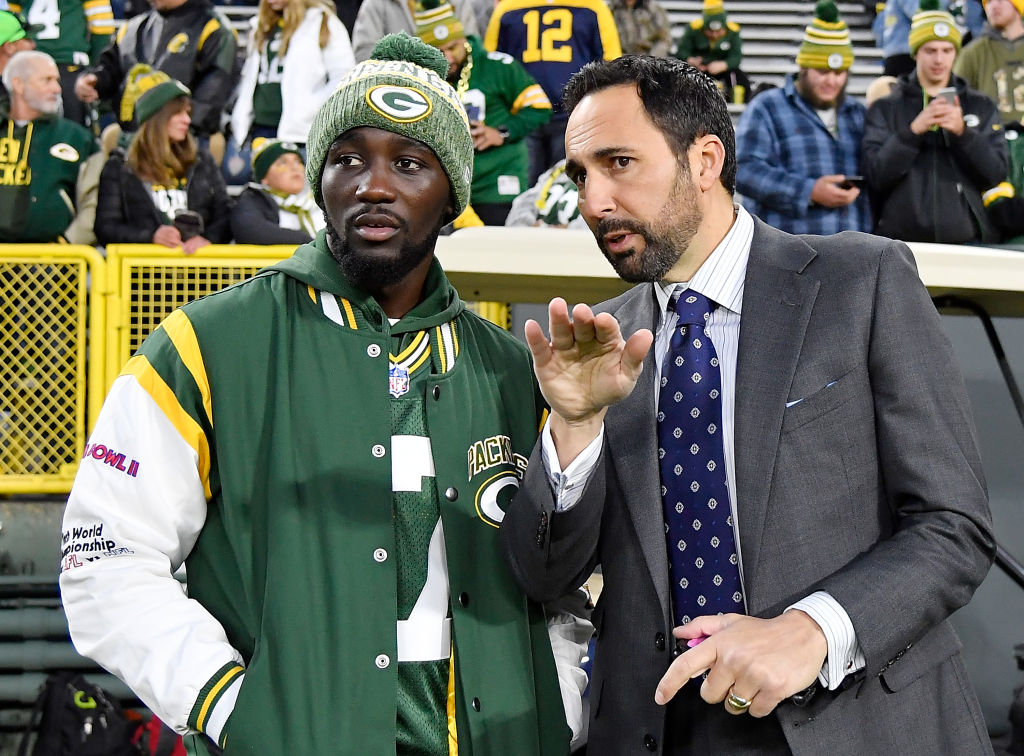 How a Joe Tessitore Mistake Turned Into a Brand New Business Opportunity
Every announcer makes mistakes. One Joe Tessitore blooper, however, has developed into a brand new business opportunity.
In the sports world, Monday Night Football literally and figuratively stands alone. The weekly game has a storied past and is, at least in theory, a moment for the NFL to highlight its product; that spotlight means that everyone is placed under the microscope. While Booger McFarland usually gets most of the heat, Joe Tessitore recently made headlines for the wrong reasons.
While no one likes to make a mistake, this error has taken on a life of its own. In the span of a week, a simple misstep has transformed into a new business opportunity.
Joe Tessitore's broadcast career
While Joe Tessitore is currently occupying Monday Night Football's prestigious play-by-play position, he's far from a pure NFL specialist.
After graduating from Boston College, Tessitore headed west to start his broadcast career with the Dallas-Fort Worth NBC affiliate. He spent a brief stint with WRGB in Albany, New York, then landed in Hartford, Connecticut; after two years at the local CBS station, he took over as the lead sports anchor.
In 2002, Tessitore signed on with ESPN and started calling both Tuesday Night Fights and Friday Night Fights. He quickly moved beyond the ring, though; he's called horse races, college basketball, and basketball games, produced 30 for 30 documentaries, and even hosted ABC's minigolf show, Holey Moley.
In 2018, Tessitore replaced Sean McDonough as the Monday Night Football play-by-play announcer and hasn't looked back. But even the most seasoned broadcaster can make a mistake at an inopportune moment.
Joe Tessitore gets tongue-tied
No play-by-play announcer ever wants to make a notable mistake on the air. Joe Tessitore, however, found himself in that exact position when he got tongue-tied during Week 13's Monday Night Football game.
In the fourth quarter, Seattle Seahawks receiver DK Metcalf fumbled the ball; that wasn't the only mistake on the play, however. In the excitement of the moment, Tessitore stumbled over his words and called Metcalf "Defac Metcalf." Maybe the announcer had some of Seattle's famous coffee on his mind.
While Tessitore corrected himself immediately, the clip still went viral. After social media had its say, though, a business opportunity emerged.
Turning a mistake into a new business opportunity
While it's never easy to own a mistake, Joe Tessitore and DK Metcalf are coming together to turn the misstep into a net positive.
After the "Decaf Metcalf" clip blew up, a Georgia-based coffee company sensed an opportunity. Volcanica Coffee has partnered with the Seahawks wide receiver to release official bags of Decaf Metcalf blend; there's also a Fullcaf Metcalf version available if you need a little extra boost in the morning.
Tessitore is even in on the joke, giving his official blessing to the product. Part of the proceeds will go to charities of his and Metcalf's choice; the announcer has selected the Cystic Fibrosis Foundation, while the wide receiver is donating to Prison Fellowship.
When you work as a play-by-play announcer or color commentator, public scrutiny is simply part of the job. Joe Tessitore knows that reality firsthand; not only was he able to take this blooper in stride, but he was able to turn a mistake into something that's good for everyone.