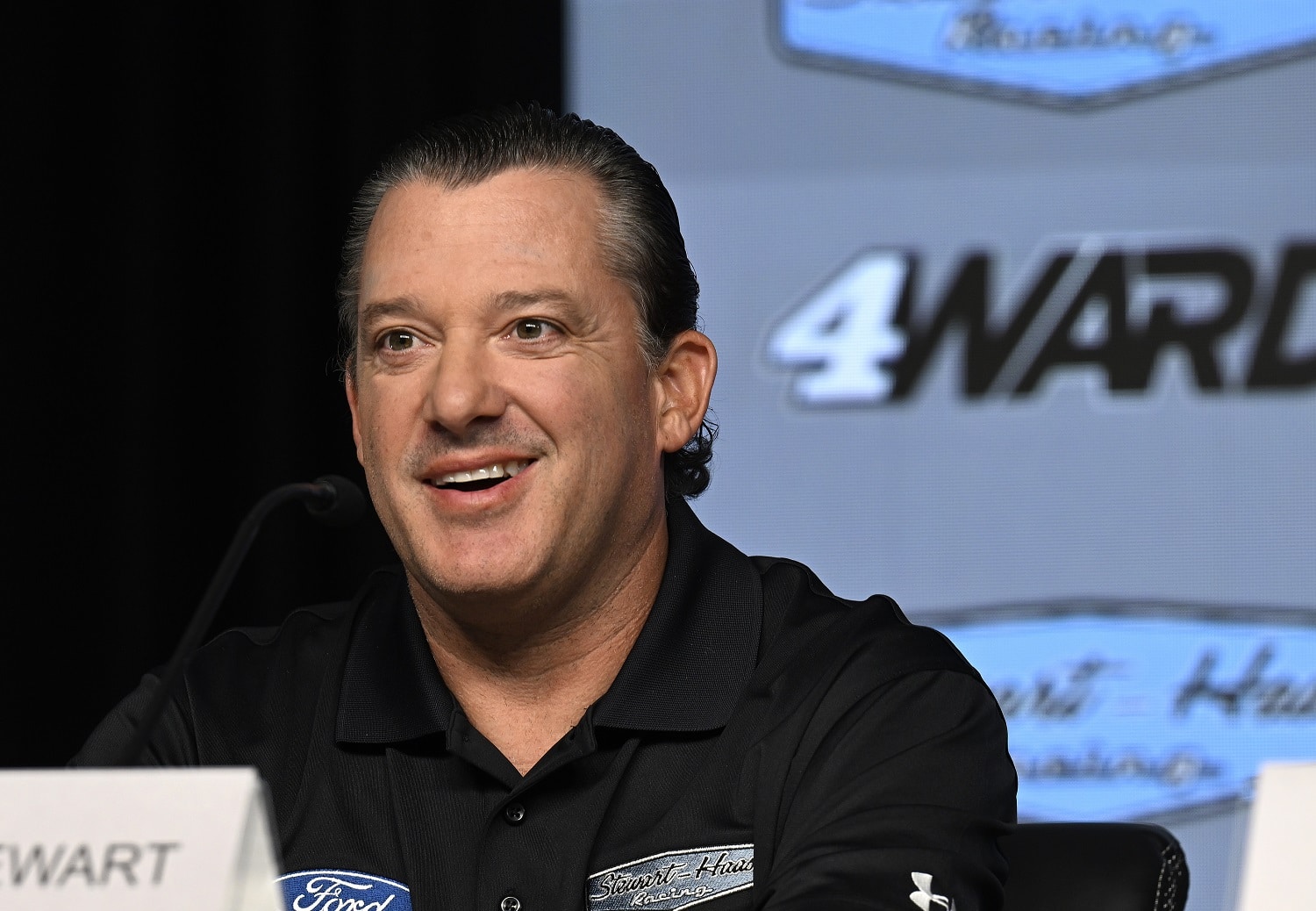 Tony Stewart Connects Gambling to $1 Million in NASCAR Penalties
Tony Stewart says NASCAR has had to change the way it goes about punishing teams to avoid affecting race outcomes.
When digesting the many thoughts of Tony Stewart, it's worth remembering that the three-time Cup Series champion once went so far as to wonder whether races were rigged like professional wrestling matches.
Then again, he made that claim in 2007. It's hard to think of much he's said since that anyone in a position to know has credibly called BS on. So, our ears perked up when he made the connection between $1 million in NASCAR fines this season and the explosion in legal sports wagering.
Cup teams have made a 'fine mess' out of the 2023 season
Denny Hamlin, Daniel Suarez, and Chase Elliott have all taken hits from NASCAR already this season for antics on the track. However, discipline for that sort of behavior is relatively routine, and the transgressions are typically so obvious and unsafe that penalties are a foregone conclusion before the race is even over.
Other penalties aren't so obvious, and most of them don't even come to light until a couple of days after the race. That's because the violations are technical in nature – i.e., NASCAR found something wrong with the cars.
It all started in Phoenix when NASCAR confiscated hood louvers from the four Hendrick Motorsports cars and Justin Haley's Chevy. NASCAR set the fines at $100,000 per car. In the time since, Hendricks drivers Alex Bowman and William Byron got dinged at Texas Motor Speedway, and Austin Dillon, Tyler Reddick, Chase Briscoe, and Erik Jones have also been disciplined.
In all, Cup Series teams have been fined more than $1 million less than halfway through the season, with the money going to NASCAR's charities.
Tony Stewart connects NASCAR's fines to controlling drivers
Tony Stewart's explanation for more than $1 million in fines to Cup Series teams this year: "It's all about control," the NASCAR Hall of Famer said, according to NBC Sports. "Before we had timing lines on pit road, they had two people in the scoring booth with a stopwatch in each hand. You can only control four cars out of 43 cars down pit road. If you ruffled their feathers and upset them, you were probably going to get a pit road speeding penalty the next week. You could guarantee it. That was NASCAR's way of keeping everybody in check."
Now, however, there's money on the line. Specifically, it's the money wagered by racing fans betting on race results through legal sportsbooks. The tiniest hint of impropriety by the people running the sport would destroy fans' trust, and live attendance and TV viewership would plummet.
"They've backed themselves in a corner with the greed to the gambling side of this," Stewart said.
Thus, his theory is that NASCAR settles scores if necessary in midweek.
"They can't call somebody for a pit road speeding penalty if they didn't commit the act. They can't control that. They can't throw bogus cautions to bunch the field back up. … How do you control everybody then if you've taken that ability away during the race? How do you do it?

"You do it at the R&D Center after the races are over. If somebody's ruffling your feathers, that's where they're going to get you."

However, don't construe every penalty as settling a score.

Tony Stewart
"I think it's important that they do keep aspects of this in check," Stewart continued. "You can't lose control of that. If you do, it becomes a free-for-all and then they've lost everything they've built over 75 years."
Tony Stewart is OK with the size of NASCAR's financial penalties
Even if he has his suspicions about the nature of some NASCAR penalties (zapping the Alex Bowman and William Byron Chevys after an appeals panel reinstated points for all four Hendrick Motorsports cars comes to mind), Stewart-Haas Racing co-owner Tony Stewart has no quarrel with the size of the penalties, though the $250,000 fine to SHR's Chase Briscoe was hard to swallow.
"I think if you want to get it under control, you've got to keep bumping it up to where it's risk vs. reward," he said. "What are you willing to risk to get in the gray areas? I support NASCAR on that side. I feel like they've done a good job of trying to discourage teams from going above and beyond."
Got a question or observation about racing? Sportscasting's John Moriello does a mailbag column each Friday. Write to him at [email protected].