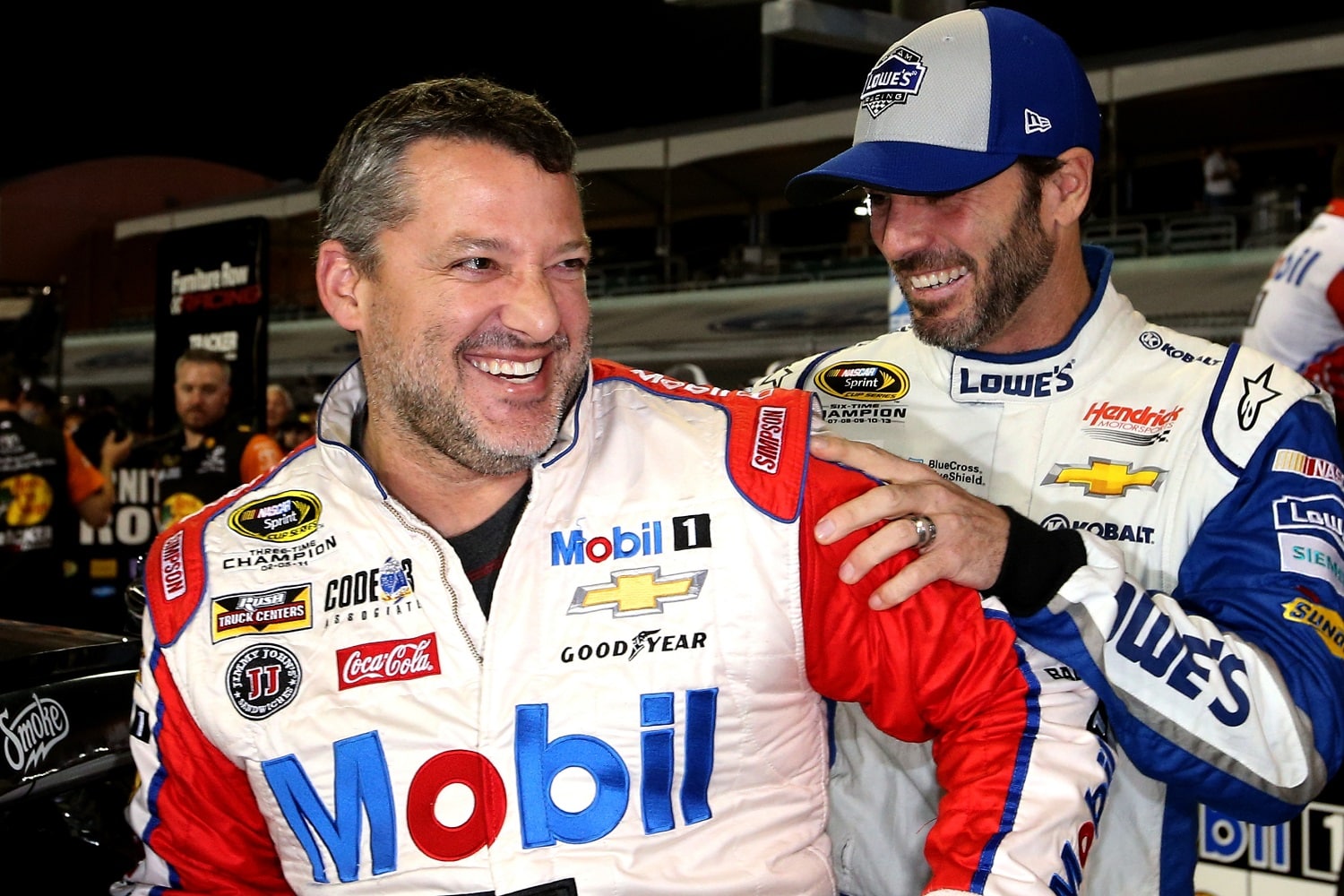 Tony Stewart Owns a Legend's Souvenir From a Record-Tying Win but Swears It's Only on Loan
Jimmie Johnson gave Tony Stewart a helmet worn during a record-tying NASCAR triumph.
A story about the homes of NASCAR stars reminded me that even those with a future hang onto the past. Among them, Dale Earnhardt Jr., a Hall of Fame driver enjoying a second career as an owner, hangs framed fire suits in his garage. Tony Stewart has his share of souvenirs, too, but that driver-turned-owner considers one of his prized possessions to be on loan from a fellow NASCAR legend.
Tony Stewart owns an impressive collection of helmets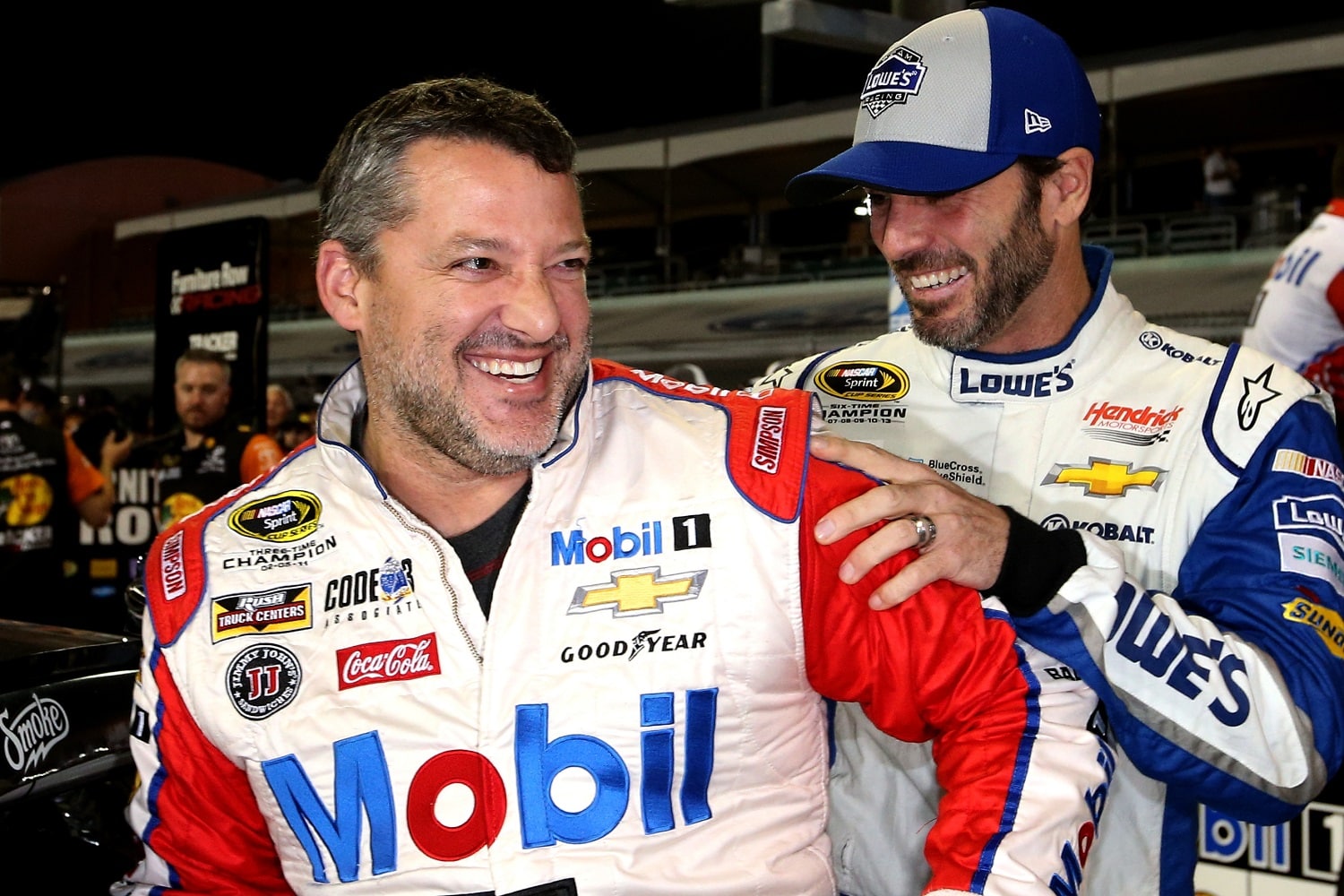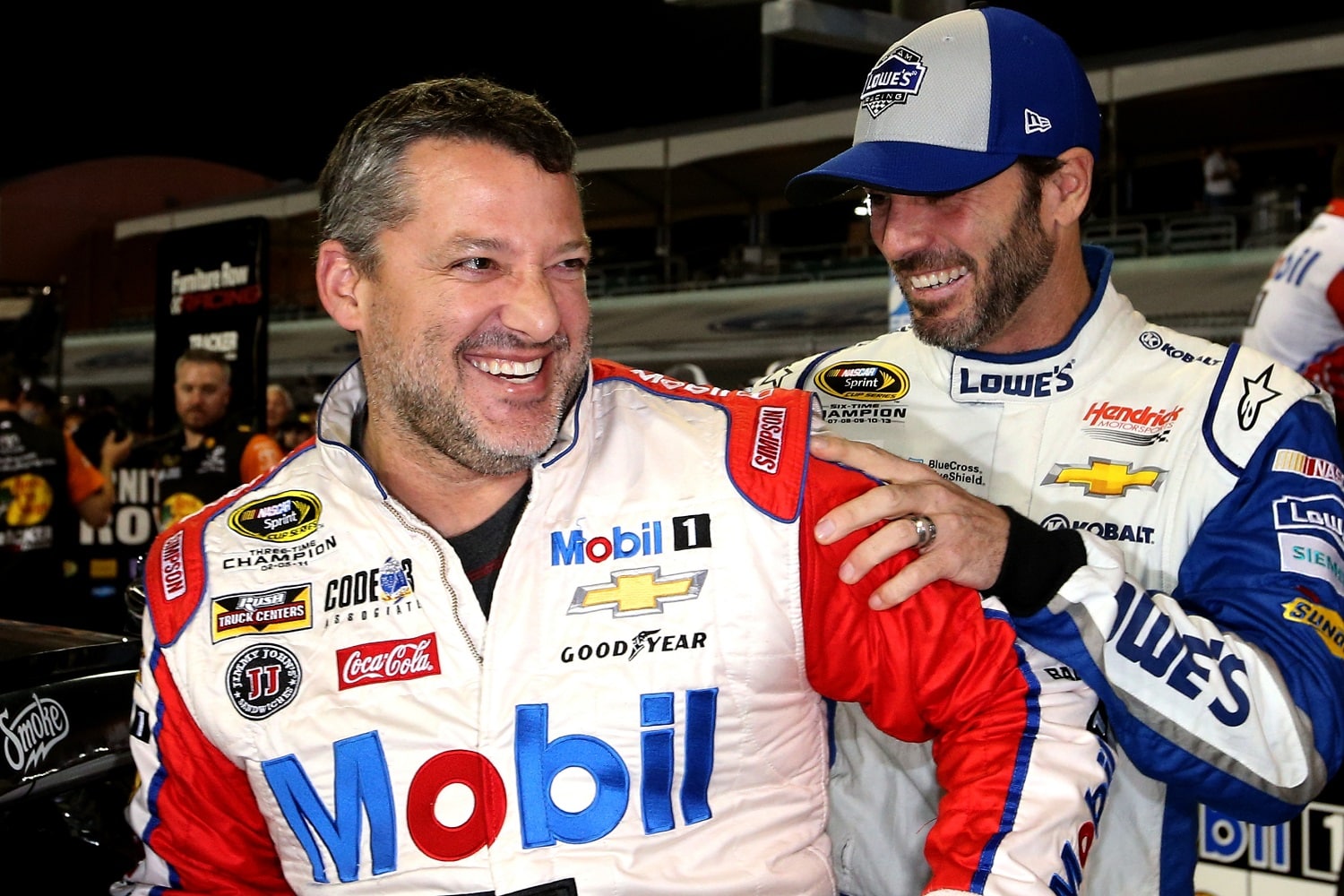 Citing a schedule that only allowed him to get home around 20 days a year, Tony Stewart put his massive ranch and 415-acre parcel in Columbus, Indiana, up for sale in March 2022 with an asking price of $30 million. A recent photo spread on WorkAndMoney.com about the homes of past and present NASCAR stars offers insight into the magnificence of Stewart's estate.
The main building of Hidden Hollow, completed in 2011, has six bedrooms. Among the amenities are an 8,700-gallon fresh-water aquarium, a gaming room, a gym, and a golf simulator. There is also a 3,576-square-foot guest home on the grounds.
The website shows many of the little touches, such as four side-by-side pinball machines, a bowling alley, and four wall-mounted flatscreen TVs that can be synced to show one super-sized image or four different broadcasts at once.
From a racing fan's perspective, the best part of the complex is the man cave and its display of more than 350 helmets. Stewart long ago filled the display cases, so many of the NASCAR, IndyCar, and Formula 1 helmets – often acquired in trades with other drivers – sit on the floor.
Tony Stewart says Jimmie Johnson's helmet is 'on loan'
Even though he will run a limited schedule, Jimmie Johnson's return to the NASCAR Cup Series is one of the sport's big stories for the upcoming season. Johnson retired from NASCAR in 2020 with seven season championships and seems all but certain to earn induction into the Hall of Fame this spring.
His career and that of Tony Stewart, himself a three-time champion, overlapped from 2001-16. Additionally, Stewart's role as part-owner of Stewart-Haas Racing kept him around for the final seasons of Johnson's career, so they remained close.
To appreciate the depth of their friendship, consider this: In 2016, minutes after winning the season-ending race at Homestead-Miami, Johnson handed Stewart his racing helmet. As souvenirs go, that one was huge because JJ had just captured his seventh Cup Series championship to tie the record of Richard Petty and Dale Earnhardt.
"I still tell Jimmie I view that helmet that it's on loan from him, and I've always told him, 'That helmet will never go anywhere,'" Stewart told Racer.com. "If there's a day when he decides he wants it back, I'll hand deliver it to him personally.
"That's a significant helmet in the history of this sport and that's something I cherish. The value of it isn't because of what it is. It's because of who it came from and the fact that it was a personal gift from him."
Got a question or observation about racing? Sportscasting's John Moriello does a mailbag column each Friday. Write to him at [email protected].