The Toronto Raptors Ruthlessly Trample on Luka Doncic's Hopes of Playing With His Countryman
The Toronto Raptors are standing in the way of Dallas Mavericks star Luka Doncic playing with countryman Goran Dragic.
The Dallas Mavericks have desperately tried to partner Luka Doncic with his countryman, Goran Dragic, but the Toronto Raptors have no interest in indulging those wishes.
Dragic cheered Doncic on as he led Slovenia to a fourth-place finish at the 2020 Tokyo Olympics. Having already shared the floor in international competition, it looked as though the two might be NBA teammates in the near future. However, the Raptors have other ideas.
Luka Doncic just signed a $207 million contract extension
The 2021 offseason has already been very kind to Doncic.
Shortly after capping a remarkable run for his country at the Olympics, Doncic inked a five-year, $207 million rookie supermax extension with the Mavericks. It was a natural order of proceedings, as Dallas was sure to do everything in its power to keep its superstar around for years to come. The next step is continuing to build around Doncic.
The Mavs made more strides in Doncic's third season. Dallas finished fifth in the Western Conference and had a higher winning percentage than the previous campaign. For his part, Doncic was terrific. The 22-year-old averaged 27.7 points, 8.6 assists, and 8.0 rebounds and routinely created both for himself and his teammates in the biggest moments.
But Dallas was overly reliant on Doncic. While Luka averaged an astounding 35.7 points, 10.3 assists, and 7.3 rebounds in the first round of the playoffs, the Mavs were ousted by the Los Angeles Clippers. The playmaking onus seemed to fall solely on Doncic, with the likes of Kristaps Pozingis totally failing to live up to his status as the second star.
Thus, the Mavs headed into the offseason looking to surround Doncic with more assertive scorers and playmakers. Yet, they came up a bit empty in that regard.
Dallas re-signed Tim Hardaway Jr. and brought in 3-and-D wings in Reggie Bullock and Sterling Brown. All three give the Mavs strong catch-and-shoot options, though none are all that creative off the dribble.
However, the Mavs hoped to make a run at a veteran guard who could take Doncic off the ball and would likely do wonders for the team in terms of locker-room chemistry.
Mavericks wanted to acquire Goran Dragic from the Raptors, but Toronto is holding firm
The Mavs have been eager to acquire Doncic's countryman, Goran Dragic.
The Miami Heat exercised Dragic's club option for the 2021-22 season so as to fold him into a sign-and-trade for Kyle Lowry. Longtime NBA insider Marc Stein reported Dallas hoped the Raptors would flip Dragic and have tried desperately to acquire him, but Toronto is holding firm in its desire to keep the veteran guard.
"I think it's going to be tough," Stein said on The Crossover NBA Show when asked about the potential of Dragic being dealt to Dallas. "[The Mavs] have already tried, based on everything I've been told. Toronto has been resistant to it."
Stein went on to say the Raptors are not interested in buying Dragic out, either, thus making it even more unlikely he ends up with the Mavs.
Dragic is the kind of scoring guard who would fit well next to Doncic. He saw a decline in scoring average this past season (16.2 to 13.4) but still averaged 4.4 assists and shot 37.3% from beyond the arc. The 35-year-old could stay on the ball and operate in pick-and-roll or present himself as a catch-and-shoot outlet.
That said, it doesn't look like Doncic and Dragic will be NBA teammates, despite Dragic expressing reservations about his immediate future.
Dragic apologized after unintentionally dissing the Raptors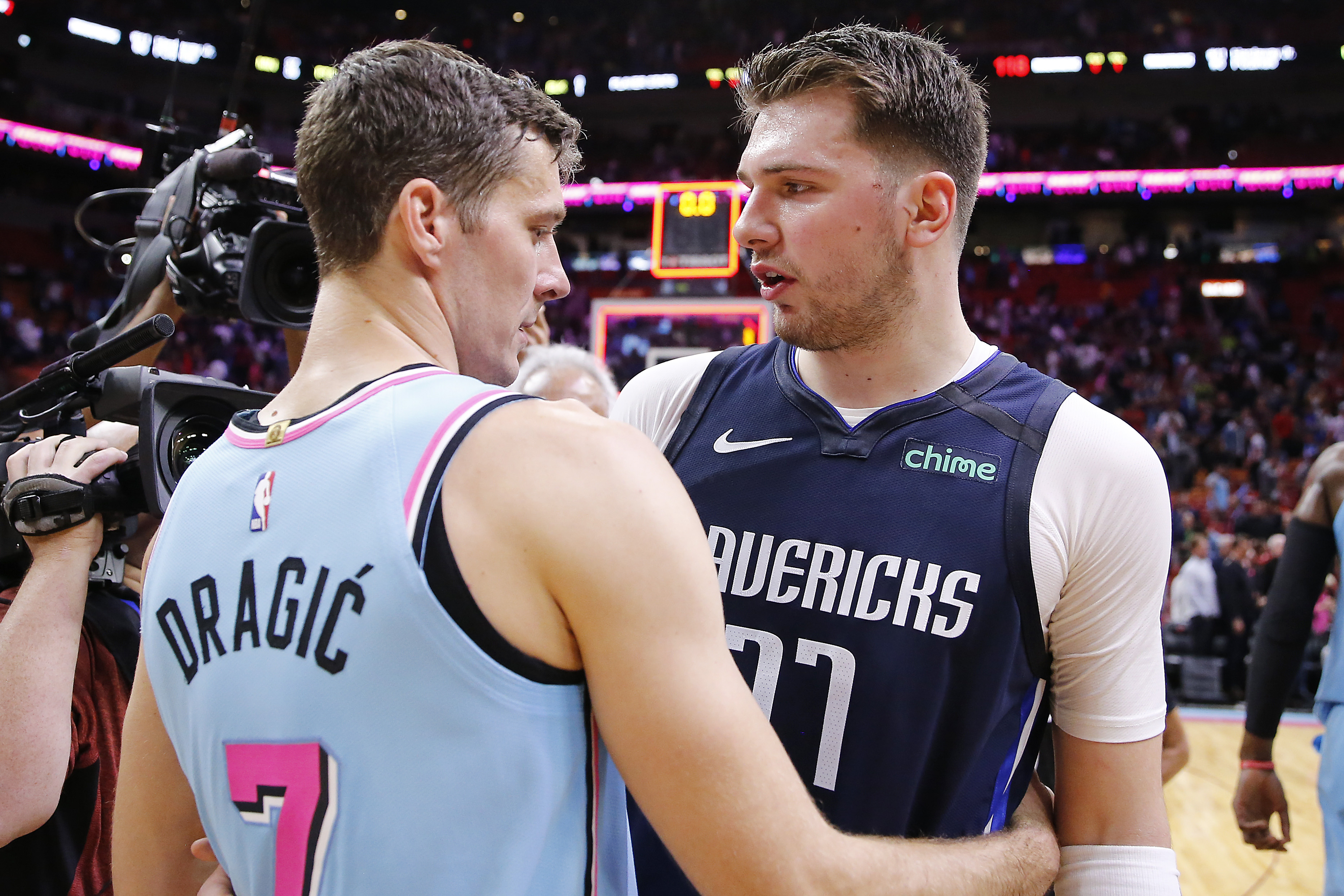 Needless to say, Dragic was not pleased to be included in the Lowry sign-and-trade.
Per Yahoo Sports, Dragic appeared on a Slovenian television channel and said, "Toronto is not my preferred destination. I have higher ambitions. We'll see." Yikes.
Frankly, Dragic's comments are understandable in perspective. He spent the last seven seasons in Miami and only has so many chances to win an NBA title. He likely won't get a chance with the Raptors.
In any case, Dragic eventually apologized for the remarks and said his comments were taken out of context. He explained he intends to give his all to the Raptors organization, pending he is still with Toronto at the start of the season. By all accounts, he will be.
Luka Doncic might have hoped to supplement his contract signing with the arrival of another Slovenian and impact guard. However, the Raptors appear intent on keeping Dragic for the time being.
Stats courtesy of Basketball Reference.