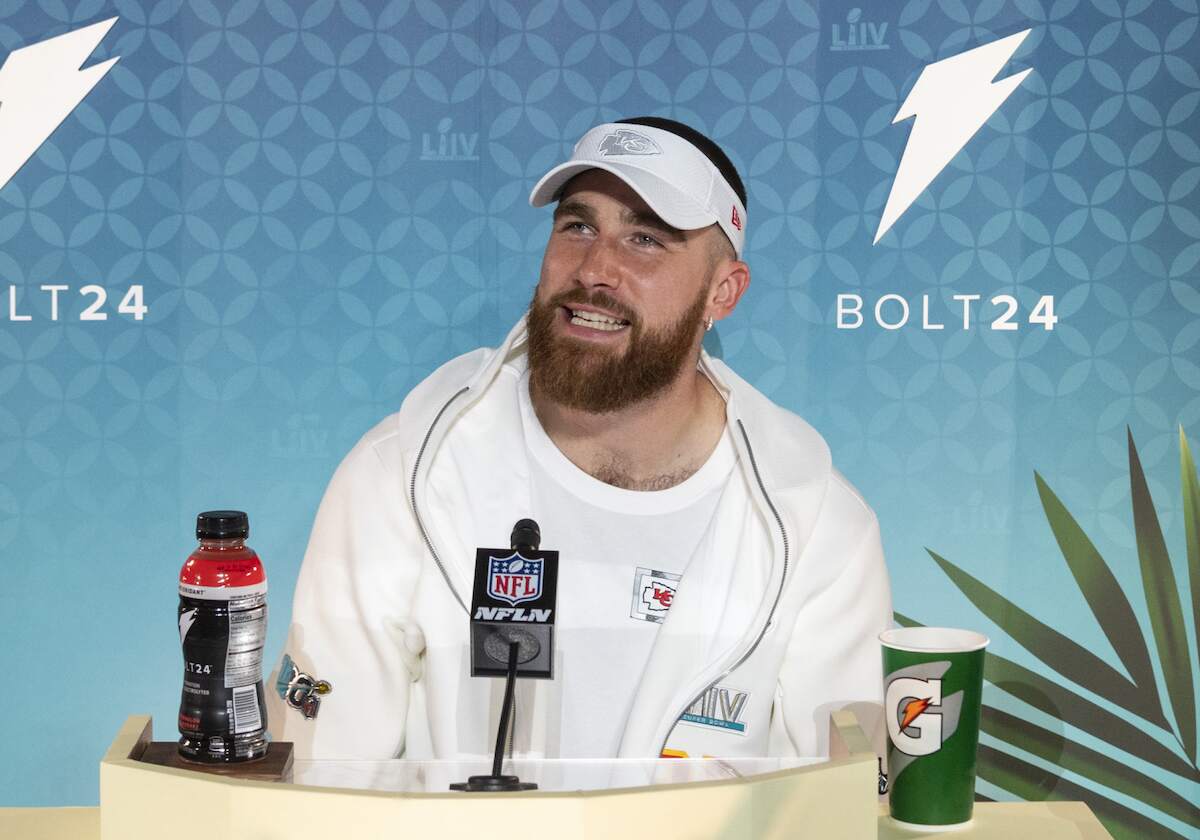 Travis Kelce Almost Went Completely Broke After Receiving His 1st NFL Contract With the Chiefs
Travis Kelce is an extremely talented tight end. He almost went completely broke, though, when he got his first contract with the Chiefs.
There are many stories of famous athletes who spent all of their money and went completely broke. Surprisingly, though, this almost happened to Travis Kelce. Luckily, though, the two-time Super Bowl champion has continued to ball and ultimately become one of the greatest tight ends to ever play in the NFL.
Kelce doesn't just make the Kansas City Chiefs regular Super Bowl contenders; he's helping them become a dynasty. However, the Ohio native recently admitted he maybe didn't make the smartest decisions when he received his first NFL contract.
Travis Kelce has become one of the greatest tight ends of all time
The Kansas City Chiefs selected Travis Kelce in the third round of the 2013 NFL Draft out of the University of Cincinnati. After only appearing in one game in 2013, Kelce caught 67 passes for 862 yards and five touchdowns in 2014. He earned his first Pro Bowl selection in 2015 with KC, catching 72 passes for 875 yards and five touchdowns.
Kelce has ultimately earned eight consecutive Pro Bowl selections. Since 2016, he has gained over 1,000 receiving yards in seven straight seasons. He also earned First-Team All-Pro honors four times (2016, 2018, 2020, and 2022) and gained 1,338 receiving yards, as well 12 TD catches, in 2022.
What really makes him valuable to the Chiefs' success, though, is what he's pulled off in the playoffs. In 2019, Kelce caught 19 passes for 207 yards and four touchdowns in the Chiefs' three playoff games. This ultimately helped them win their first Super Bowl since the 1969 season.
It appeared Kelce couldn't get much better, but he went on to have the best season of his career in 2020. He caught 105 passes for 1,416 yards and 11 touchdowns. This helped him finish second in receiving yards in the entire league. He ultimately broke the record for most receiving yards by a tight end in a single season.
For his regular-season career, Kelce has caught 814 passes for 10,344 yards and 69 touchdowns.
Kelce has earned over $64 million with the Kansas City Chiefs
Kelce's incredible play with the Chiefs has helped him become a pretty rich man. In August 2020, he signed a four-year, $57.25 million extension. 
Spotrac estimates that Kelce has already made $64,782,220 million in his career. After his current contract ends in 2025, it's estimated he will have made $107,282,220. That's not including anything he has made from endorsements, either.
Because of all this, Celebrity Net Worth estimates that Kelce is worth $30 million. However, he almost went completely broke.
Travis Kelce said he spent all the money from his rookie contract
Kelce appeared on Shannon Sharpe's Club Shay Shay in 2021, and Sharpe asked him about the first thing he purchased with the money from his rookie contract.
"I spent it all, Shannon," Kelce said on the Jan. 5 episode. "I should have been on the 30 for 30 Broke the way I was spending my money. All the young guys in the league, all the guys that have the opportunity to get that big first check from the NFL — save it. … I was searching around for car deals after my first year trying to just pay rent."
So, what did Kelce buy with all that money?
"I'm a big sneaker fan," Kelce said. "The Marty McFlys, the Back To The Future, and the Nike Air Max were the first purchase of kicks that I got. I knew I wanted them ever since I saw them self-tie themselves on McFly's feet. On top of that, I always wanted a [Rolex], man, so I went out and got myself a rolly from a Kansas City jewelry shop. I was walking in this empty apartment with some Marty McFlys on and a Rolex; I felt like I was the coolest guy in the world."
At least, Kelce's hard work has helped him become the dominant player he is today. He has earned all that money back and then some. Kelce isn't just one of the most talented tight ends in the league anymore. He's also one of the richest.
Stats courtesy of Pro Football Reference