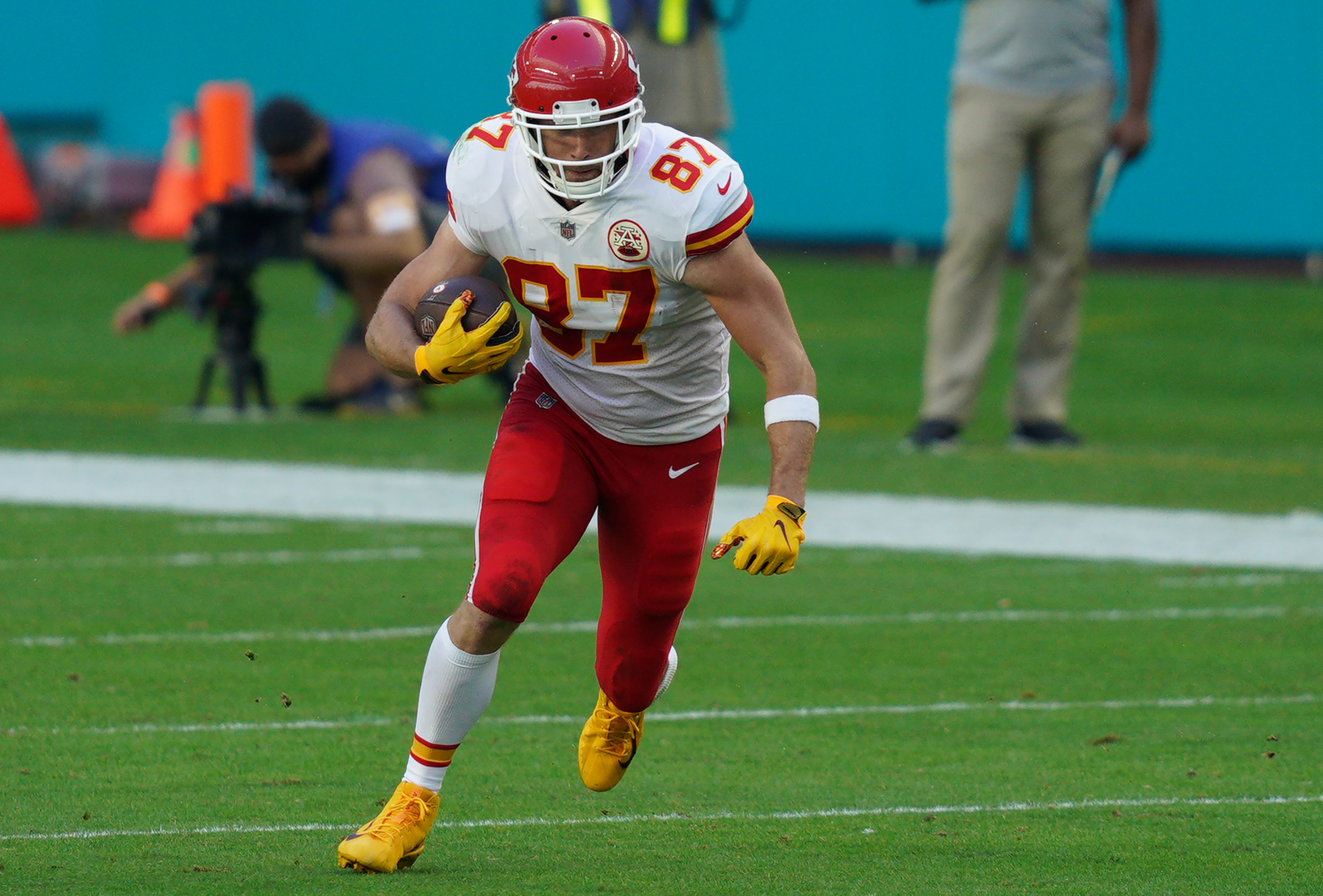 Travis Kelce Earned $8 an Hour as a Telemarketer Before Making Millions With the Kansas City Chiefs
While Kansas City Chiefs tight end Travis Kelce has made millions in the pros, he used to earn $8 an hour working as a telemarketer.
While he doesn't quite earn Patrick Mahomes money, Travis Kelce is still doing pretty well for himself. During his time with the Kansas City Chiefs, the talented tight end has proven himself to be one of the NFL's most dynamic players; that reality helped him land a $57 million contract extension in August 2020. His financial situation, however, used to be much different.
During college, Travis Kelce took a job as a telemarketer. He only earned $8 an hour and, during that time, decided that he couldn't make a living sitting at a desk.
Travis Kelce hit a snag early in his football career
These days, it's almost impossible to imagine Travis Kelce doing anything other than pulling down passes thrown by Patrick Mahomes. At one point, though, he was throwing, rather than catching, the football.
Kelce played quarterback in high school and showed enough talent to earn a college scholarship. At the University of Cincinnati, though, he didn't exactly turn into a star overnight.
After redshirting for a season, Kelce lined up as a wildcat quarterback and part-time tight end; he finished the year with two rushing touchdowns and one reception for three yards. After that, though, things would get even worse.
The following season, Travis Kelce didn't return to the field. He received a season-long suspension after violating team rules; as USA Today later reported, his violation "turned out to be a failed drug test for marijuana."
Earning $8 an hour working the phones
While Travis Kelce's brother, Jason, eventually helped him get back onto the football team, he still had to spend a season on the sidelines. During that time, the tight end did what many college students do: get a part-time job.
In Kelce's case, he landed in a call center. "While [his housemates] prepared for the 2010 season, Travis took a telemarketing job and sat in a tiny cubicle doing surveys on Obamacare," Elizabeth Merrill wrote for ESPN. "People would yell at him about the government stealing their money, and Kelce made $8 an hour and felt depressed."
While that job wasn't fun by any stretch of the imagination, it did help things click for Kelce. If he wanted to play football for a living, he couldn't mess up again.
"I had never sat down and tried to earn a living like that. That's not to hit on anybody's 9-to-5; that's just not for me," he explained. "The light at the end of the tunnel was that if I do what I'm supposed to do instead of being a knucklehead, I can have a way better life than this."
Travis Kelce is now living way better than that with a $57 million contract
During his time as a telemarketer, Travis Kelce looked forward to getting back on the football field and living a better life. It's safe to say that the tight end has more than accomplished that goal.
After his suspension, Kelce rejoined the Bearcats and showed enough talent to join the Kansas City Chiefs as a third-round draft pick. While an injury kept him off the field for most of his rookie year, the tight end has developed into a legitimate star. With his blend of size and athleticism, he's become an All-Pro, a Super Bowl champion, and set the NFL record for most consecutive 1000-yard receiving seasons by a tight end.
Those performances have also made Kelce a rich man. Based on Spotrac's contract numbers, he's earned more than $33 million to date in the pros; he also inked a $57 million contract extension in August 2020, which, barring any issues, will run through the end of 2025.
As the cliche says, money can't buy happiness. It's safe to say, though, that Travis Kelce is much happier—and richer—playing football than he'd ever be working in a call center.
Stats courtesy of Sports-Reference and Pro-Football-Reference