Travis Kelce Broke Out of 1 Tie With Rob Gronkowski in the AFC Title Game and Could Break Another in Super Bowl 57
Travis Kelce and Rob Gronkowski are arguably the two greatest tight ends in NFL history. Honestly, taking their technical position out of it, they're simply two of the greatest overall receivers of all time.
And that rings even more true when you look at their production in the NFL Playoffs, as both rank in the top five in postseason receptions, receiving yards, and receiving touchdowns.
Heading into the AFC Championship Game between the Kansas City Chiefs and Cincinnati Bengals, Kelce was tied with Gronk in one category, led in one, and trailed in one. With his performance on Sunday in the Chiefs' 23-20 victory, Kelce broke the tie to take the lead in two categories but created a new tie that he can now break in Super Bowl 57.
Travis Kelce broke one statistical tie with Rob Gronkowski in the AFC title game and can now break another in Super Bowl 57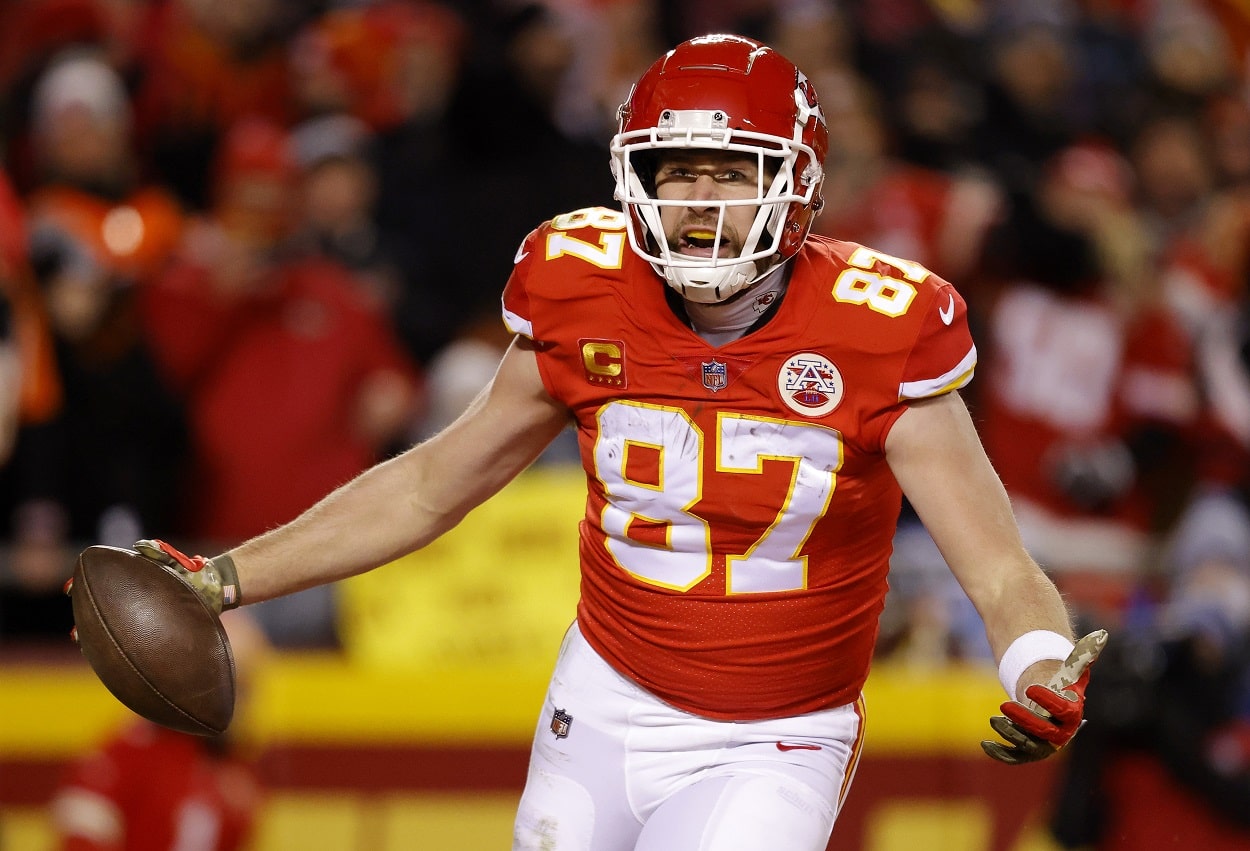 Going into the AFC title game matchup with the Bengals, Kelce already held the edge in postseason receptions over Gronkowski, who caught 98 passes in 22 playoff appearances with the New England Patriots and Tampa Bay Buccaneers, good for fourth on the all-time list. With seven receptions on Sunday, Kelce now has 127 catches in 17 playoff games with Kansas City, good for second on the all-time list.
The first of those seven receptions, a 16-yarder in the first quarter against Cincy, broke the aforementioned tie between the two as each oddly had 1,389 postseason receiving yards before the action got underway at Arrowhead. Kelce ended the day with 78 yards, giving the 33-year-old 1,467 for his career. Not only did he break the tie with Rob Gronkowski, but he also vaulted past Julian Edelman (1,442) for second place on the all-time list.
Kelce's touchdown catch in the second quarter was the 15th of his playoff career, tying him with Gronkowski for second on the all-time list. So, once again, after breaking one tie with Gronk, Kelce will get the chance to break another when the Chiefs square off with the Philadelphia Eagles in Super Bowl 57.
And if he does, Travis Kelce will sit in solo second in all three major categories. And who's the all-time leader in all three? That would be Mr. Jerry Rice, who caught 151 passes for 2,245 yards with 22 touchdowns in 29 postseason games with the San Francisco 49ers, Oakland Raiders, and Seattle Seahawks.